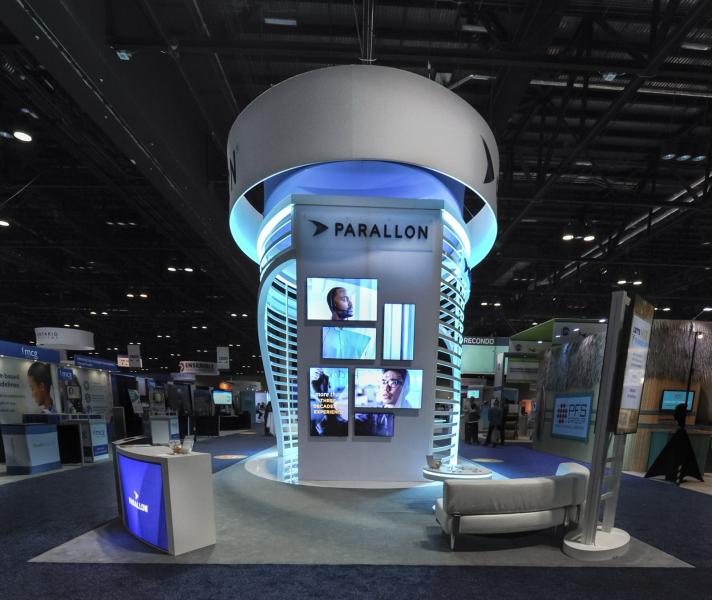 When it comes to trade show display design, six trends have dominated over the past 5 years both for inlines and islands.
Large Tension Fabric Graphics
LED Lightboxes with Backlit Fabric
Curves
Rental Inlines and Islands
Sustainable Materials
Customization
With the exception of basic portable displays, modern trade show exhibits are bigger, brighter, and curvier than ever.  Even traditional square and rectangle booths have gotten more upscale as customization has gotten easier and more affordable. Rentals included. Gone are those basic and battered booths so common in the past from show organizers. Now, it's nearly impossible to tell a purchased booth from a rented one from most exhibit houses. In other words, contemporary exhibit design, construction, and ownership is more flexible and beautiful than ever before  
Getting Started with Trade Show Booth Design
Every perfect trade show booth design starts with identifying your audience, marketing goals, and trade show budget. Exhibit designers use this information as the first step, then they'll ask additional questions to fine-tune the booth to your specific requirements. For example – they'll identify whether you need storage, meeting areas, overhead signage, and accessories like monitors, literature trays, charging stands, etc. They'll even determine if you'll need rental furniture like office chairs, sofas, and end tables and suggest styles to match your graphic design.
The 15 trade show booth design examples below show recent design trends in custom, modular, and portable displays, along with sustainable exhibits and rentals. Don't be afraid to drill down on what works (and doesn't work) for your booth design vision. Then share them with the exhibit designer.
6 Trade Show Booth Ideas & Examples (Islands)
1. GK-5153 Island Exhibit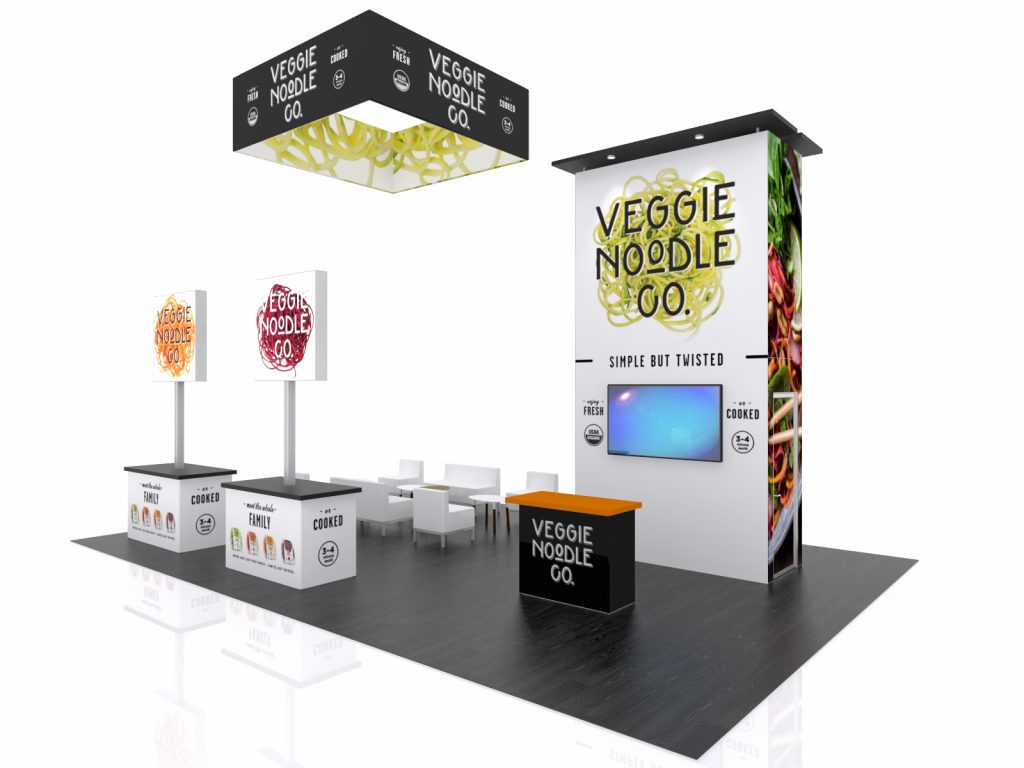 A well-designed trade show island exhibit should be attractive, inviting, informative, and practical. The GK-5153 does all that… and more. It combines a casual meeting space with functional counters for product samples. The design includes a reception counter, also with locking storage. Throughout the island, there are large graphic opportunities at multiple angles to attract attendees from every aisle, including a 16 ft. tower.
Many of the flat panels are from the patented Gravitee System, which connects without tools or loose parts, making assembly much easier than traditional panels. The Large Aero Overhead Hanging Sign pulls it all together with internal and external graphics.
2. GK-5147 Island Exhibit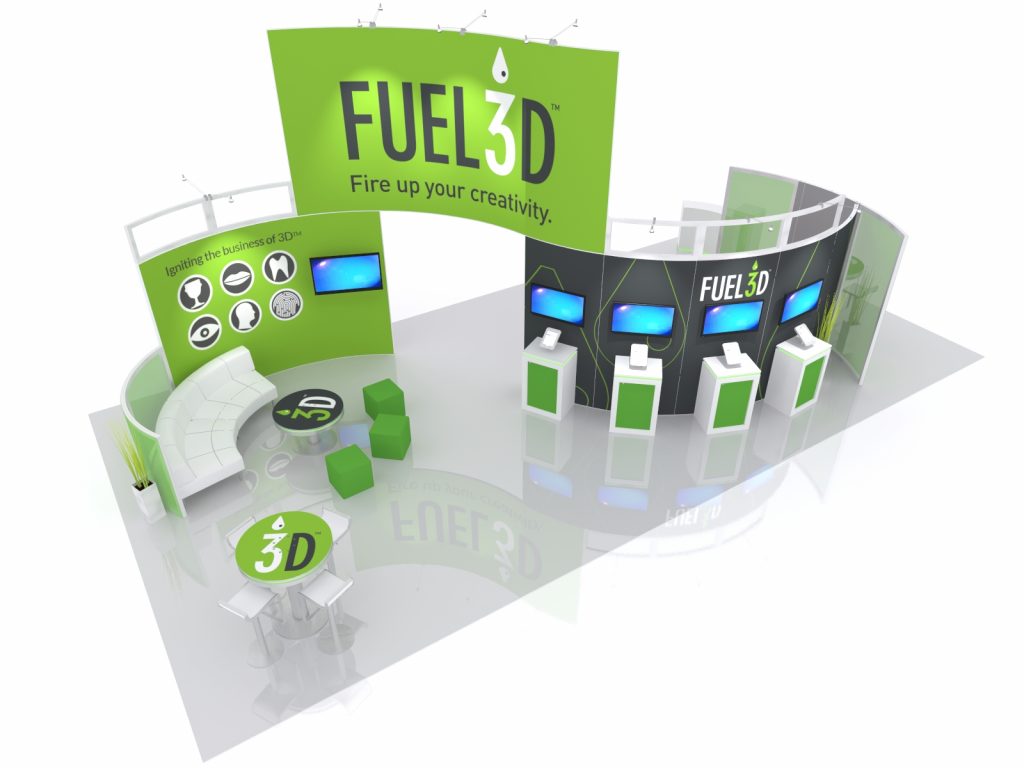 It's the complete package. The GK-5147 island maximizes the available space with double-sided curved panels. The design includes iPad workstations, monitor mounts, and a presentation area. There's an attractive custom reception counter with a backlit graphic and LED accent lights. In addition, the islands have multiple seating areas all with USB charging ports so your clients can charge their phones and tablets. All the curved panels are from the patented Gravitee System, so individual panels connect without tools and there are no loose parts or pieces.
3. RE-9091 Island Exhibit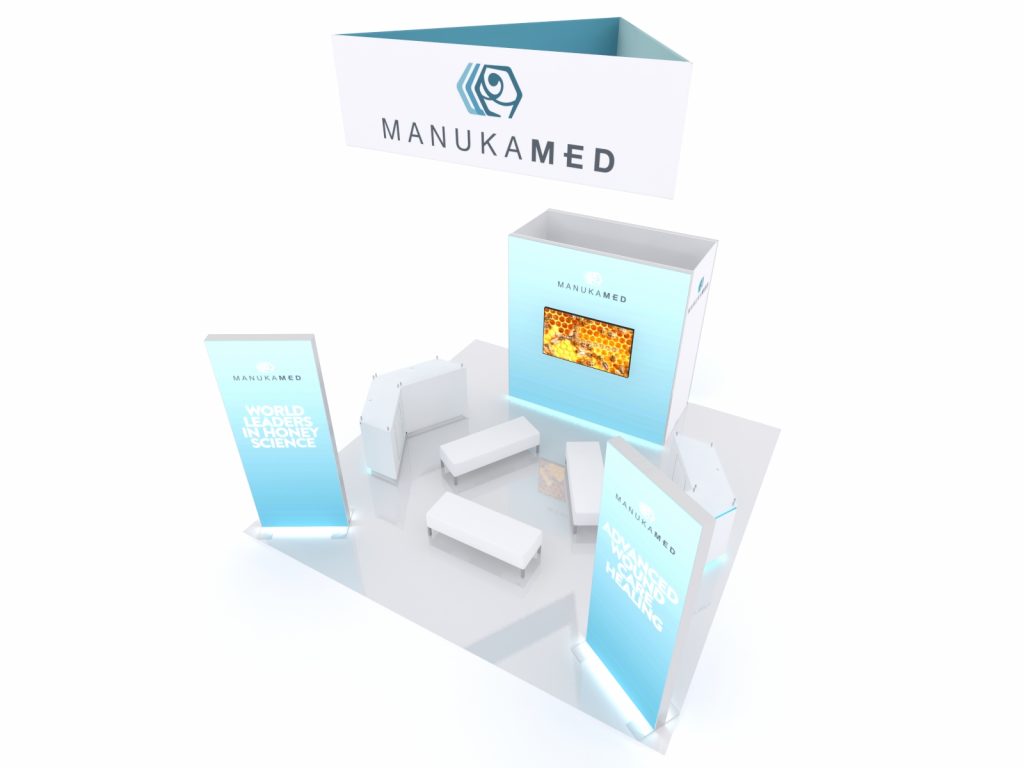 An island exhibit doesn't have to stand tall or be overly complicated. It simply has to fit your tradeshow marketing needs… and get noticed. The RE-9091 rental island has two eye-catching double-sided SuperNova lightboxes. These lightboxes assemble quickly and are always the star attraction in any booth space. The RE-9091 has a large full-size closet along with storage in each reception counter.
In addition, the closets do double duty, serving as lightboxes on the two longer sides and supporting a monitor in the lounge. High above, there's an Aero Triangle Hanging Sign so you're sure to attract attention from across the show hall.
4. RE-9139 Rental Island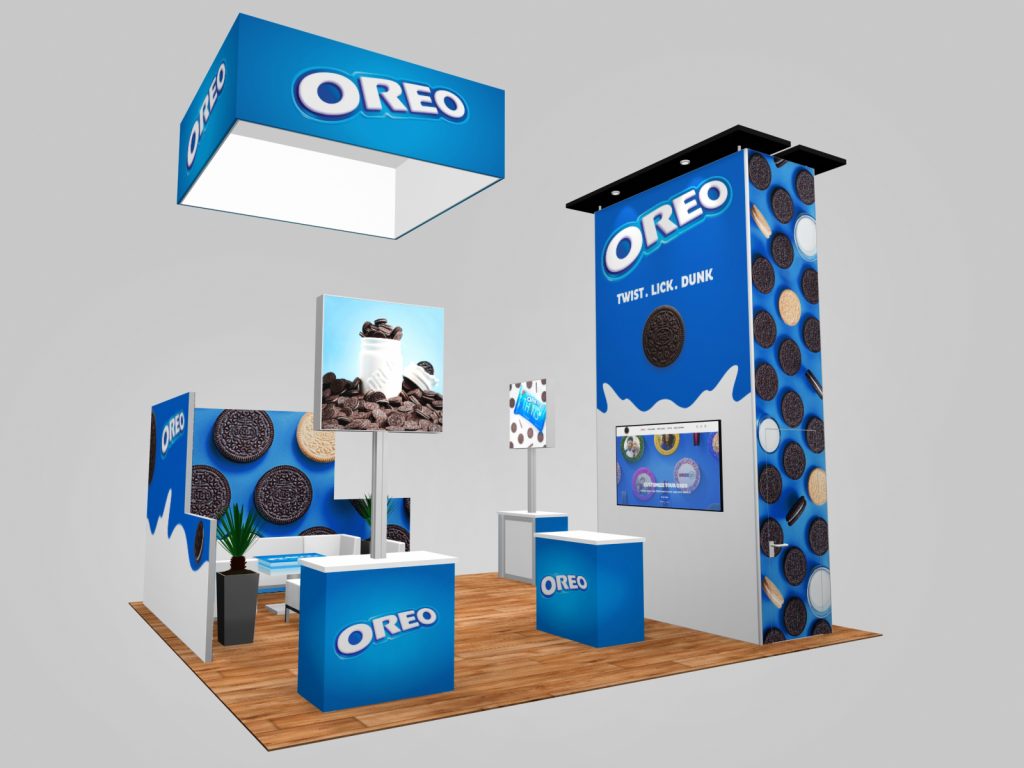 The RE-9139 Rental Island goes way beyond a pretty picture. We've incorporated key features such as large graphics, private and semi-private conference rooms, towers with locking storage access, and workstations and reception counters with secure storage. Not enough? Then add product shelves, large and small monitors for presentations, a variety of light fixtures, and hanging signs for high visibility from anywhere on the show floor.
5. ECO-4094 Sustainable Island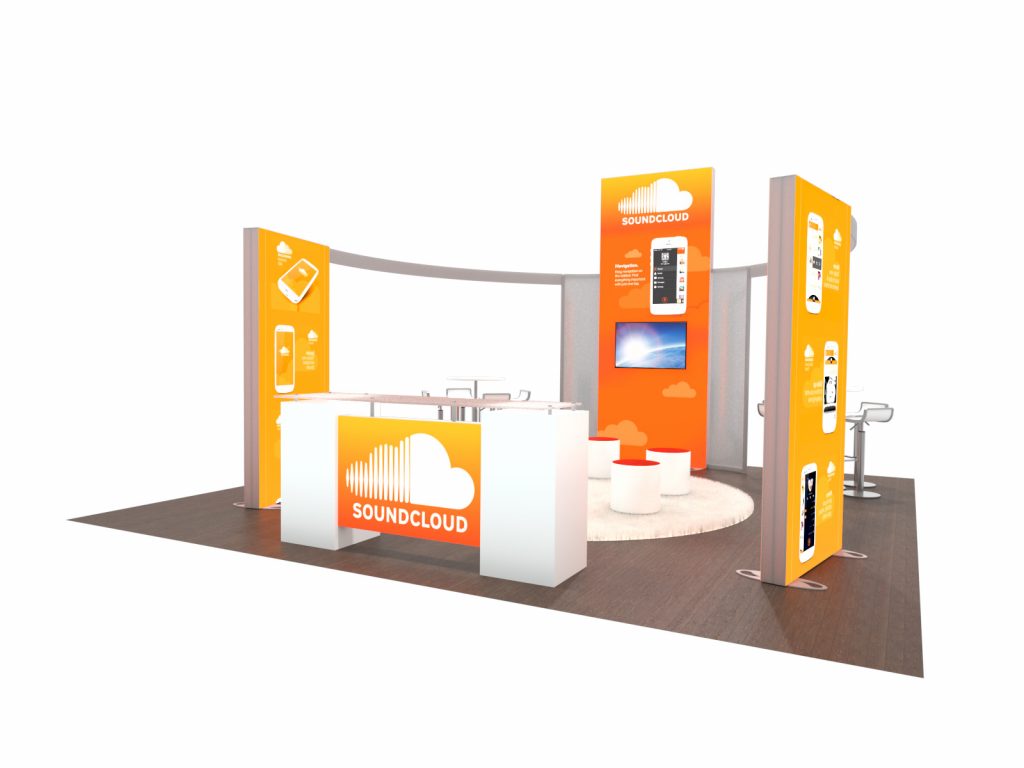 Looking for a big bang on a modest budget? Plus a sustainable design? The ECO-4094 doesn't disappoint with (3) double-sided backlit towers, fabric graphics, ample meeting space, and an amazing reception counter with locking storage. The open format allows for multiple entries into the booth, which can often be a challenge for an island exhibit. The 12 ft. tower can support a large monitor and there is enough space for presentations. All that and built with eco-friendly materials.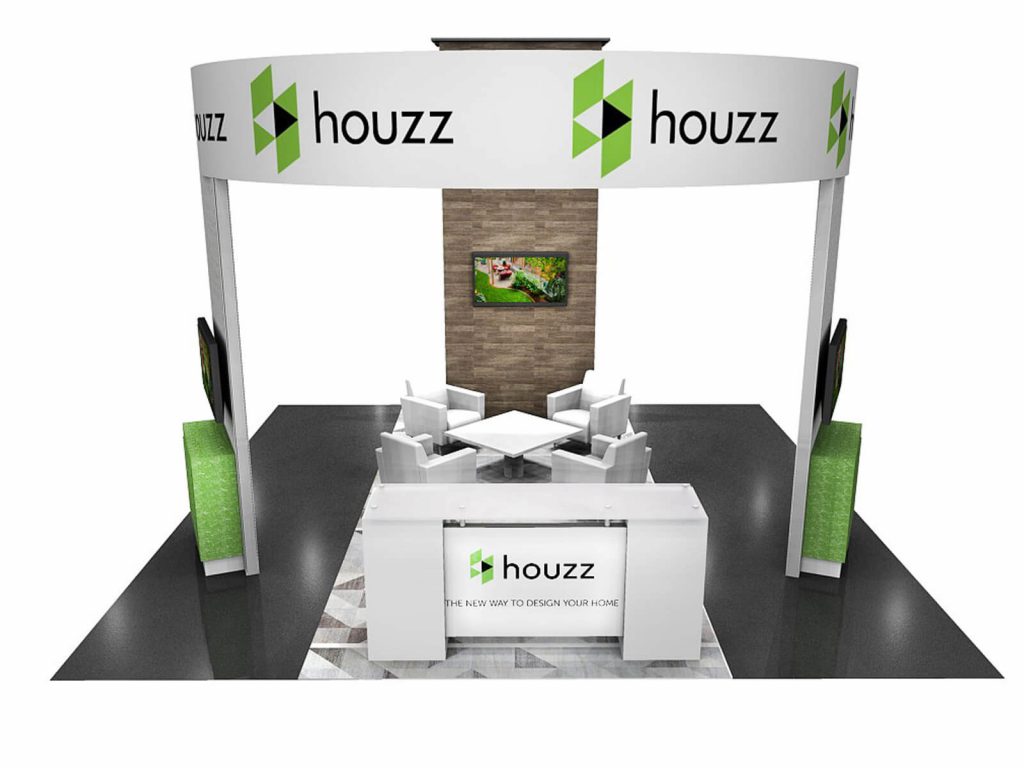 The ECO-4100 Sustainable Exhibit takes a traditional square design and transforms it into a more inviting space with curves. There are two demo stations facing the aisles, a backlit counter with storage, and a cozy lounge in the middle. The large overhead attached sign ensures you'll be seen from any angle on the show floor. You go to trade shows to be seen… so be seen with the ECO-4100 20 x 20 island booth.
5 Vendor Booth Ideas & Examples (Inlines)
1. GK-1013 Inline Exhibit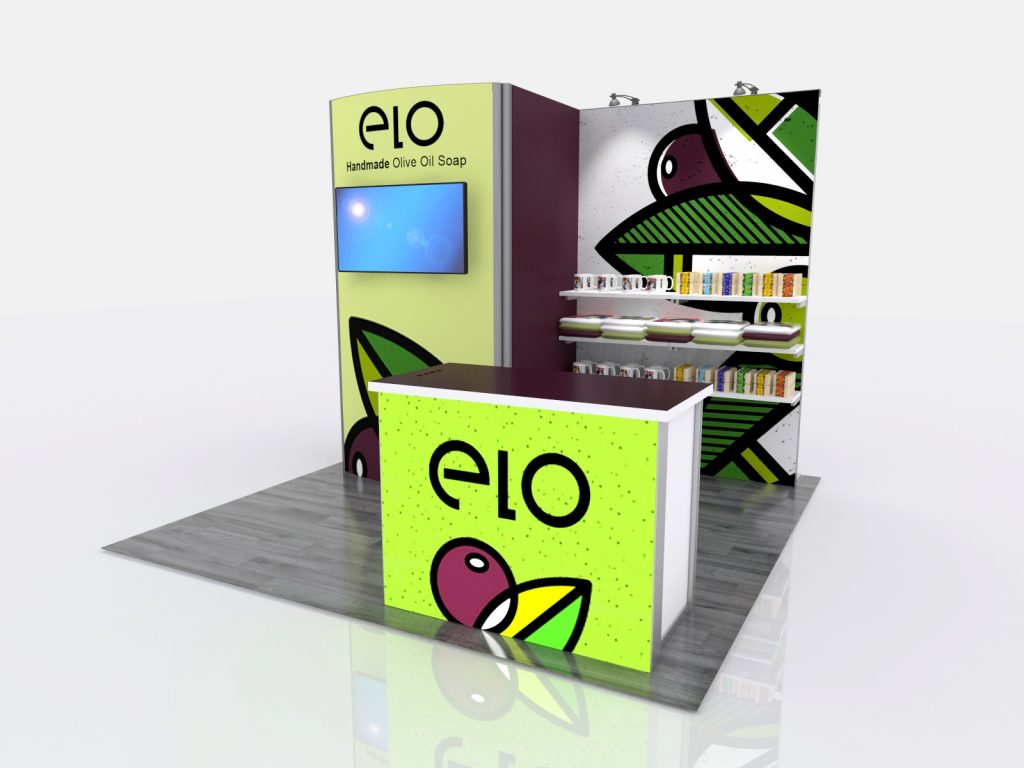 No corporate exhibitor wants a generic exhibit. They want a modern display tailored to their message and tradeshow marketing mission. The GK-1013 is ideal for serious exhibitors who want to show products and big images. The exhibits include shelves, monitor mount, storage, including both walk-in and counter storage.
The Gravitee One-Step backwall assembles quickly with modular panels. Graphic choices include tension fabric or direct prints depending on your preference. Best of all, the 10 ft. inline can be expanded to a versatile 20 ft. display.
2. VK-1354 Modular Exhibit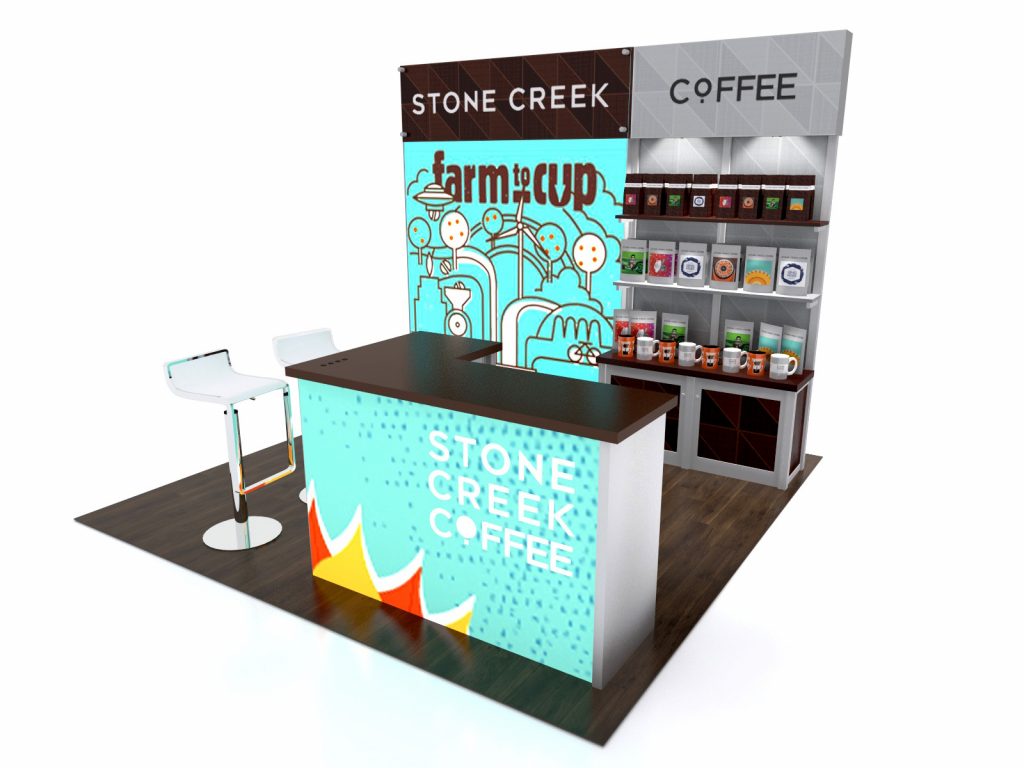 Striking the right balance between aesthetics and performance is crucial for any trade show display. The VK-1354 blends them two perfectly with bold graphics, backlighting, practical features, and convenient storage. This exhibit offers a large backlit graphic for high impact along with direct print headers. In addition, there are shelves to showcase products and backwall storage with an internal shelf.
The VK-1354 includes the MOD-1702 backlit counter with storage… There's no question . . . this exhibit will be the star of any trade show.
3. VK-4030 Backlit Inline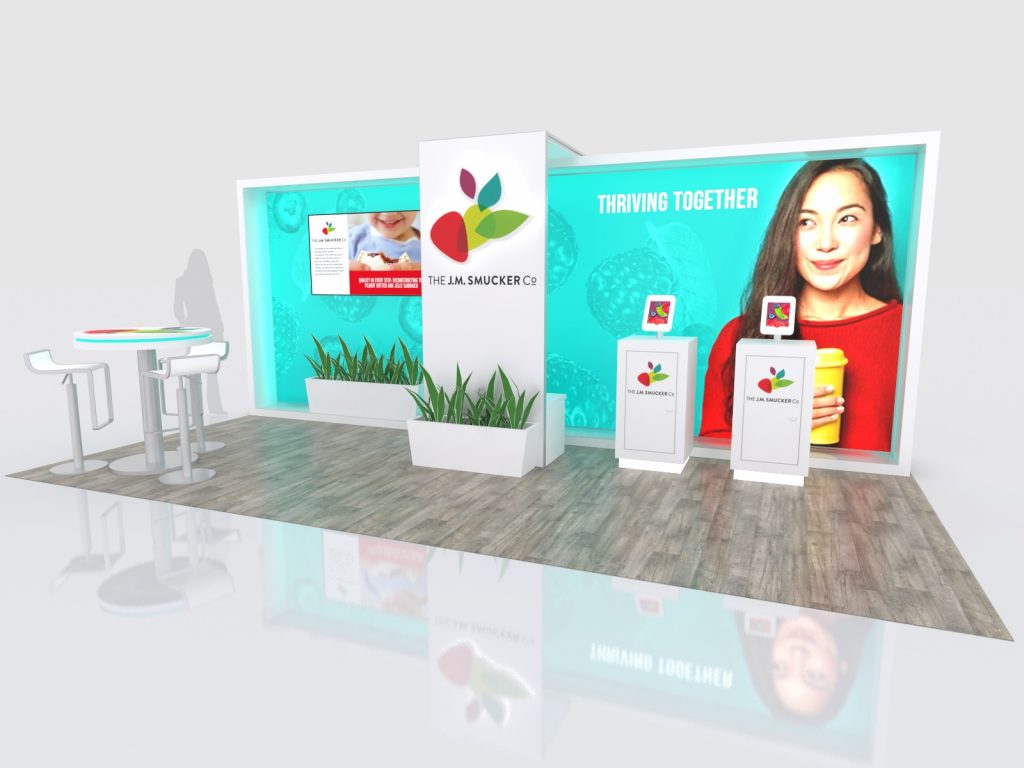 Clean, dynamic, inviting, and practical. The VK-4030 strikes the ideal balance of large backlit graphics, tablet/monitor(s), and casual seating, all in well-defined spaces with appropriate social distancing. The large backlit fabric graphics create a seamless visual presentation whether in the 10 or 20 ft. inline configurations.
The individual sections work as modules, allowing exhibitors to grow or adapt to their changing trade show schedule. In addition, there's ample locking storage and optional charging stations built into the counters and tables.
4. VK-2979 Modular Inline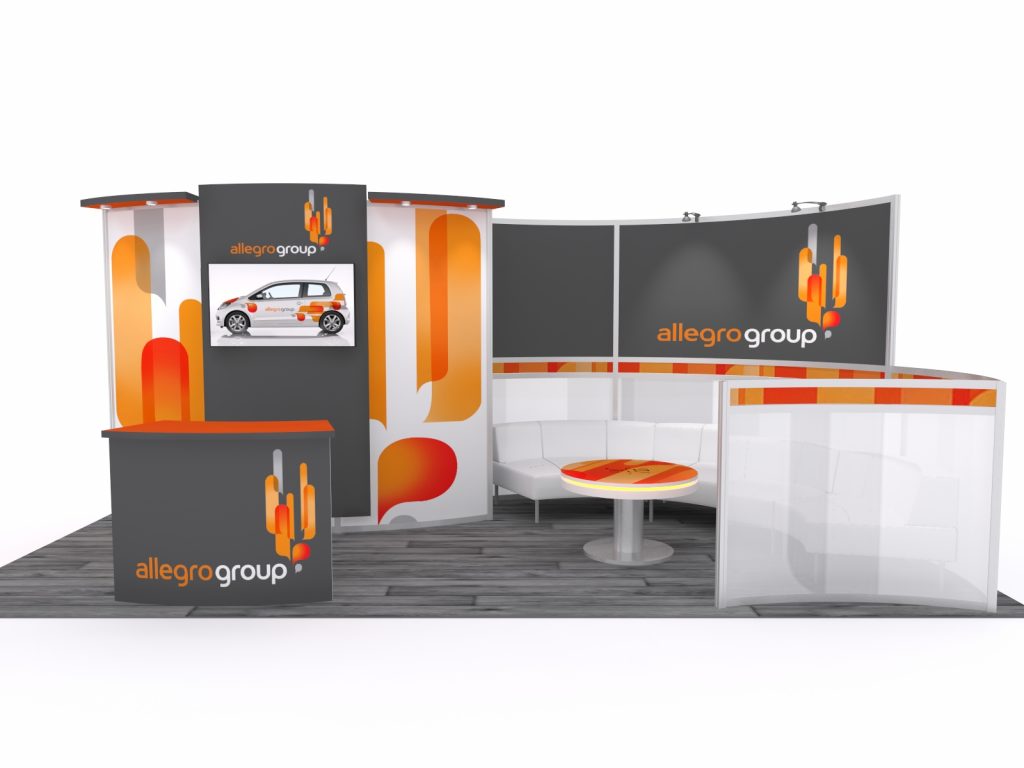 Get comfortable with the VK-2979 Series. They feature large, bold graphics, curved structures, and casual seating for 10-12 in the island version and 6 in the 20 ft. inline version. While relaxing your guests can charge their smartphones or tablets with the MOD-1430 coffee table charging stations.
Each charging station can be branded and comes with an attractive LED perimeter glow. You also find ample storage with a full-size closet and a reception counter with a locking door and shelf. Not enough? There are monitor options, downlighting, and uplighting.
5. SYK-2002 Portable Display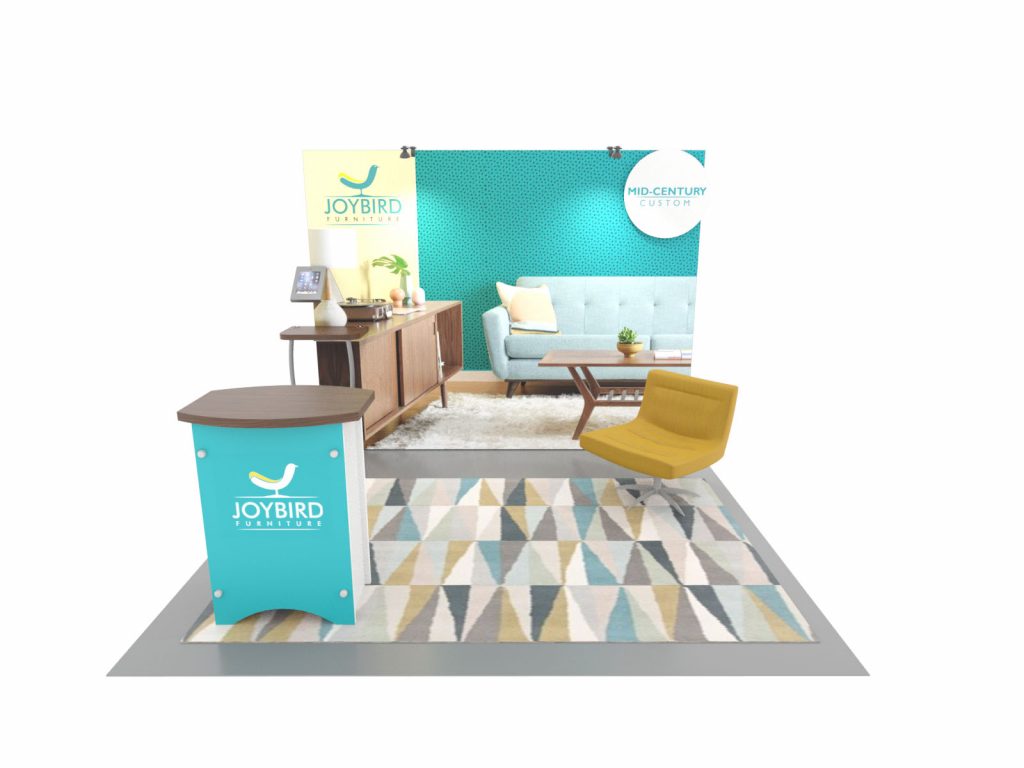 For too long, portable displays have sacrificed elegant design for visual simplicity. Not anymore. Introducing Symphony, the first portable/modular display to blend easy tool-less assembly with elegant design and clever accessories.
With Symphony, there are no compromises, no tradeoffs. Simply a beautiful upscale display at a price that's thousands less than most custom modular exhibits.
4 Exhibition Booth Designs (Rentals and Sustainable)
1. RE-1060 Rental Inline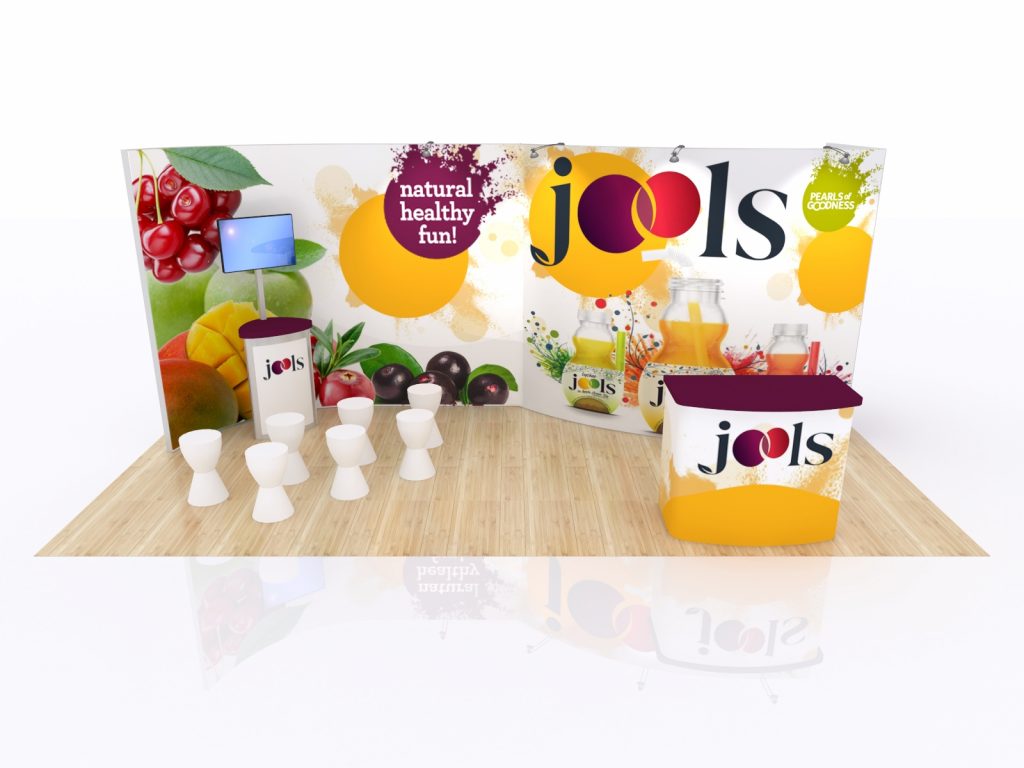 You want a distinctive custom design, easy to assemble (without tools), lightweight construction, and modular reconfigurability. Welcome to Gravitee! The RE-1060 Rental Inline Booth features panels that connect without tools or loose parts, SEG or fabric graphics, fully assembled flat or curved panels, and a wide range of accessories, like lights, shelves, and monitor mounts. The entire display packs in a fabric-lined, fully jigged custom crate. Each component is numbered for effortless assembly.
2. RE-2124 Rental Exhibit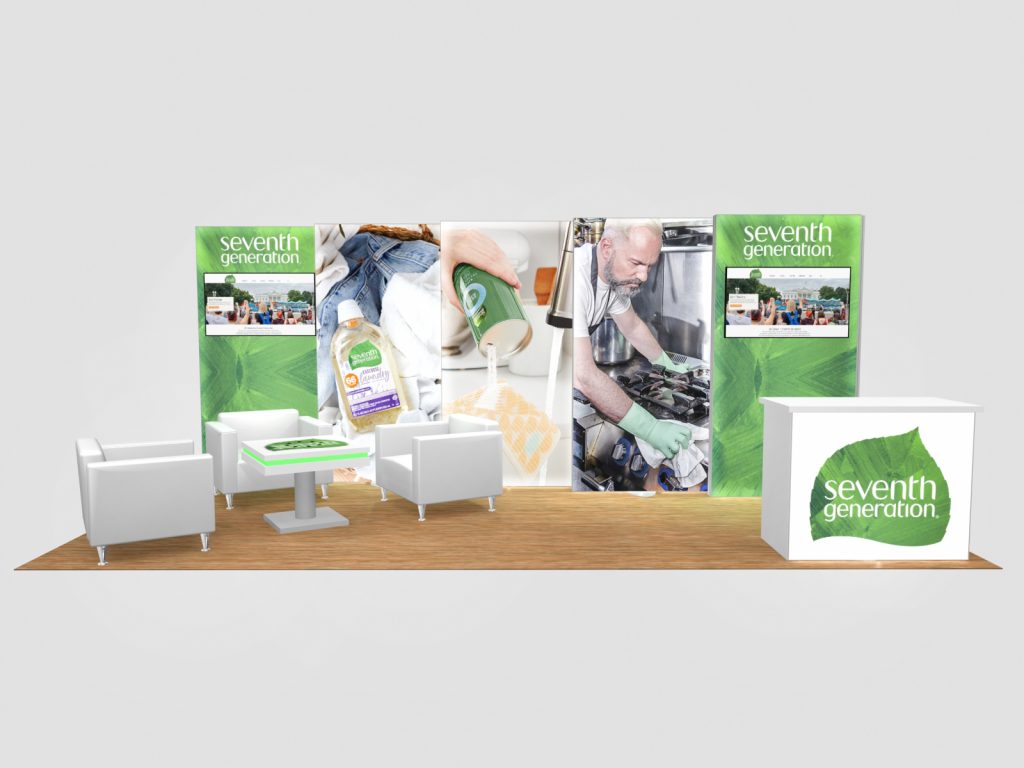 Lights combined with colorful graphics may be the single most important key to attracting attention on the trade show floor. The RE-2124 turns the table on traditional lightbox designs by "stepping" (5) 4 ft. x 8 ft. individual lightboxes. The stepping creates visual depth and interest while allowing an exhibitor to tell a compelling story through a sequenced graphic presentation.
The design includes ample room for a casual meeting space (which can be a challenge in an inline) and the charging table with LED accent lights creates a casual yet business-like setting. The RE-1567 reception counter has attractive backlit graphics and locking storage. Plus, the RE-2124 assembles quickly and packs flat in a wood crate for convenient shipping.
3. ECO-1127 Sustainable Exhibit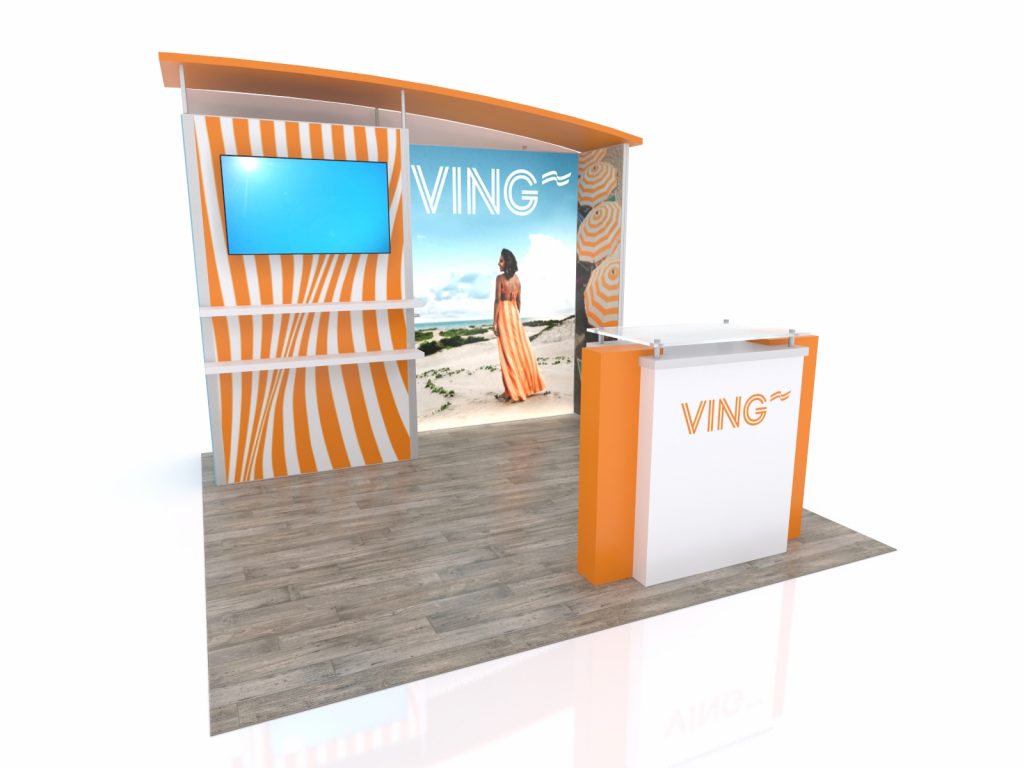 The ECO-1127 Sustainable Exhibit offers exhibitors an upscale presence on the show floor with a booth built with eco-friendly materials. This includes a lightweight aluminum frame, green printing materials, LED lights, and FSC wood construction. Features include a large monitor mount, shelves, curved canopy, a reception counter, and locking storage.
The individual components are numbered for easy assembly and the booth ships in a jigged crate with numbered components. All that and a contemporary modular design that can be expanded to a 10 x 20 display.
4. ECO-2060 Sustainable Inline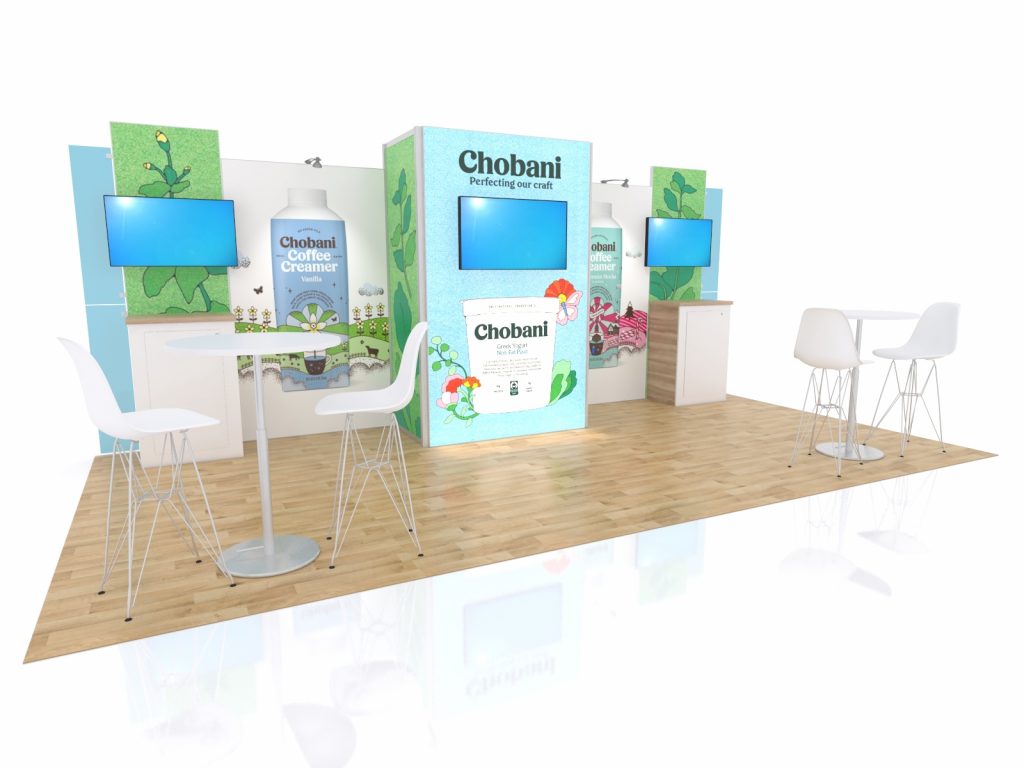 Does your company have a green sustainability initiative? Consider a modern ecoSmart trade show exhibit. The ECO-2060 is built with an aluminum frame and green fabric options. It includes (3) monitor mounts for demos and presentations, cabinets with locking storage, LED lights, and frosted ECO-Glass accents.
The step design provides both stability and privacy. Plus the open floor plan is ideal for meeting space with rental tables and chairs.
Trade Show Booth Design with Classic Exhibits
Many new exhibitors don't know where to start with exhibition booth design. Fortunately, Classic Exhibits has a vast library of past projects and contemporary exhibit designs to jumpstart the process. Sometimes the ideal booth has already been designed and built and only needs a few tweaks to match your vision. Other times, exhibitors will select ideas from multiple exhibits to create their perfect display. Either way, we're ready to lend a hand and turn your vision into a reality.