Planning ahead will save you time and money on your next setup. More often than not, preventable snags slow down installations on the show floor. Here's a list of ten tips that will help avoid those common obstacles that can waste time and drive labor costs through the roof. As you'll see, there's a theme here — PLAN AHEAD . . . and you'll probably come in under budget!
Successful I &D Tips
1.  Early communication with the lead on the I & D team by scheduling a call prior to the set-up to discuss the details & your expectations. And be sure to send set-up diagrams, booth orientation (direction), and graphic layout orientation ahead of time to reference. Exchange contact information in case something unexpected comes up, so that all parties involved know how to get a hold of each other.
2.  Be sure to arrange for the necessary tools and equipment (# of ladders and heights? genie lifts needed? banding tools and supplies for client pallets or equipment?).
3.  Send your I & D provider copies of your electrical order and a grid layout detailing the location (and specific power needs) for each drop. Again, be sure that the grid layout indicates the surrounding booth locations to ensure the booth is being oriented properly. TIP: 100 watt bulb = 1 amp; 1 monitor = 3 amps; count up light bulbs and monitors to confirm how many "amps" you need at each drop, based on the # of lights or electronics that will be drawing power from each drop!.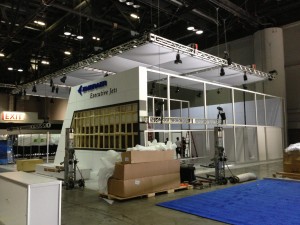 4.  Same thing with your flooring. Double-check to make sure your flooring has been scheduled for installation prior to your set-up. Be sure to send copies of your carpet and/or flooring order to your I & D company, so if there are delays at show site, they can act as the advocate on your behalf. Make sure the correct color is called out clearly on your order. Along the same lines, if you have a hanging sign, make sure the order is submitted to have it installed (w/ copies to your I & D company!).
5.  If possible, ask that your I & D company — the day before the set-up — check to see that the electrical and flooring has been installed correctly, and that your booth is clear of crates and show materials. This will help to ensure no costly wait time when your installation team begins setup the following morning.
6.  Print and email copies of line drawings, renderings, and staging photos of your exhibit design. Also include hard packets of this information in your exhibit cases/ crates, so there are plenty of copies for the I & D team to use.
7.  Do a good job of labeling every exhibit component, and be sure to check that everything corresponds with your set-up diagrams.
8.  Make notes and take photos to help describe any little tricks, tips, or special attention details for assembling any of the more complicated components. This will save a lot of time.
9.  Hold a brief meeting with the I & D team right before the setup begins to review your expectations for the day; show them your set-up diagrams and photos so they can visualize the finished product. And have a list prepared showing the proper order in which components should be built. This will prevent having to backtrack, wasting time and money.
10. If you find that a member of the I & D team just isn't performing to your minimum standards, you have the right to request a change. Tell the I & D Lead that you need to replace that individual with someone more experienced. You're paying a lot of money for this service, so it's okay to expect everyone to be on-time, professional, and productive.

Our thanks to Chris Griffin from Trade Show Supply for contributing to these tips and for the photos.
Jim Shelman
General Manger
Classic Rental Division & Exhibits Northwest
jshelman@exhibitsnw.com
*********************************
Based in Portland, Oregon, Classic Exhibits Inc. designs and manufacturers portable, modular, and custom-hybrid exhibit solutions and engineered aluminum extrusions (ClassicMODUL). The Classic Rental division offers an extensive gallery of inline and island exhibits with flexible customization options. Classic Exhibits products are represented by an extensive distributor network in North America and in select International markets. For more information, contact us at 866-652-2100.
[subscribe2]
Tags: Display setup, displays, exhibits, I &D, Installation and Dismantle, Successful I&D, tradeshow