Lesson #143:  Show Me the Best Shows, Baby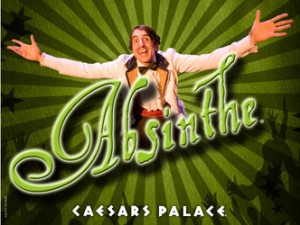 The countdown to EXHIBITOR2013 is on — T-minus 26 days and counting. That means you have less than a month to get tickets to see your favorite shows and/or performers in Las Vegas. As a Las Vegas local, I want to share with you some of my favorites on and off the Strip.
Absinthe (http://www.absinthevegas.com)
Absinthe appears twice nightly, Wednesday – Sunday in the Roman Plaza at Caesars Palace. It is an acro-variety show that is performed in the round. It has received great local and national acclaim. The show includes familiar ingredients for Las Vegas – raunch comedy, circus acrobatics, and a sprinkle of burlesque –- all uniquely combined into something new and beyond the usual. The New York Times sums up the entire 'Absinthe' experience as, "Imagine Cirque du Soleil as channeled through 'Rocky Horror Picture Show." My advice — you've got to ask yourself one question: "Do I want to see this with _____________. Well, do ya, punk?"
LOVE (http://mirage.com/entertainment/love.aspx).
Just down the road a piece (sorry the Westerner in me is coming out) is LOVE at the Mirage. It's the must see Cirque du Soleil show in Las Vegas. You can't help but feel good after spending 1½ hours in the company of the Beatles music. Last September, they celebrated their 3,000 show and you'd never know it!  The show is performed in the round, so no two performances are alike. Even if you've already seen this SPECTACULAR, see it AGAIN! LOVE also appears twice nightly on Thursday-Monday. And just because I think you're GROOVY, I searched and found this special link (http://cirk.me/UOguGP) so you could go and get tickets at a special price too!
Jersey Boys (http://www.jerseyboysinfo.com/vegas/show.html)
Not only has Las Vegas been home to the best Cirque du Soleil shows, it has also become a home away from home for many Broadway musicals. One such show is Jersey Boys. Jersey Boys is a musical biography of Frankie Valli and The Four Seasons. Of course, the link to Las Vegas and the mob cannot be overlooked. Jersey Boys began its run in Las Vegas in 2008 and has been going strong ever since.  Jersey Boys plays at the Paris and is dark is Monday with two shows performed on Saturday and Tuesday.
Terry Fator (http://goo.gl/aFw7i)
Join Terry Fator and the rest of the Fator gang for an evening of world class entertainment. With his unique combination of celebrity impressions and ventriloquism, the show is just plain fun. Terry has been in the Best of Las Vegas consistently since his arrival in 2007. TripAdvisor ranks him #11 of 478. If a good laugh is what you need, then Terry Fator has the remedy. Shows are nightly Monday – Friday. By visiting the link above you can check for seats that are 25% off in addition to 15% off dinner/show packages.
Discount Tickets
If you're willing to take a gamble (when in Rome) or can be a little flexible, there are many discount ticket companies for Las Vegas shows. I've either had personal experience or friends that have recommended these discounters. For discounts on most Las Vegas show tickets, checkout the following sights:
It never hurts to check out Groupon.com for Las Vegas deals. If you already use it online or if you have the App for your smartphone, it's as easy as changing your location.
 Near and Dear
Lastly, we can't forget the shows that are close to Luxor, Tropicana, and MGM Grand:
If none of the above acts meet your fancy, you can always stop by the Classic Exhibits booth (#1637). We'll have appearances by our own Tony Bennett, JLa, and the crowd favorite, MELVIS!!!
Please share your favorites, along with your super secret way of getting the best seats in the house.
If you haven't registered, what are you waiting for, a personal invitation? Well luckily we've got one for you. Click HERE for FREE Access to the show hall courtesy of Classic Exhibits. Enter Promo Code 4044 for the FREE Pass (waiving the credit card fee).
Jen LaBruzza, Western Regional Manager
Classic Exhibits/ClassicMODUL
jen@classicexhibits.com
*********************************
Based in Portland, Oregon, Classic Exhibits Inc. designs and manufacturers portable, modular, and custom-hybrid exhibit solutions and engineered aluminum extrusions (ClassicMODUL). Classic Exhibits products are represented by an extensive distributor network in North America and in select International markets. For more information, contact us at 866-652-2100.
[subscribe2]