Do you believe the expression "There's no substitute for experience"?
Let's say you live in Topeka, KS. You've tried all the pizza shops in Topeka and have concluded that Johnny's Pizza is the best pizza — anywhere. I could be wrong, but I suspect there are a few New Yorkers, Bostonians, or Chicagoans who would disagree. But what do they know… they haven't tried Johnny's Pizza.
We'll concede that you know Topeka pizzas. Now, it's time to buy a trade show display. Unlike lawn mowers, cameras, or smartphones, there's no Consumer Reports and your experience is limited. So, you do your research on the web, and if you are smart, you consult with a trade show exhibit professional. You ask the right questions about design, assembly, and how much it weighs. You even ask to see the warranty.
However, there are questions you won't ask. How do I know? Because no exhibit manager has ever asked me these questions… and they should.
Q1. Will the Metal Look the Same After 10 Shows?
Have you ever bought a screwdriver at a discount store only to have the tip twist? So you throw it away and realize that a Kraftsman isn't a Craftsman. About 60-70% of all trade show exhibits have a skeleton of aluminum extrusion. Sometimes it's visible, sometimes not. The dirty little secret is that it's cheaper to use low quality extrusions with thin walls and a sub-par finish. Over time, it distorts, mars, and looks tarnished. Your new booth becomes a used booth before you've wrapped-up your current marketing campaign.
Ask about the manufacturer of the extrusion? There are recognized names and then there are Kraftsman. You may not recognize the name but that's the beauty of Google. If someone tells you, "an extrusion is an extrusion," walk away.
Q2. What's the Quality of the Fabric Graphics
The rise of Fast Fashion has revolutionized the apparel industry (think H&M and Forever 21). There's a market for disposable fashion. It's cheap and attractive. But no one expects it to last or have the attention to detail of high-quality apparel.
Fabric for graphics, like clothing, is not all the same. Most inexpensive displays are shrouded with thin, stretchy fabric made with low quality zippers or cheap velcro. And yes, there's a pecking order to hook and loop as well. The fabric graphic is meant to be disposable… even if it's not sold that way. You can feel the difference. Trust your hand.
Q3. What's the Quality of the Fabric Printing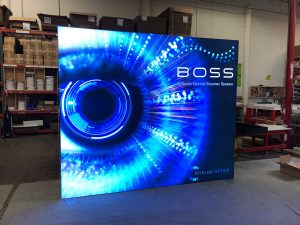 One ever thinks about this but they should. Dye-sublimated printing, the predominant type of printing for fabric graphics, is a high-tech process. And with any technology, the latest and greatest is old news in about 12-18 months. The previous generation of dye-sub printers get sold to second or third-tier printers. If you've ever seen the difference between an HD dye-sub graphic and a 4-color one, you know what I mean. Skin tones are more realistic. Black is black not dark grey. There's no color banding . You get the picture.
Ask when was the printer was manufactured (not re-manufactured or purchased). And even if it's only been owned by a little old lady in Pasadena and stored in a garage, it's still an AMC Hornet.
Q4. Is the Packaging Material Reusable?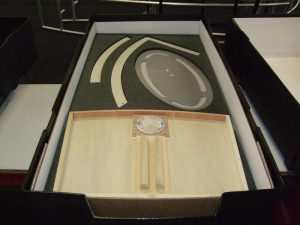 You just bought a new pair of Beats by Dre headphones. They sound great, but you've decide you want them in black and not fushia. Good luck getting it back in the packaging. It was meant for marketing, not for re-marketing. Far too many trade show displays are packed to prevent damage before the first show. But what about damage after the second, third, or thirty-third show?
High-quality reusable packaging costs more than bubble wrap and thin foam. Smart, well-engineered packaging is like finding $20 in your wedding, funeral, and holiday party pants. It's an unexpected miracle that keeps on giving.
Q5. Are Replacement Parts Available?
Folks send me photos asking me to identify a part. That's rarely an issue if it's from a major display manufacturer. However, it's usually from a $699 pop-up or tube structure. Let's be honest. There are no parts. There never were any parts. It wasn't sold to have replacement parts any more than a $17 toaster. It's meant to go into the landfill after a half-a-dozen uses.
Now if that idea appalls you, then ask your supplier if quality replacement parts are available, what is the cost, and how quickly can you get them? Oh… and if they are only available through Smiling Sammy's Display Store, then that's a really, really bad omen. He's gotta a guy who knows a guy. Good luck with that.
Q6. How Do You Handle Wire Management?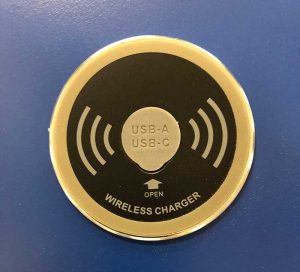 There's no middle ground on this. It looks good or it looks really, really bad. Those electrical and A/V cords have to go somewhere. More often than not, the cord management for most exhibits resembles a hairball. But it doesn't have to be that way.
You have to share what electrical devices will be in the booth and where they'll be located with your supplier, and that includes anything you maybe renting. Ask your supplier about their solution for lights, monitor cords, etc. If they stumble — run. It means the solution is likely to resemble white twist ties from plastic garbage bags.
Q7. What are the Designer's (Exhibit and Graphic) Qualification?
Everyone is creative. To a point — chainsaw sculpture, toilet roll cozies, saw blade paintings. I'm not here to judge. Well, maybe a little. Most of us are out of our element when it comes to exhibit and graphic design. And like wire management, there's no middle ground. Great exhibit designers have years and years of experience working on a variety of projects (custom, portable, modular) with collaborative input from other exhibit designers. That's how they get experience, perspective, and context.
The same is true with graphic designers but with a twist. They must have experience designing graphics for trade show displays. That's the key. It doesn't matter if they are Rock Stars with web design or print advertisements. You don't want an occasional trade show designer to be the lead designer. If you have an in-house designer familiar with your brand, then make the design process collaborative. Graphic design for trade show displays is a craft. Trade show designers have learned what works and what doesn't to attract attendees on the show floor.
These questions may make your trade show exhibit supplier uncomfortable. Good. That's how you'll know if you chose the right one.
–Mel White
mel@classicexhibits.com
http://www.linkedin.com/in/melmwhite
https://twitter.com/melmwhite
**********************************************
Based in Portland, Oregon, Classic Exhibits Inc. designs and manufacturers portable, modular, and custom-hybrid exhibit solutions. Classic Exhibits products are represented by an extensive distributor network in North America and in select International markets. For more information, contact us at 866-652-2100 or www.classicexhibits.com.
undefined
Tags: Classic Exhibits, Exhibit Design, Graphic Design, trade show displays, Trade Show Marketing, tradeshow tips