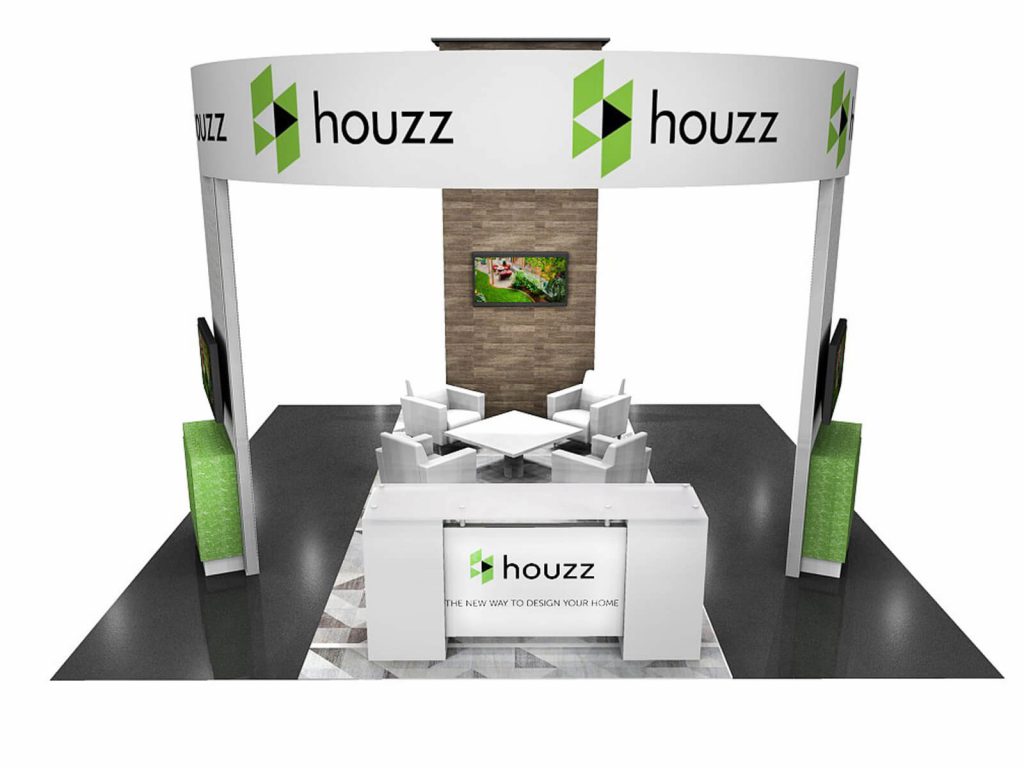 Eco-friendly exhibits are the future of the trade show industry. In a consumer survey, 92% reported they are more likely to trust a company that supports social or environmental issues, and 87% have a more positive image of a company that supports social or environmental issues. This means that not only will more sustainable business practices tremendously help our planet, but they'll also help with your company's image and sales too!
Eco-System Displays: Getting Started
Since 2007, Eco-System Displays line (Eco) from Classic Exhibits Inc. has been the leader in contemporary eco-friendly displays for trade shows and events. In fact, no other exhibit company has a longer history or built more green displays than Eco-System Displays. The company's designs have won multiple awards including Buyers Choice and Best of the Best Awards at exhibit industry trade shows.

All Eco products are built using eco-friendly materials, which in most cases cost the same or less than standard displays. Start by exploring the three Eco galleries in Exhibit Design Search, featuring inlines, islands, and accessories. You'll find hundreds of designs that can be purchased "as is" or customized to meet your specific marketing needs. Want something totally unique? No problem. Our talented designers will be happy to create an exhibit tailored to your custom requirements.
Benefits of Selecting an Eco Display
Historically, trade shows and events have generated mountains of trash. If you've ever participated in the installation and dismantling of exhibits on a show floor, you've seen the plastic, paper, wood, and metal headed to the landfill. Fortunately, COVID and a general "green awareness" have reduced the brochures, paper products, give-a-ways, and carpeting thrown away. Along with the increase in rental displays. However, non-sustainable materials are still being used by many exhibit builders.
Eco-Systems Sustainable was founded to provide exhibitors with green trade show options that don't compromise on the design or the quality of the materials. Eco-Systems resources eco-friendly materials similar to Sintra, a fabric made from recycled plastics, aluminum extrusions produced using recycled aluminum, FSC certified wood, Green Guard laminates, and water-based adhesives and inks. As technology has evolved, so has the quality and price of the materials. In almost all cases, it's equal to or superior to non-sustainable materials.
Aluminum Extrusions: 70% recycled content.
Forest Stewardship Council Wood Products (FSC): Certified grown and harvested sustainably.
Laminates: Greenguard Certified.
Adhesives: Water-based, low or VOC free (Volatile Organic Compounds).
Eco-Board: Biodegradable polystyrene.
ReCo Board: 100% recycled plastics.
Eco-Glass: 100% post-industrial recycled acrylic or plexiglass.
Fabric Graphics: 100% post-consumer material including dye-sub SEG backlit graphics.
LED Lights: Lightboxes, accent lights, stem lights, and downlighting.
Shipping Cases: Made from recycled plastics and 100% recyclable when no longer needed. All wood crates are made using FSC Wood.
Reusable Packing Materials: Made from Recycled Foam
Eco Display Products for Your Next Show
Some exhibitors ask, "Will my exhibit look green?" It can. We can design it to have a funky, crunchy, or recycled look. However, most exhibitors want a modern, contemporary exhibit built with sustainable materials. It's green but it doesn't wear its sustainability on its sleeve. See the examples below for a modern approach to sustainable design.
Islands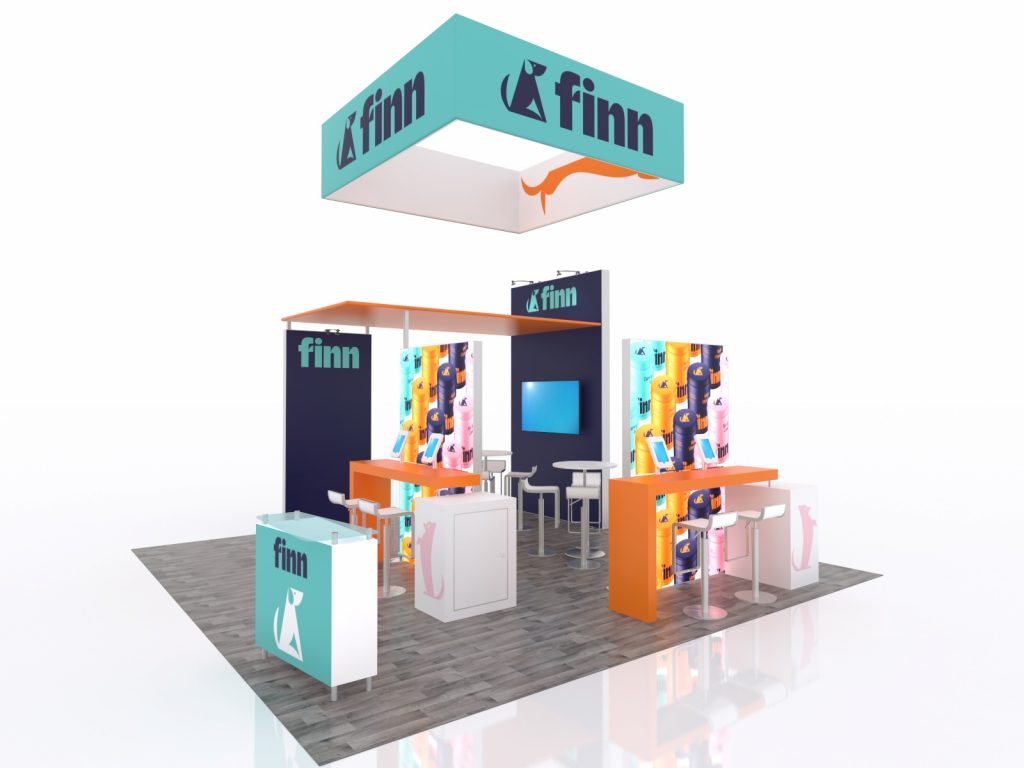 ECO-4071: The reconfigurable ECO-4071 island offers inviting entrances on all four sides. The backlit graphics and hanging signs attract attention both down the aisle and across the show hall.
ECO-4100: A reconfigurable island exhibit (w/ 10 and 20 ft. inline options) transforms a square 20 x 20 booth space into an inviting island with a round header and comfortable lounge.
ECO-4073: This affordable island starts with an open floor plan with curved headers and layers on a stunning reception counter with iPad mounts and pedestals.
Inlines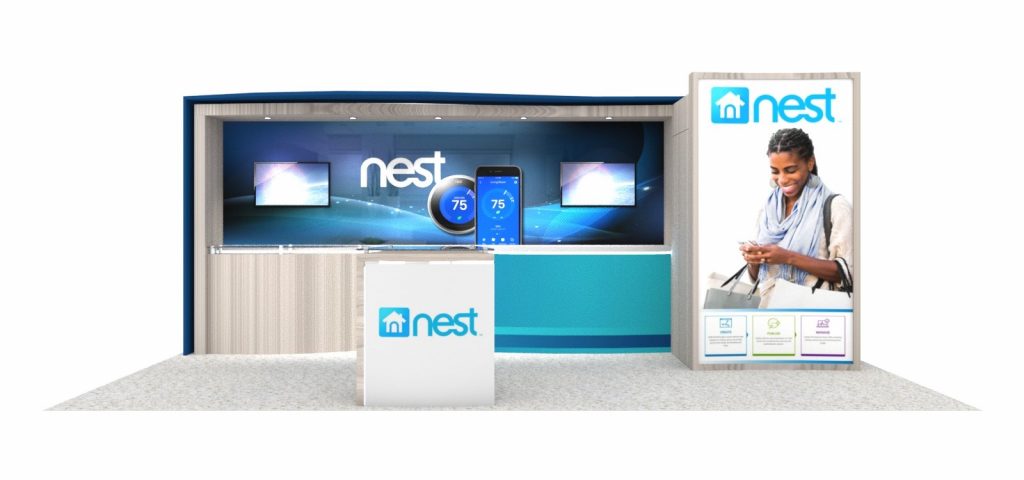 ECO-2124: This custom design with modular construction, the ECO-2124 includes downlighting and backlight, closet storage, and multiple monitor options!
ECO-1091: This sophisticated inline blends bright backlit graphics, a large monitor option, multiple shelves, and a clever reception counter into an elegant 10 ft. display.
ECO-1127: The perfect choice for any exhibitor who requires large graphics, a monitor option, and product shelves. The modular construction expands to a 10 x 20 booth.
Accessories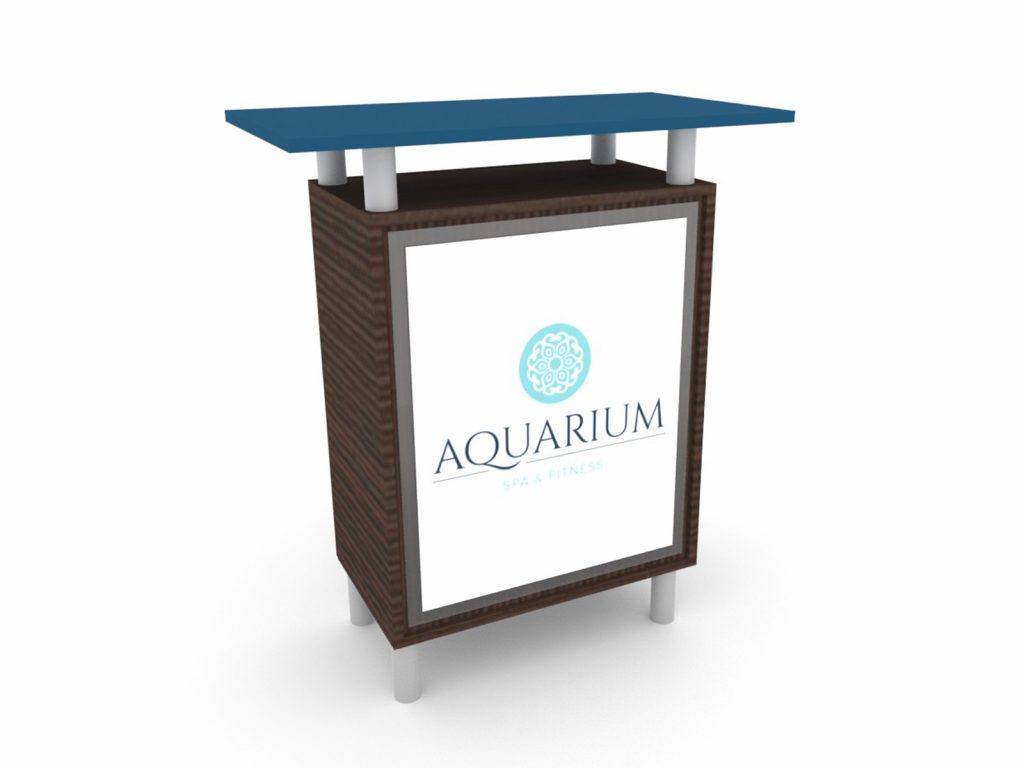 ECO-2C: A beautiful and affordable pedestal with a raised countertop and locking storage. Available in hundreds of laminate colors and finishes.
ECO-42C: This large reception counter (86″ W x 40″ H x 25″ D) makes a bold statement with vibrant backlit graphics, a plex countertop, and dual locking storage cabinets.
ECO-55C: The curved custom counter includes LED accent lights, internal shelves, and convenient wireless charging pads.
How about Eco Display Rental Options?
Renting Eco-System Displays is the greenest of green choices for exhibitors who want to make a difference. Eco rental exhibits are built with sustainable materials, come in a variety of sizes and designs, and can be customized for any exhibitor — even from show to show. Rentals give exhibitors the ultimate flexibility to change their messaging without the hassle of ownership.
An eco-friendly rental from Classic Exhibits looks identical to a purchased exhibit. Imagine a beautiful island display with large LED lightboxes, big overhead signs, conference and meeting rooms, and workstations at a price 40% less than a comparable purchased display.
Because rentals are used again and again, as long as the components are functional and attractive, they are more sustainable for the exhibitor and the builder. Plus, when components can no longer be used, Eco recycles them – the wood, aluminum, and plastic.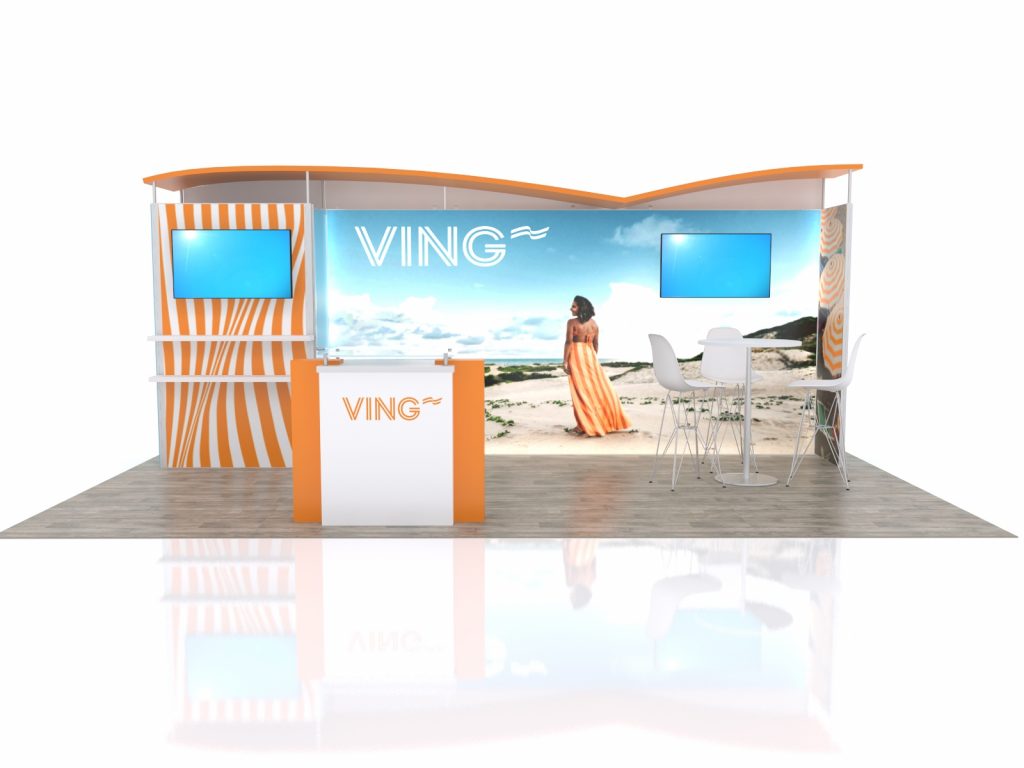 Does a "Green Exhibit" Cost More?
Not anymore. The green industry has become incredibly efficient with recycled products. With the exception of wood, all the eco-friendly materials sourced in the construction of an Eco display are either the same cost or less expensive than "virgin" materials. And in most cases, the quality is superior. There are no compromises, either in the construction or in the design options when choosing an Eco display.
Eco-System Displays from Classic Exhibits
As an exhibitor, you can make a difference, and that difference doesn't have to cost more or compromise your design or marketing goals. Green materials such as Eco-board, ReCo, and FSC wood products are smart choices that are comparable to non-sustainable materials.
However, none of that matters if you can't get the design and the features you need in your exhibit. As the leader in eco-friendly exhibits, Eco-System Displays by Classic has been designing modern trade show displays since 2007. 
With over 200 Distributor Partners throughout North America, there's a Classic/Eco representative close by. Contact us today whether you need a custom inline, a rental counter, or a sustainable island with all the bells and whistles. At Classic… We're not just different. We're better.