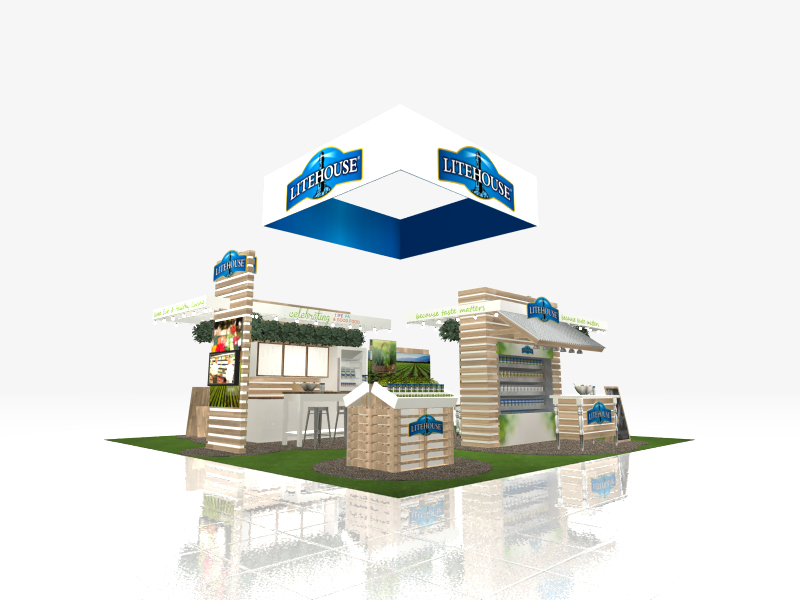 So, you're considering a custom trade show exhibit. Perhaps it's a 10 x 20 inline or a 30 x 40 island. While you may be a seasoned veteran of trade shows or a newbie who has never purchased any displays, the steps are the same regardless of your experience.
Start by keeping an open mind about what a "custom trade show exhibit" is. There's often an assumption that it's large or expensive or heavy or complicated. And, it can be all of those, but it doesn't need to be. On its most basic level, custom simply means that it's custom or customized to your exhibit marketing needs. Traditionally, a custom trade show exhibit is a wood or aluminum structure designed and constructed specifically for a particular company or brand. When done well, it's intended to be a more immersive, engaging, and memorable experience for attendees.
Custom Trade Show Booth Essentials
Forget about how your custom exhibit is going to be built or what materials will be used. Those details can come later. It's all about the why, what, who at this point. Why trade show marketing? What are your goals? Who's your audience? And what's your budget? Does your brand have a specific identity and does your company have a well-defined personality? And what's worked or not worked for you in the past?
You need to be prepared for these questions because an exhibit designer can't (and shouldn't) begin creating your custom exhibit without these details. Design without details is a waste of everyone's time and money.
Brand Identity: Your custom trade show exhibit should be an extension of your brand identity, with consistent colors, fonts, and visual elements. It's critical to share your brand guidelines with the designer to ensure that they have a clear understanding of your brand's look and feel.
Target Audience: Who are you trying to reach with your trade show exhibit? Keep your target audience in mind when designing your booth, and make sure that your messaging and visuals are relevant to their interests.
Marketing Goals: What do you want to achieve with your trade show exhibit? Do you want to generate leads, promote your brand, or launch a new product? Once you know your goals, you can start to design a booth that will help you achieve them.
Functionality: Your trade show exhibit should be both visually appealing and functional. Make sure that there is enough space for visitors to move around comfortably, and that your displays are easy to access. You should also consider providing seating or lounge areas for visitors to relax and learn more about your products and services.
Budget: Custom trade show exhibits can be expensive, so it is important to set a budget before you start planning your booth. Once you have a budget in mind, you can start to work with a designer to create a booth that fits your needs and budget.
Custom Trade Show Booth Design: Tips from the Pros
Do you want a successful, even award-winning custom trade show exhibit? Then be open-minded, actively involved in the creative process, and trust the exhibit professionals to design and build your custom booth. No exhibit house wants a client who isn't responsive, doesn't offer advice, or is simply wishy-washy about suggestions. You know your company, your culture, and your objectives. Your exhibit house knows display design, experiential trends, and building materials. Consider the following:
Finishes, Textures, and Colors. Your brand matters. For many exhibitors, the brand's color and finish are the base coat of any successful design.
Layout (Maximize Space). While inlines are inlines and islands are islands, don't let the rectangular or square footprint of a booth space be a limitation. Your layout should fit your objectives. Do you need presentation areas, meeting rooms, demo stations, reception counters, and interactive games or activities? Strive to optimize the space without adding clutter. Sometimes what looks good on paper or a computer screen can feel cramped or impractical on the show floor.
Graphics. Too often, exhibitors spend weeks fussing over the structure and days designing the graphics. Usually in that order. The exhibit structure and the graphic treatment should proceed hand-in-hand during the design process. Graphics often change from show to show so what makes sense at Show #1 may not be appropriate at Show #2.
Display. Many custom exhibits are built using modular walls, both wood and aluminum. Your custom display should look like it was built specifically for you, and not just a display rebranded with your logos.
Accessories and Interactive Elements. A custom display should seamlessly integrate into all the other elements in your booth, like counters, workstations, and furniture, and enhance the overall experience. This can be done with Audio, Video, Lighting, and Interactive Elements like games or touchscreens.
Experiential. How you engage with attendees will determine whether their experience is memorable or simply one more forgettable interaction on the show floor. Those experiences should support your strategy and brand while providing your guests with solutions they'll remember and an experience they'll share with others.
The Latest Trade Show Booth Design Trends
Trade Show Booth Design has undergone significant changes over the past 10 years. Not only has technology contributed to those changes, but also an increased emphasis on personalization and experiential games, presentations, and interactions. In addition, exhibitors are more focused on their Return on Investment or Return on Objectives, so measuring and maximizing their success has become much more important. Below are some emerging trends in exhibit design.
Emerging Design Trends:
Sustainability and Eco-friendly Design
Natural Finishes and Materials
LED Lighting and Backlit Images
Large Format Fabric Graphics
Modularity (Reconfiguring Designs)
Virtual Reality (VR) and Augmented Reality (AR)
Social Media Integration
Experiential Games and Activities
Meeting Rooms and Casual Seating
Custom graphics and visual storytelling
Blending Rental with Purchase Elements for Greater Flexibility
Custom Flooring Including Printed, Inlay, and Raised Flooring
5 Stunning Custom Trade Show Booth Examples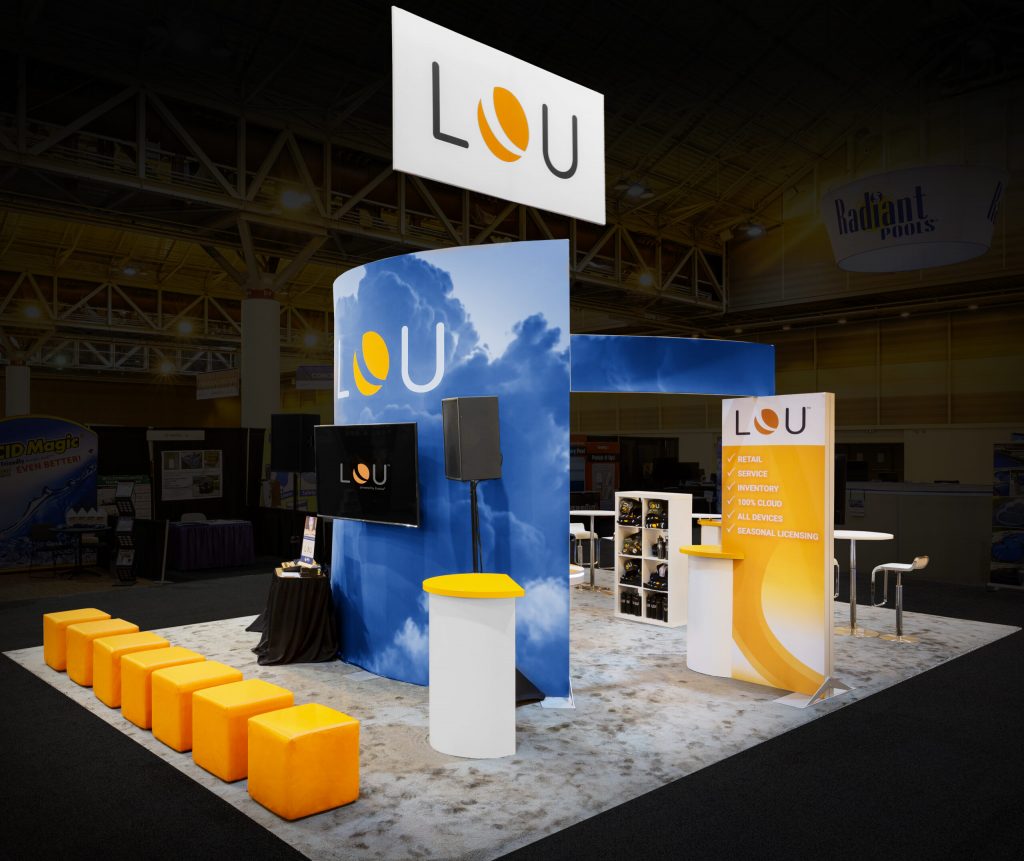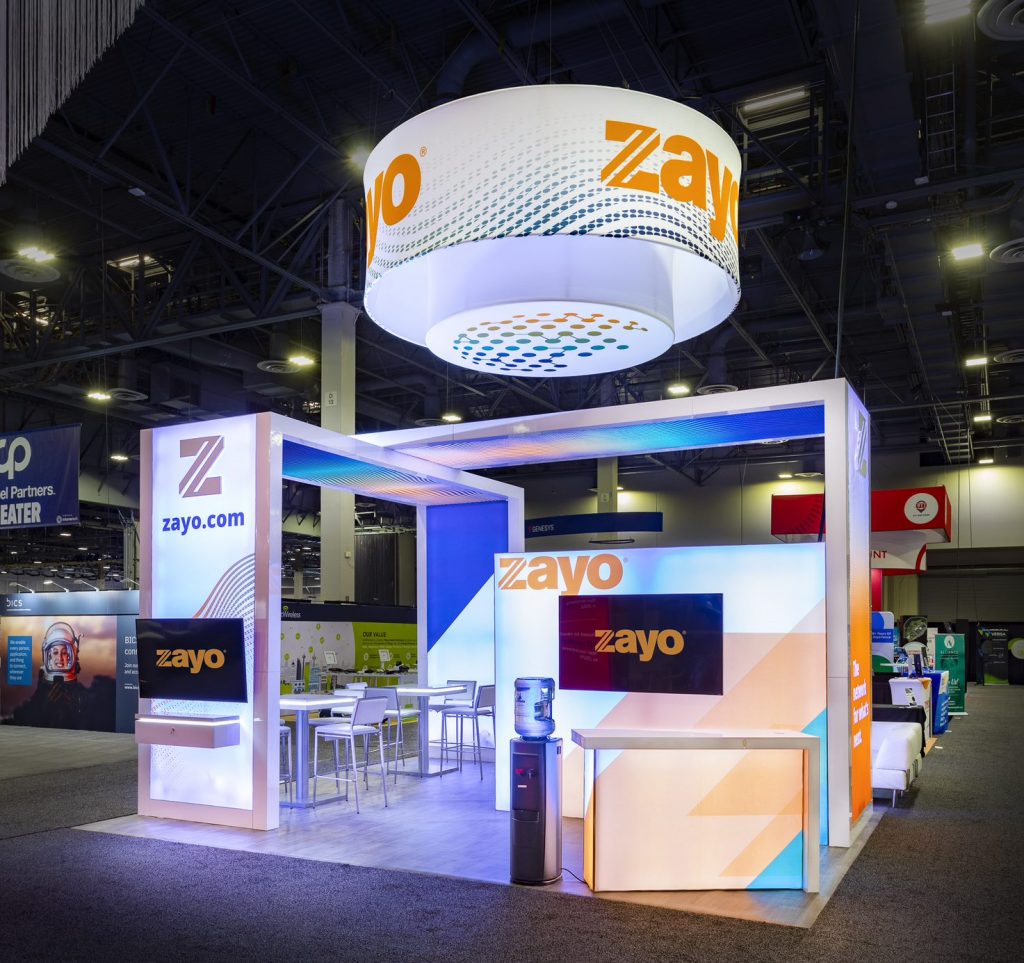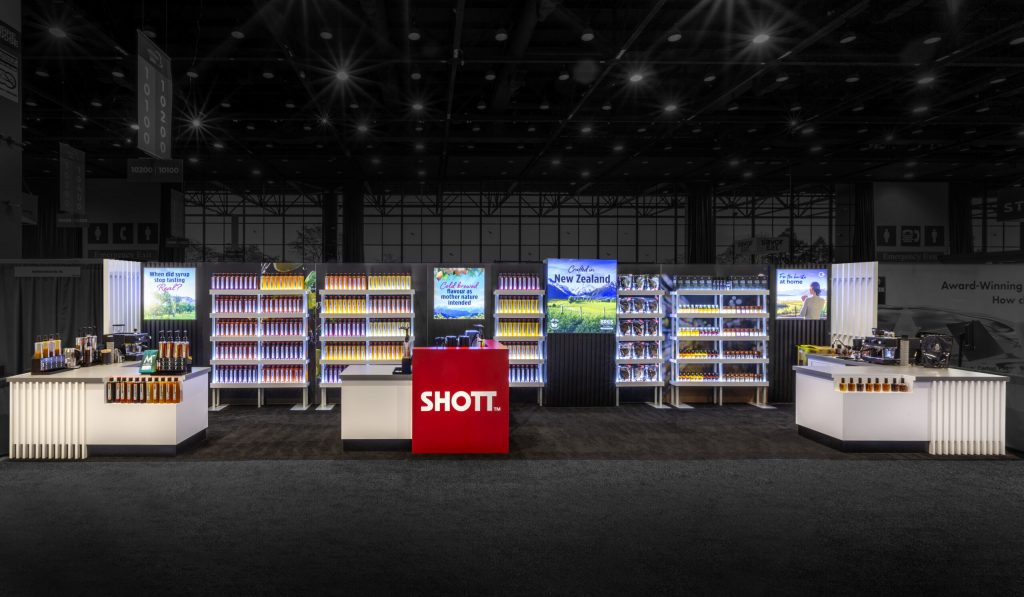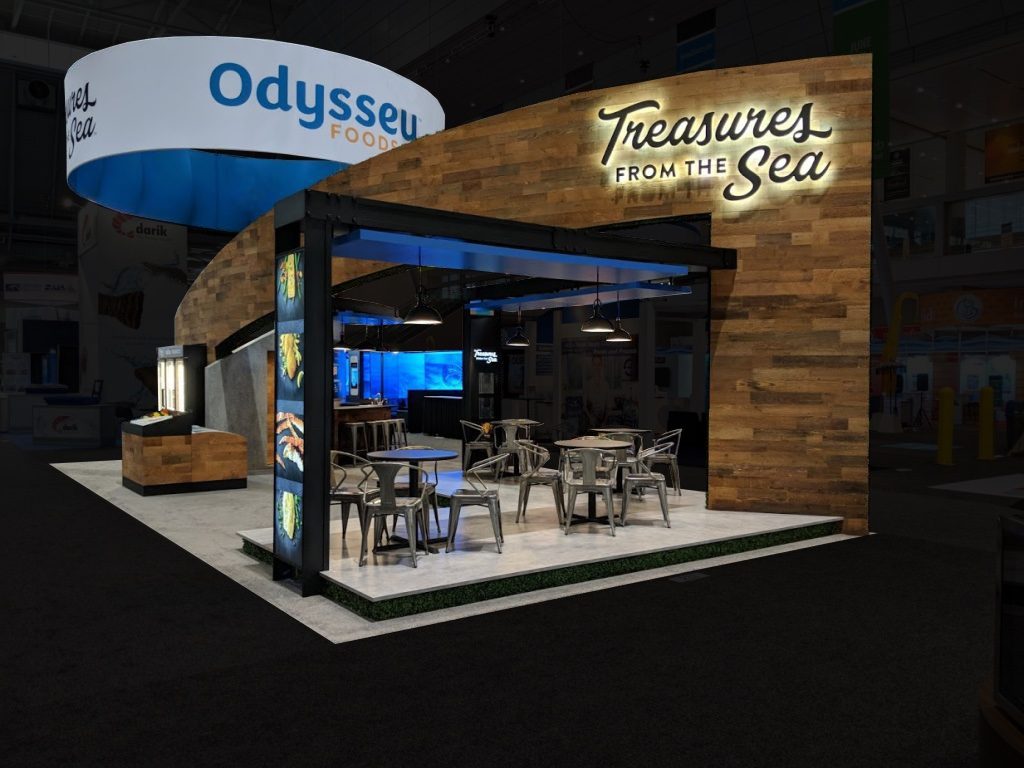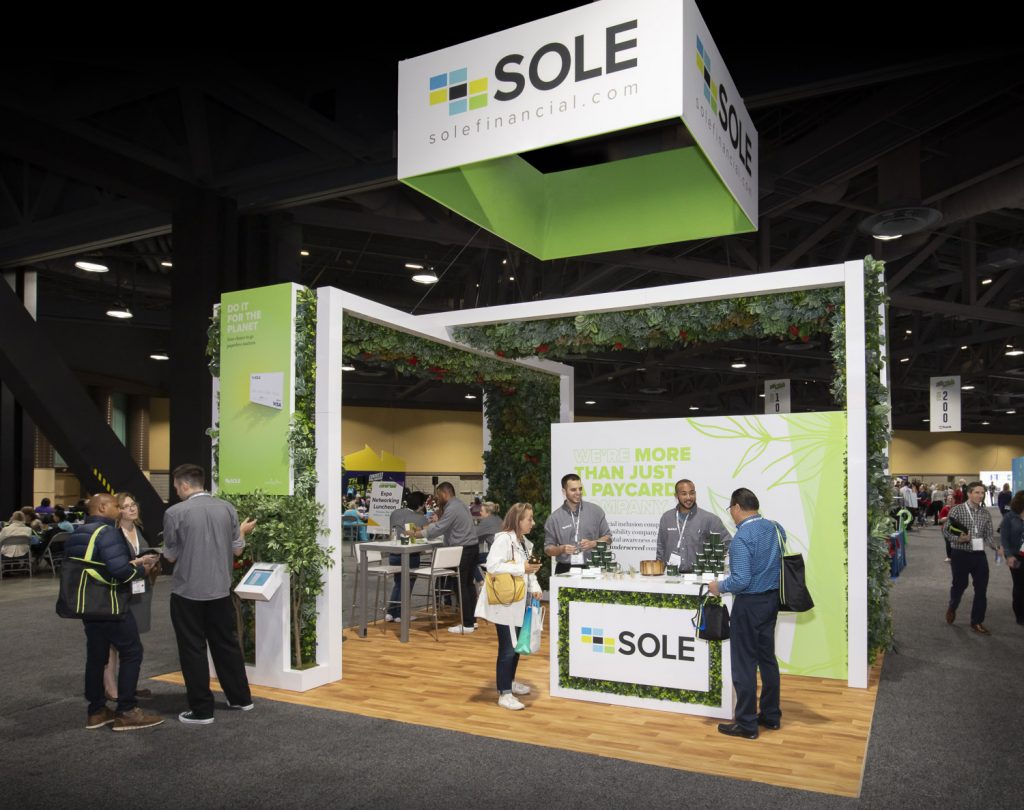 Finding the Right Custom Trade Show Booth Manufacturer
Trade shows, trade fairs, conventions, and expositions have existed for hundreds of years. And yet, the trade show industry in the United States is somewhat invisible to most people. Just the trade show portion was forecast to reach 11.8 billion in 2023. Include events and the number doubles to over $23 billion!
This means, there are custom exhibit builders and manufacturers throughout the United States. Most have one location, but many have sales or manufacturing facilities in multiple cities.
Finding the perfect custom house will depend on your objectives, personality, and location. Some exhibitors want to work with a custom house where they're the big fish in a small pond. Others are less concerned about size and more about capability, creativity, and services.
When choosing a custom exhibit house, consider the following:
Location: From a practical standpoint, most exhibitors work with an exhibit house near or somewhat near them. While video conferencing, file sharing, and texting/email make proximity less important, we're still more comfortable meeting face-to-face, even if only occasionally, and inspecting our booth in person. That said, location doesn't always matter especially if someone on your team has a solid working relationship with a specific builder.
Services: Not all exhibit builders have the same services. Some have large rental inventories, A/V production teams, direct and/or fabric printing, I&D labor, and a comprehensive team of account managers, project managers, designers, event coordinators, welders, carpenters, millwrights, and assemblers. Others have all those but on a smaller scale. Finally, size, whether small or large, doesn't equate to better service.
Personality/Fit: We're all different, and some exhibit builders better match your needs and personality. Often, there's no one reason. It just feels right. And that's OK.
History: History and relationships matter. It's not unusual for exhibitors to have a multi-decade relationship with their exhibit house. They're a team. They know what works, the exhibitor's show schedule, and how to accomplish the impossible together. It means the exhibitor can focus on strategy and execution rather than the mundane tasks of ordering show services, pre-show booth staging, packing promotional products, or arranging freight.
Price/Budget: A custom exhibit is a purchase. Large companies are often required to send RFPs (request for proposals) on capital expenses like the building, storing, and maintenance of a custom exhibit. Whatever the final decision on which exhibit house to choose, cost is a factor. And it should be. How much price weighs in the overall decision depends on the company.
Meet Your Custom Trade Show Booth Partner: Classic Exhibits!
For 30 years, Classic Exhibits has been designing and building creative custom solutions for our Distributor Partners and their clients. As the largest private-label exhibit manufacturer in North America, we have the unmatched capability, capacity, and creativity to create 3D projects ranging from 10 x 10 inline displays to 60 x 80 double-deck islands. 
Find success on the trade show floor with an exhibit that reflects your marketing message. For more information, see www.classicexhibits.com and explore Exhibit Design Search or request a meeting with a Classic Distributor Partner.