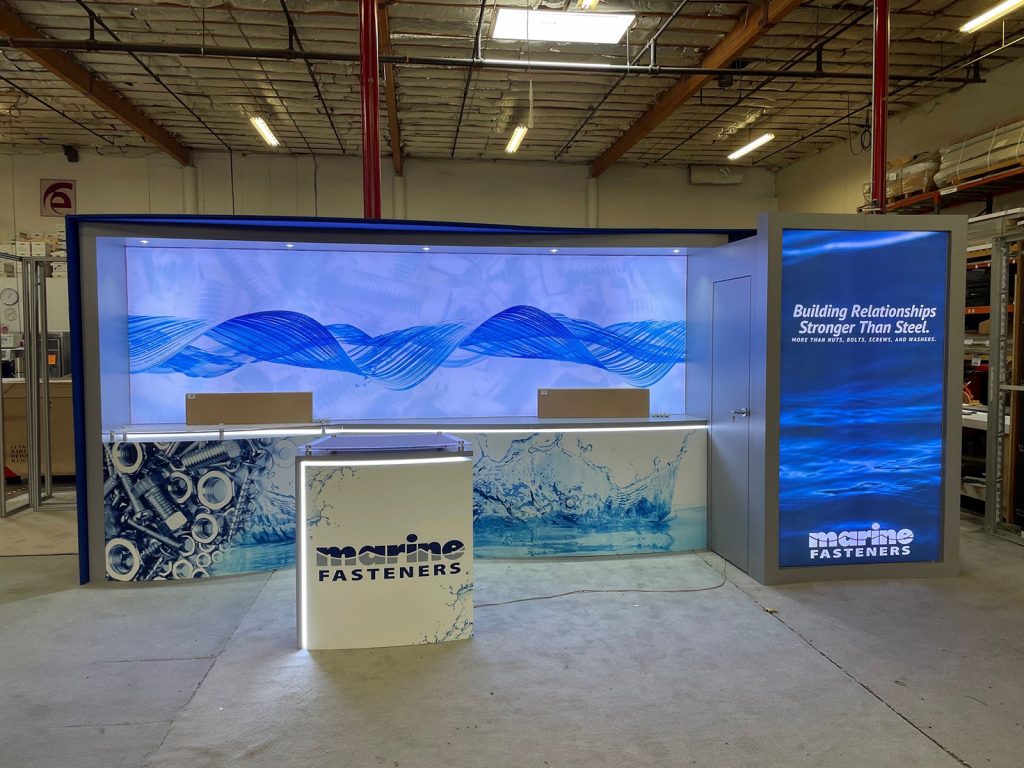 Could you build your own trade show booth? Of course. But, let's be honest. Do you really want to design and build a structure engineered to assemble quickly, pack efficiently, display graphics, and survive shipping?
That's not to say you couldn't do it, but why reinvent the wheel when there are specialized exhibit houses with ten, twenty, or even fifty years of expertise in engineering displays for portable, modular, and entirely custom trade show booths?
If there's one "truism" in trade show marketing, it's that experience matters and mistakes are costly. You'll avoid the most common pitfalls by conducting research online, asking questions early and often, and working with a trade show professional. That professional could be an exhibitor in your industry with years of experience, a local exhibit house, or an exhibit industry consultant who can guide you through the design, build, marketing, training, and lead management process.
How to Go About Building a Trade Show Booth
As with any marketing project, your trade show design and build should start with a comprehensive strategy. What are your goals, your budget, and the expected outcome? Your strategy will evolve. It does for everyone. Internal stakeholders, like sales, customer service, research and development, and your senior executive team, will share their distinctive perspectives on what success looks like for them.
It goes without saying that most organizations want to increase sales and find lucrative clients. Challenge them beyond that. What else represents "success" for the team? Meeting with existing clients, sponsorships at educational sessions at the show, insights about competitors, or even team building. Finally, consider both quantitative and qualitative goals. For example, sales leads could be a quantitative goal. Meeting new people at the show's opening reception could be a qualitative goal.
Building a trade show booth is a process. It doesn't matter if you've never participated in a trade show or you're a seasoned trade show professional. Getting it right takes time and requires the input and expertise of people both within and outside your organization.
Once you've established your goals, you'll need to decide on a booth size or sizes. The size will depend on the number of shows you plan to participate in this year and whether the size of the booth will vary depending on the show. For example, your industry may have one major exhibition. At that exhibition, you want a REALLY BIG presence. Say a 20 x 30 island. Then, there's another show three months later, which while important, doesn't require as large of a booth. In this case, say a 10 x 20 inline. It's time to make an important decision… which we'll discuss in the next section.
Planning Your Exhibition Booth Design & Layout
It's time to either surf the web for displays or meet with your exhibit house account executive and designer. Or both. The direction you take may depend on your budget, your knowledge of trade show booths, or your timeframe. Endlessly scrolling through display websites has its benefits. You'll see a wide range of designs, sizes, and prices, which may narrow down your choices. It may also clarify whether you want to work with an online supplier, a local exhibit house, or a portable/modular distributor. Let's assume you've chosen the second option.
Your goals, strategy, and budget will serve as the foundation for the design. The exhibit designer will then dive deeper. Often much deeper. The designer will strive to understand your branding, your culture, your current marketing, and your products and services. They also ask about your previous trade show experiences and examples of what others have done that you admire or that make you cringe. They'll also request a budget, which can be a specific number or a range. Many exhibit designers won't even begin the process without a budget. It makes no sense for them to create the perfect $85K booth only to discover your budget is closer to $30K.
Armed with that information, the designer will get to work. Ideally, the initial booth design will fulfill all the requirements and "Wow!" you, but it's not unusual to go through several iterations to fine-tune the exhibit design. Once you've decided on your design, it's time to begin the next step – building the booth.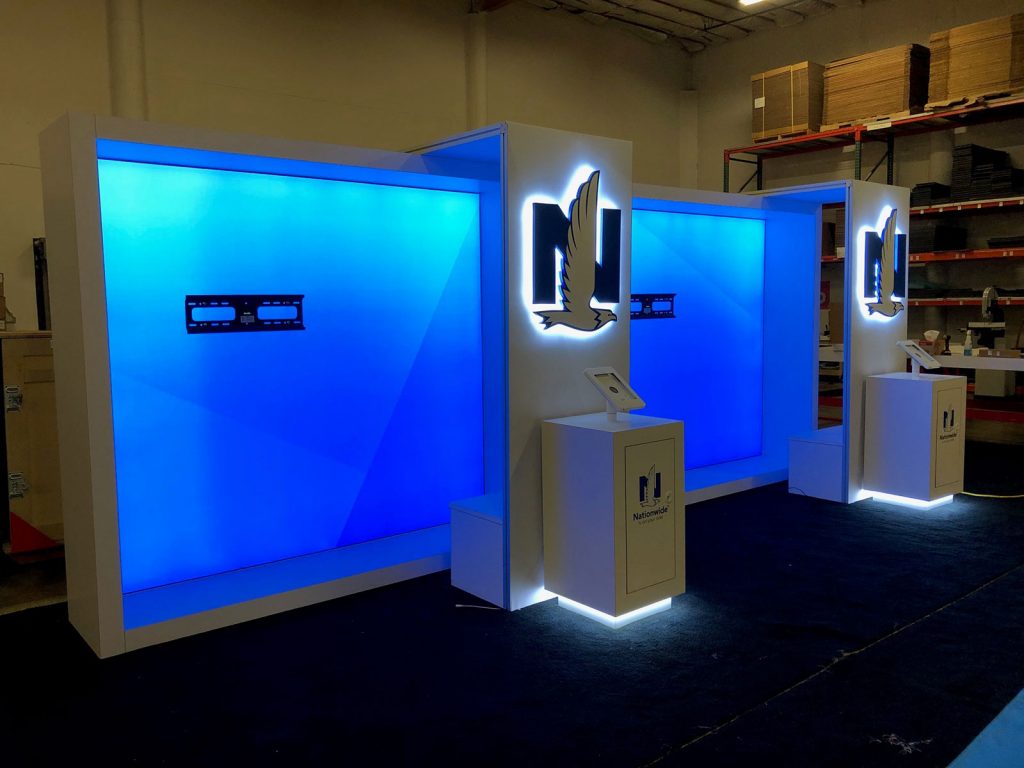 Comparing Different Types of Booth Displays
The expression "You can't see the forest for the trees" comes to mind. It would be all too easy to get lost in the nuances between different types of booth displays and even between similar displays from multiple manufacturers. Let's keep this simple. There are four basic types of booth displays. The differences are pretty straightforward.
Basic Portables
Basic or budget portables are inexpensive displays designed primarily as a carrier for graphics. Think banner stands like the Pronto or a pop-up like the V-Burst. Generally, they assemble quickly and are designed to ship via UPS or FedEx. Basic portables are not engineered for long-term use and replacement parts can be difficult to obtain. Not surprisingly, quality varies depending on the manufacturer.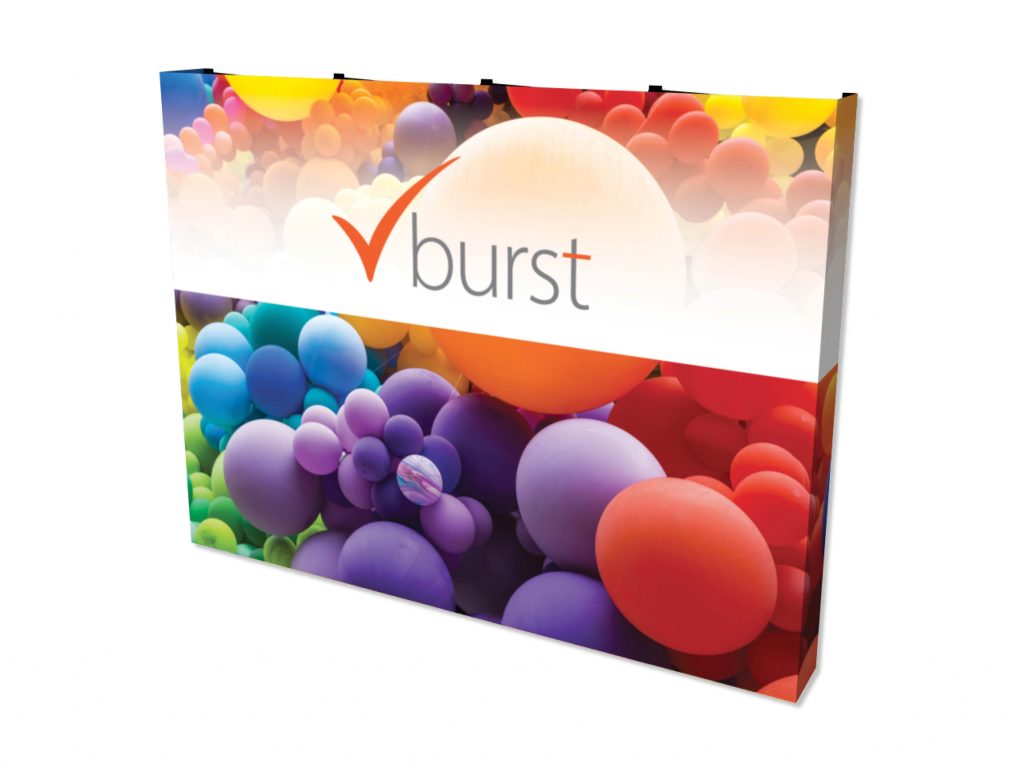 Portable Displays
Like the budget versions described above, portable displays are engineered to assemble quickly and ship via UPS or FedEx. Portable displays, however, are designed to perform for years. Although they're still primarily graphic carriers, they often include practical accessories like counters, monitor mounts, literature holders, and even iPad mounts. See the Symphony SYK-1023 for a 10 x 10 version and the Sacagawea VK-2114 for a 10 x 20 version.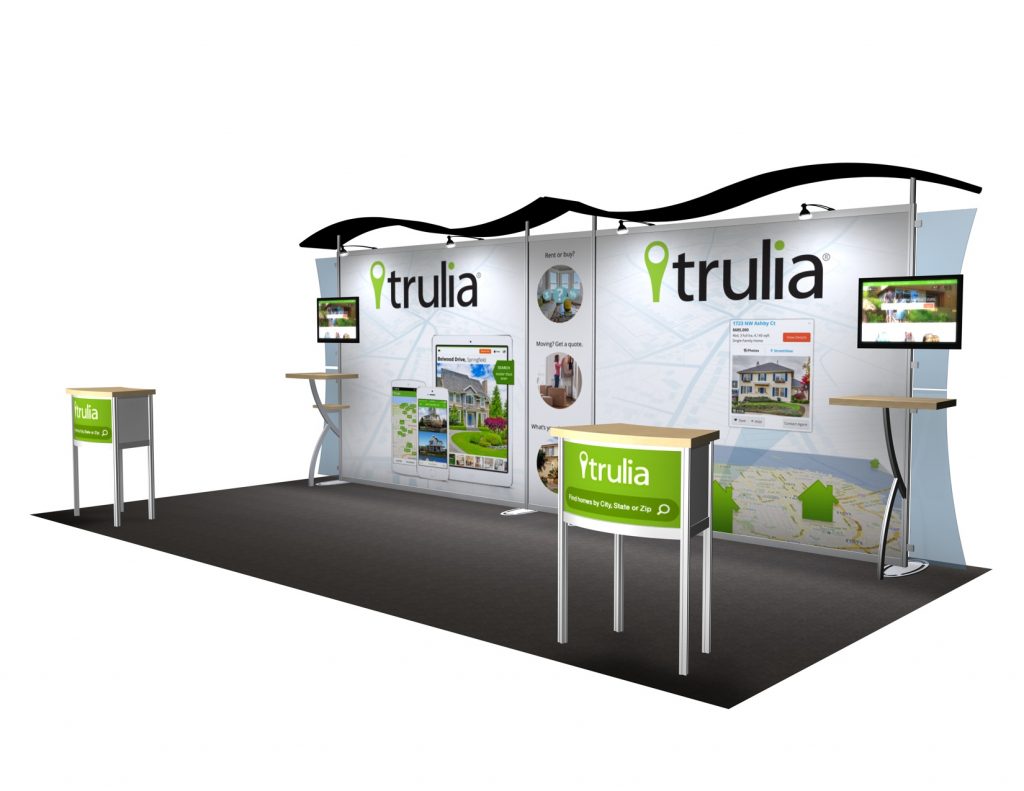 Modular Exhibits
Modular = Reconfigurable for most exhibitors. There are portable modular displays, modular wall systems, and even custom modular exhibits. In other words, it's less about budget or price than it's about the ability to redesign a booth into multiple configurations. For example, The VK-5124 Island has all the necessary hardware for the 10 x 20 VK-2400 and the 10 x 10 VK-1362.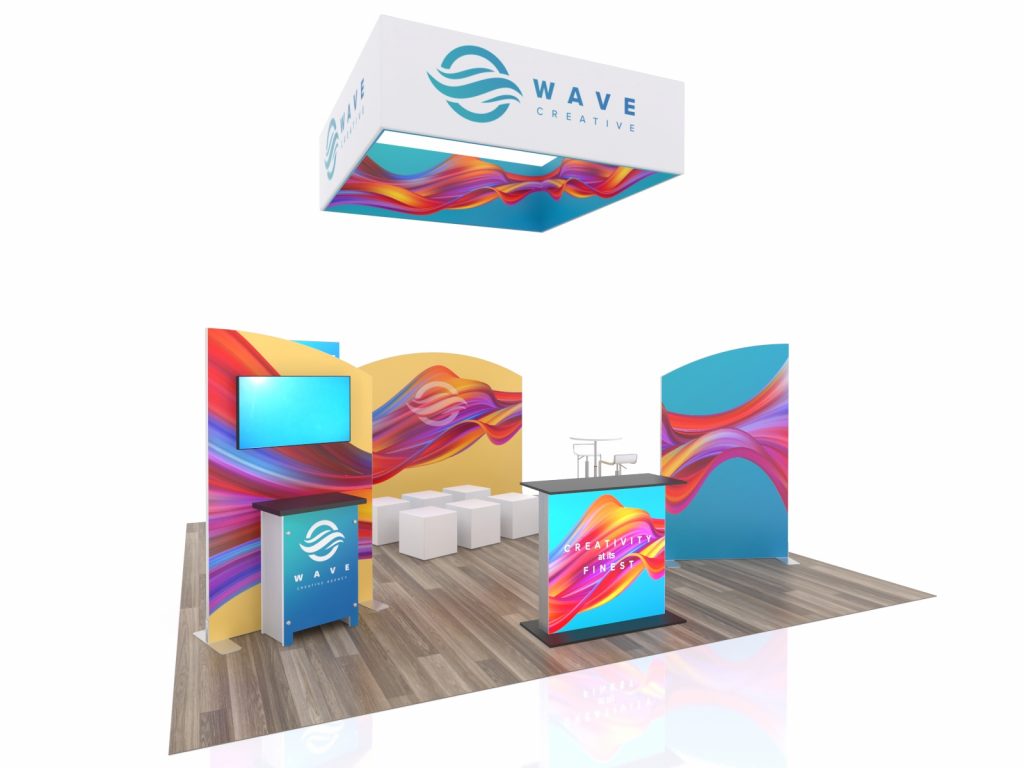 Even if you don't need modularity, there's a good chance your booth will be built with modular components. That's convenient for several reasons. Replacement parts are readily available and most labor companies are familiar with modular systems.
Custom Exhibits
The term "custom" has two meanings in booth design. When someone says, "I would like a custom exhibit," they usually mean a design unique to them and/or a booth constructed primarily of wood. In reality, custom or customized booths can include everything from a 10 ft. inline to a 125 x 250 ft. double-deck island. While wood construction may be a significant percentage of the construction, it's just as likely that engineered aluminum walls with tension fabric graphics will be the structure. Either way, it will ship in wood crates and include both fully or partially assembled components. The VK-1362 10 ft. inline and the VK-4017 20 ft. inline are excellent examples.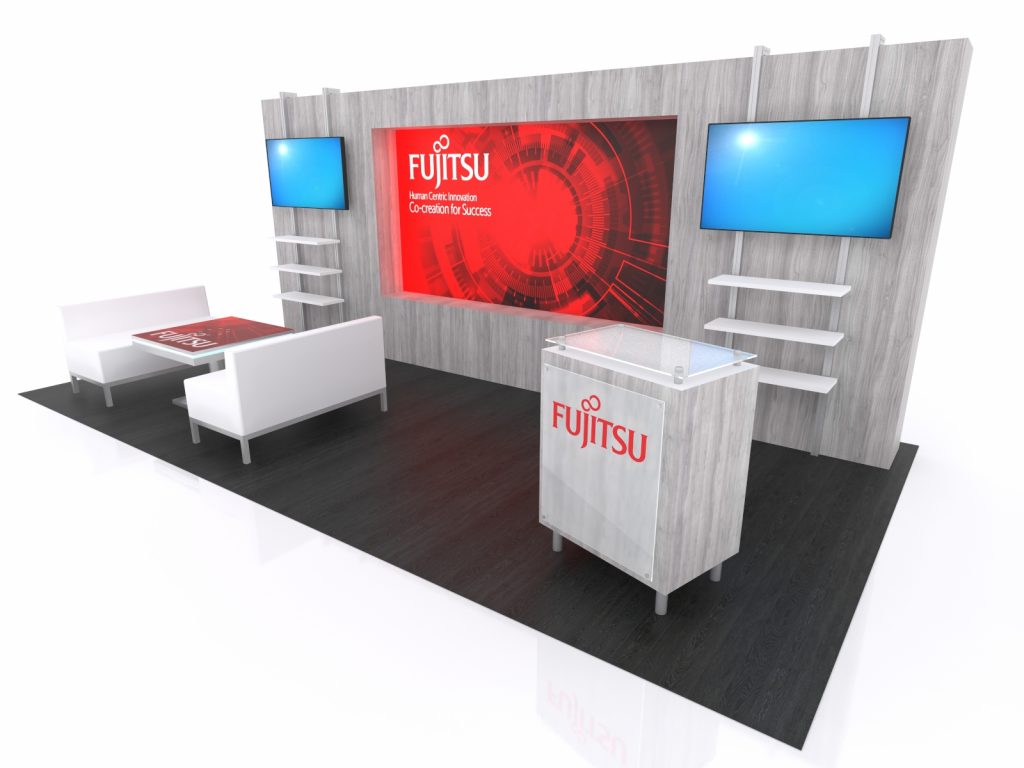 Selecting Quality Trade Show Booth Construction Materials
Wood Construction. Trade show exhibits are more like Hollywood sets than permanent buildings. They're expected to look amazing but assemble quickly and easily. Wood panels with cam locks and fully assembled counters, workstations, and pedestals are ideal for a truly custom exhibit.
Aluminum Construction. Lightweight, durable, and versatile aluminum extrusions are the backbone of modern trade show exhibits. Sometimes, they're visible, but more often they're the hidden structure for fabric graphics, lightboxes, monitors, shelves, and storage. Modular wall systems, like Gravitee, and LED lightboxes, like SuperNova, are ideal as rental structures.
Laminates. Thank goodness for laminates. They offer exhibit designers unlimited colors and textures at a fraction of the cost of paint, stains, wood, and metals.
Tension Fabric Graphics. Fabric graphics, specifically dye-sublimated fabric graphics, are the material of choice for most inline and island exhibits. Need backlighting? Fabric graphics are the best choice. Need a large image with vibrant colors? Choose fabric graphics. Need something lightweight, durable, and nearly indestructible? Yep, fabric graphics are the best choice.
Direct Print Graphics. Colorful, easy, widely available, and cheap. Direct print graphics are ideal for both smaller prints on counters or pedestals or larger images on modular wall systems.
Vinyl Graphics. Like direct print graphics, vinyl graphics are colorful and widely available. They're often used for accent graphics on counters, charging tables, and pedestals, but they can also be practical for larger hard structures where a specific color, pattern, or message is required.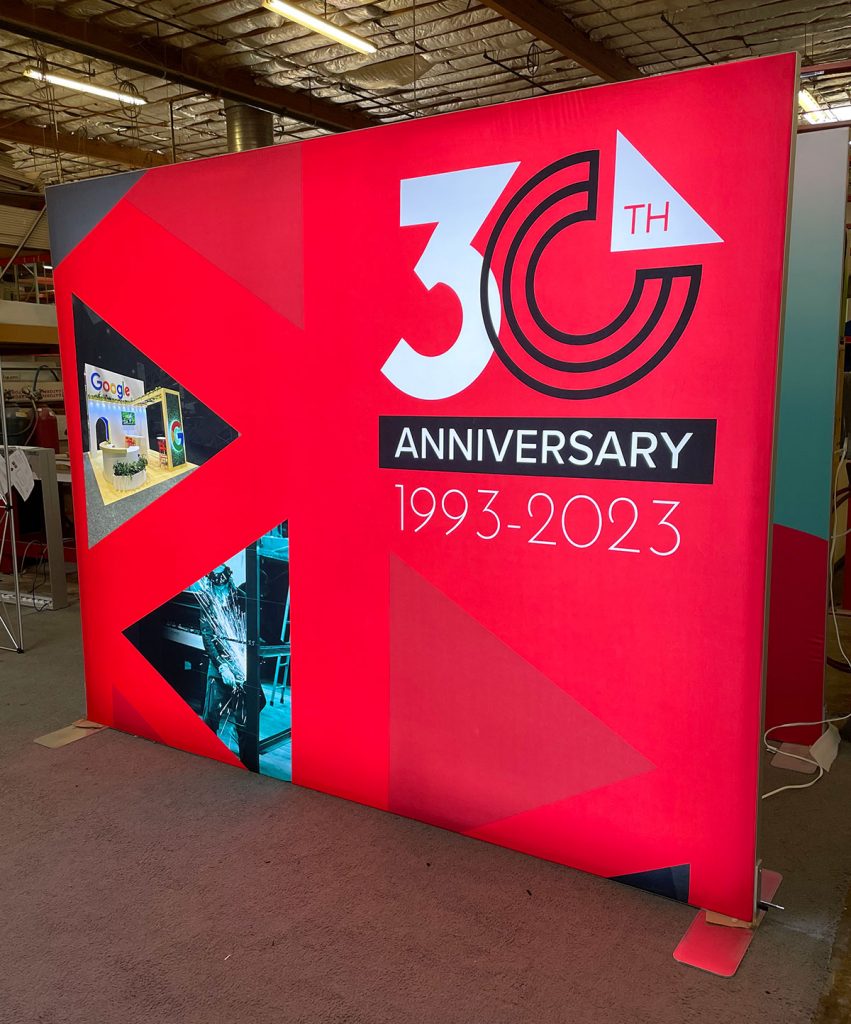 DIY vs. Professional Trade Show Booth Construction
Whether you want to save money and/or you have the skills necessary to build your exhibit, building your own exhibit may be an option. Before starting, however, it's important to understand the following:
Does the show have specific regulations regarding the size or format of inline and island exhibits? Most do and the exhibit must conform to those regulations or the show organizer will require the exhibitor to make modifications onsite. If modifications cannot be made, then the exhibitor will not be allowed to install their booth. In those situations, which unfortunately do happen, the exhibitor won't have a sales presence on the show floor, will still be responsible for all expenses, including paying for their booth space, and will own an exhibit that may not be able to be used at future events.
Is the booth designed to be shipped in cases or crates, assembled quickly, and durable enough to survive shipping? Display manufacturers have spent the past 50 years engineering structures designed to be lightweight, pack efficiently, and survive trade shows.
Electrical and lighting for trade show exhibits must adhere to very specific guidelines. These guidelines are mandated by the convention center. In most cases, the convention center has a contract with local union electricians which defines what the exhibitor can (and cannot) do on the show floor.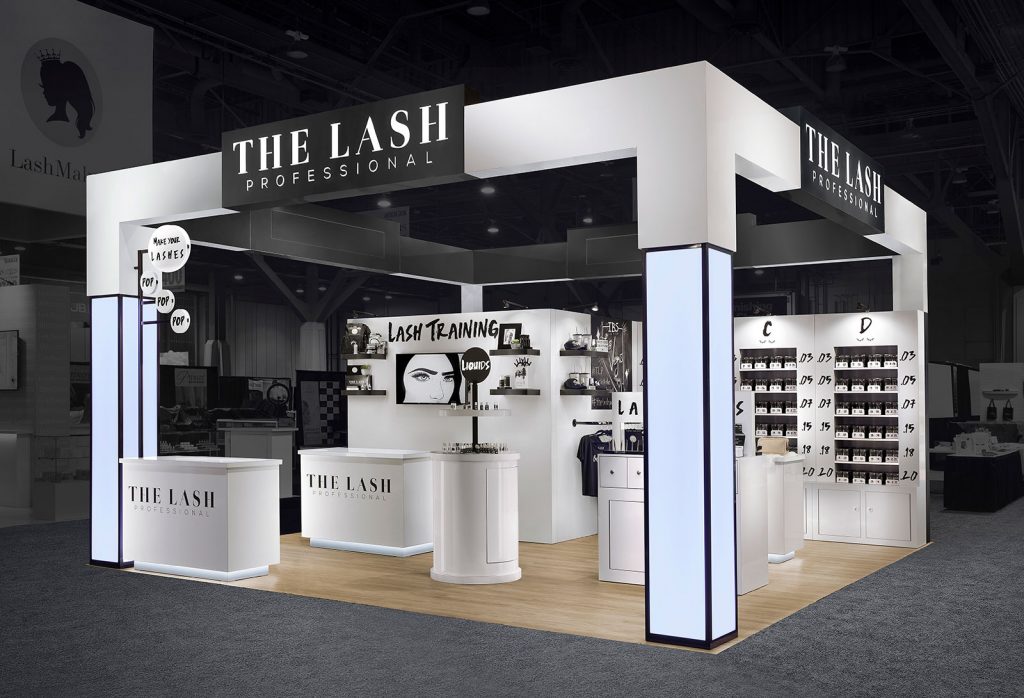 Building a Trade Show Booth with Classic Exhibits!
The exhibit industry is nothing if not competitive and creative. Over the years, it has evolved to meet the needs of trade show exhibitors for high-quality displays in a wide range of styles, prices, and construction.
Since 1993, Classic Exhibits has been North America's leading builder of quality trade show exhibits for professional exhibitors. Browse through 1,500 contemporary displays or request a custom design personalized to your trade show marketing goals.
Find success on the trade show floor with an exhibit that reflects your marketing message… at a price that will make your CFO giddy. For more information, see www.classicexhibits.com.