CRS ANNOUNCES THE RENTAL REWARDS PRIZE WINNERS
In July, Classic Rental Solutions (CRS) launched Rental Rewards, a program designed to reward our distributors for rental returns without damage or missing components.
We take a lot of pride in offering the highest quality rental exhibits and graphics in the industry. We stage and photograph every order before shipping. We also include packing photos, setup diagrams, and a complete inventory list, regardless of the size of the order. And we only ship quality components, because to us, it's not just a rental, it's a brand new exhibit experience for your customer. And we want them to be happy with it.
One of the biggest challenges has been the increasing cost for repairing and replacing damaged items from careless handling and poor re-packing of rental properties. So we decided to put a positive spin on a negative problem by offering a 2% Rental Rewards Credit for every successful return. Since July, we've issued 49 Rental Rewards Credits to 32 Classic Distributors. We're thrilled with the early success of this program!
The 2% credit is based on the total invoice amount and is applied to your next rental order. And along with the 2% credit, the Rental Rewards Program offers a 15% discount off a future rental order once you receive six 2% credits. Plus, your name goes into our semi-annual drawing for every credit you earn (June & December).
The Five Winners for the First Drawing:
Dale Barger with Exhibit Concepts
David Hankin with Total Displays
Mark Bertelson with Atlantic Exhibits
Cindi Codi with Xzibits
Allison O'Neal with Apple Rock Displays
All five winners have received a $200 Amazon.com gift certificate.
"WOW! Thank you for the Amazon gift card winning! What a wonderful surprise! (I never win anything)
You guys are very generous and kind and I greatly appreciate it! I love working with you guys! Thank you so much!"
— Cindi Cody
"Oh wow – Jim, what a great prize! Very exciting. Thank you very much! Always a pleasure to work with you and your team!"
–Allison O'Neal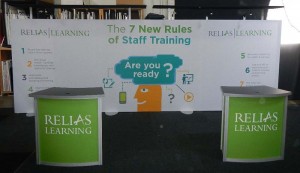 Remember, the more Rental Rewards credits you receive, the more times your name goes in the bucket.
Our thanks to everyone who has received our Rental Rewards credits. We would encourage you to speak with your I & D teams about treating rentals with TLC during install and disassembly. Including packing. We both win when this happens. We save money, and you save money. Plus, you have a chance to win exciting prizes. Our next prize drawing will be in June.
Thank you for your continued business and have a Happy New Year!
–Jim Shelman & the Classic Rental Solutions Team
p.s. Look for Classic and Classic Rental Solutions at EXHIBITORLIVE. 
[subscribe2]