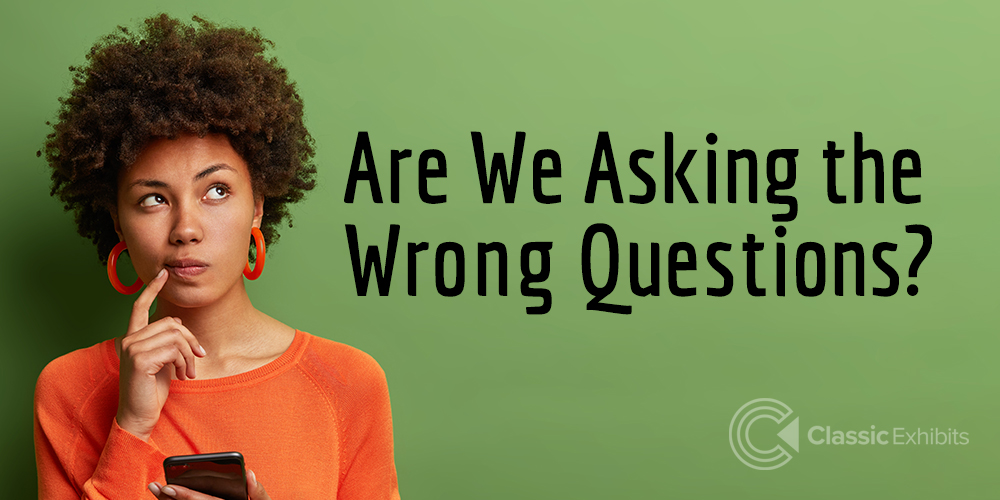 Recently I attended a charity event with a social mixer. Several introductions later, I was conversing with a CEO about trade shows.
He grumbled about drayage, shipping, and labor. I sympathized. Then he shifted to ROI. His company's trade show ROI was terrible. Not surprisingly, his company didn't have clear trade show objectives or a pre-show or post-show strategy.
It Got Me Thinking
Are we asking our clients the wrong questions?
Perhaps we shouldn't be asking exhibitors about their trade show goals or objectives. Instead, we should encourage them to share everything they don't want to happen. In other words, ask them to describe their trade show hell. We know the list will be LONG and DETAILED, and include topics like terrible booth traffic, the wrong prospects, worthless lead management. Or disengaged staff, ugly graphics, insufficient storage, or simply a boring booth.
Suddenly, your boring 5–10-minute conversation about goals becomes an intense (and entertaining) 30-minute session about their trade show nightmares. Guess what… They've told you what they don't want. Now guide them toward the solutions they need. I suspect they'll be more receptive. And the conversation will be a lot more fun!
I challenge you to test this technique. What do you have to lose? You just might turn a disengaged trade show marketer into a dynamic trade show marketing cheerleader. Sans the pom poms.
Classic Exhibits has been designing and building solutions since 1993. We've been honored as an Exhibitor Magazine Find-It Top 40 Exhibit Producers and an Event Marketer Fab 50 Exhibit Builders multiple times. Along with numerous Portable Modular Awards.
With over 200 Distributor Partners throughout North America, there's a Classic representative close by to assist with any rental project. Contact us today whether you need an inline rental display, a double-deck island exhibit, or a contemporary kiosk rental. At Classic, we're not just different. We're better.