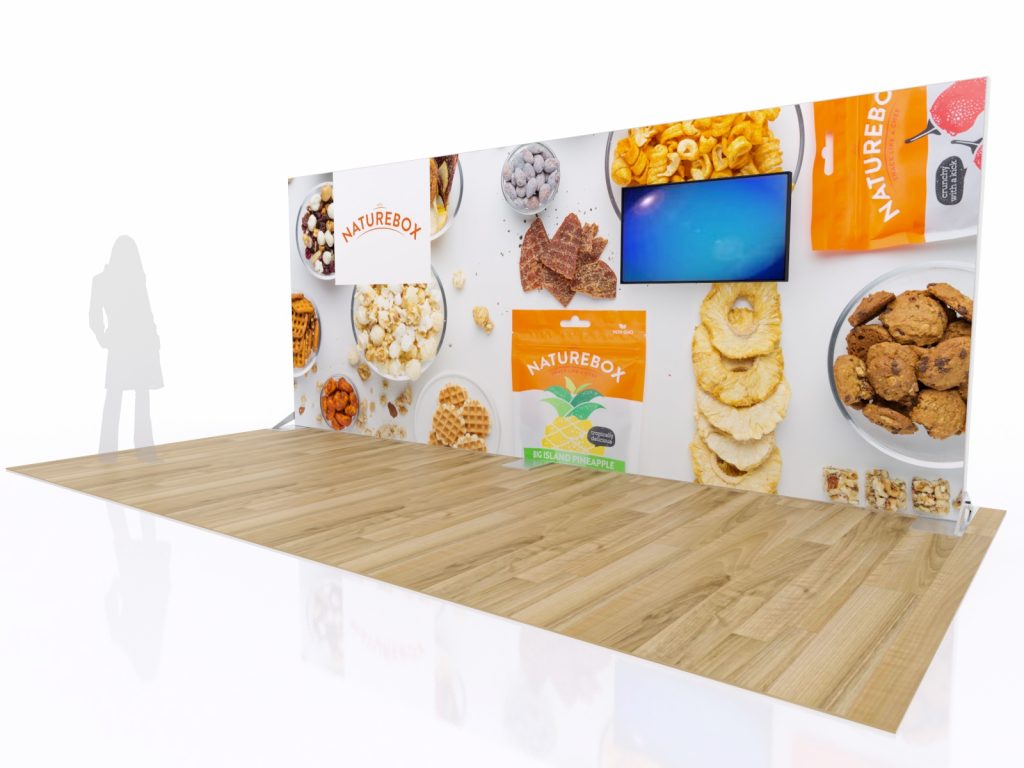 If you've attended trade shows for more than 10 years, you've seen trade show graphics change dramatically. Not so long ago, laminates and direct print graphics were the default choice. Not now. Large print fabric graphics, either dye-sublimated or direct print on fabric, represent 80-90% of all graphics on the show floor.
It makes sense. The color vibrancy and clarity have improved significantly. Fabric graphics are lighter, more durable, and frankly easier to install than direct print graphics on Sintra or other foam-based materials. The purchase cost is comparable, but the shipping expense isn't even close. Fabric graphics are much, much less expensive.
And then there's backlighting. Even with the introduction of LED lights, backlit graphics would have been a "no-go" without the concurrent rise in fabric graphics. Backlighting has gone from complicated and unusual, to easy and ubiquitous on the show floor. It seems booths of every size and shape now include some backlit fabric graphics. Often multiple examples like towers, counters, conference rooms, and overhead hanging signs.
What are Fabric Graphics?
The types of fabric available for trade shows include heavy knits, mesh, sheers, and everything in between. With fabric graphics, you don't need to worry about dealing with reflections as there is no glass or plastic over your graphic. Printers typically have a range of fabrics available depending on the application. For example:
Stretch fabric. Some frames, especially portable displays and overhead signs, are perfect for stretch fabrics since the final sizing is more forgiving.
Non-backlit fabric. SEG fabric applications, where silicone welting is sewn to the perimeter, typically specify a material with minimal stretch and internal blocking. The blocking prevents lights from behind the display distorting the images.
Backlit fabric. Backlit fabric comes in a variety of weights and stretches. Choosing the right one depends on the size of the frame, the application, and the exhibitor's budget.
Blocker fabric. This fabric has one job. Serve as a reflector in a lightbox to maximize the brightness of a backlit graphic.
Attaching Fabric Graphics
While there are exceptions to the following, the vast majority of fabric graphics attached to a display structure use these methods:
Velcro. Velcro is sewn into the perimeter of the graphic (usually the loop). The hook, using adhesive, is attached to the frame.
Flat Silicone Gasket. The gasket is sewn into the perimeter of the graphic and fits into a channel on the frame.
Zipper. Most pillowcase graphics and hanging signs wrap around an aluminum tube structure. The two sides attach with a heavy-duty plastic zipper (or zippers).
5 Fabric Graphic Examples
Portland Travel
Double-sided backlit fabric graphics on two towers and a bridging header.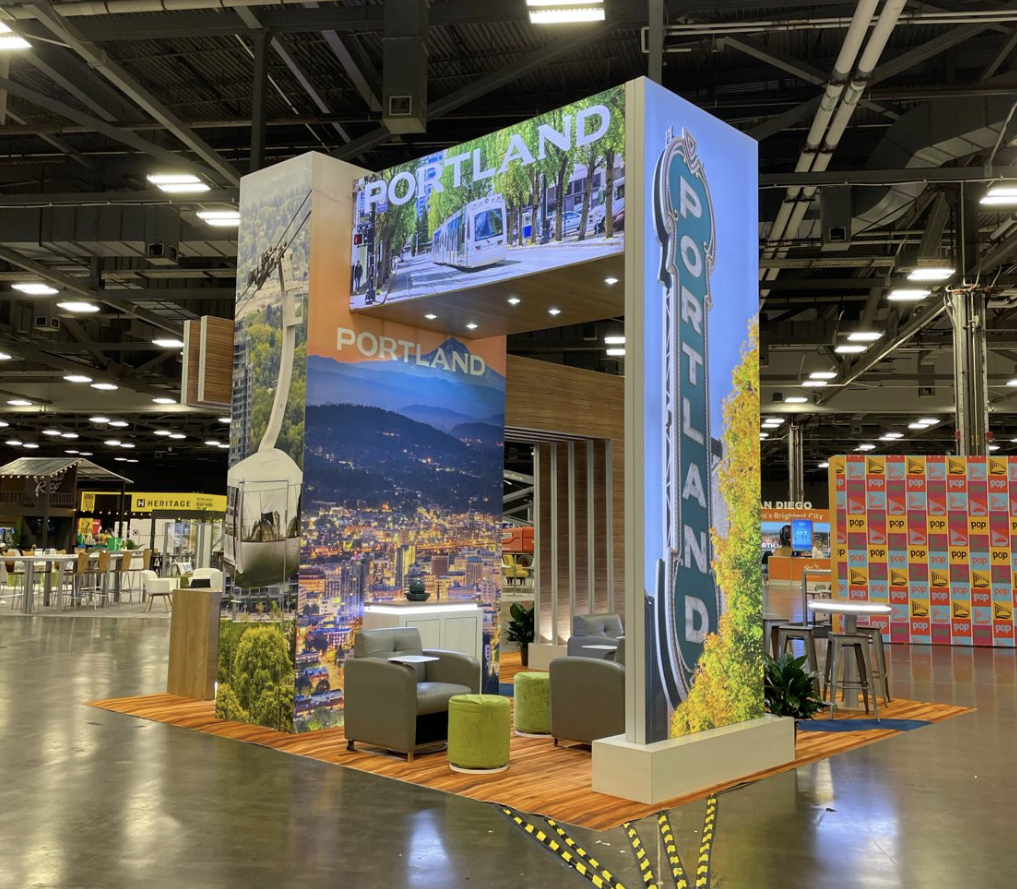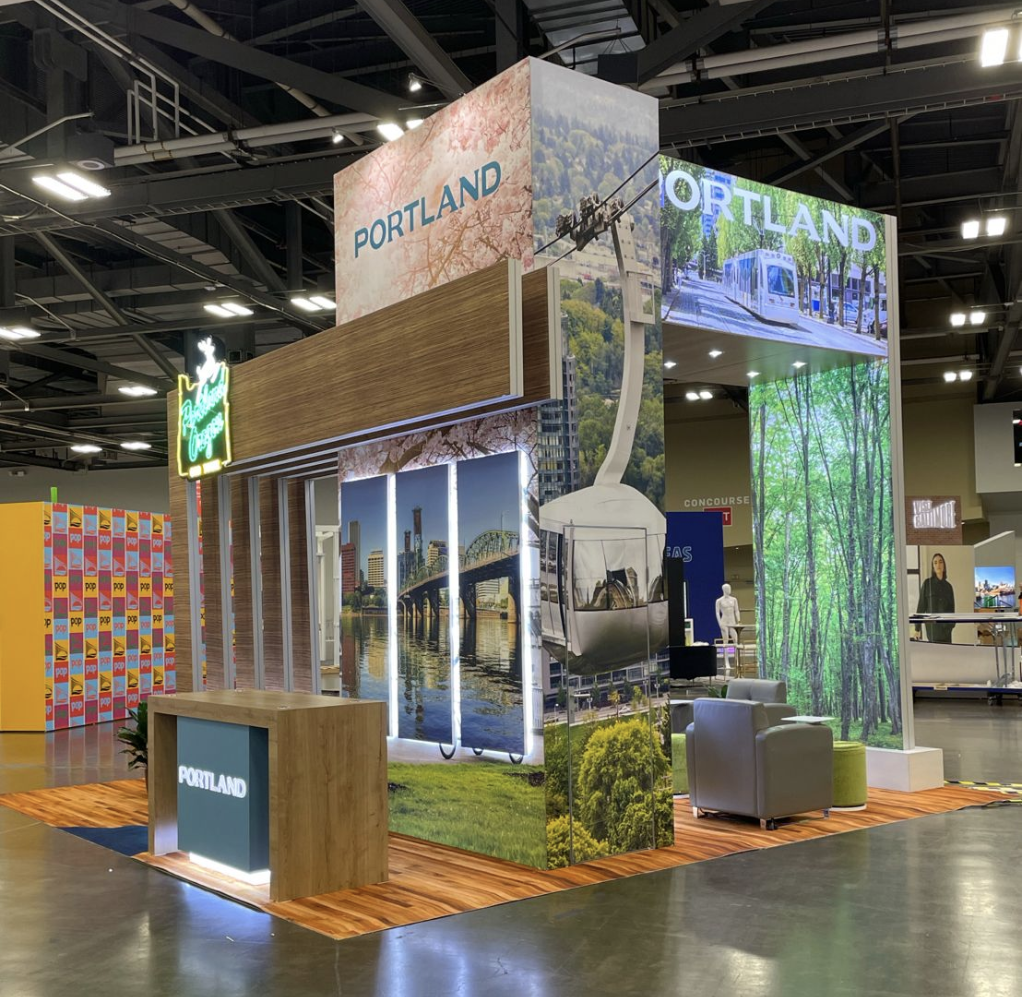 Classic Exhibits
Large format backlit and non-backlit fabric graphics and a triangle hanging sign with pillowcase fabric graphics.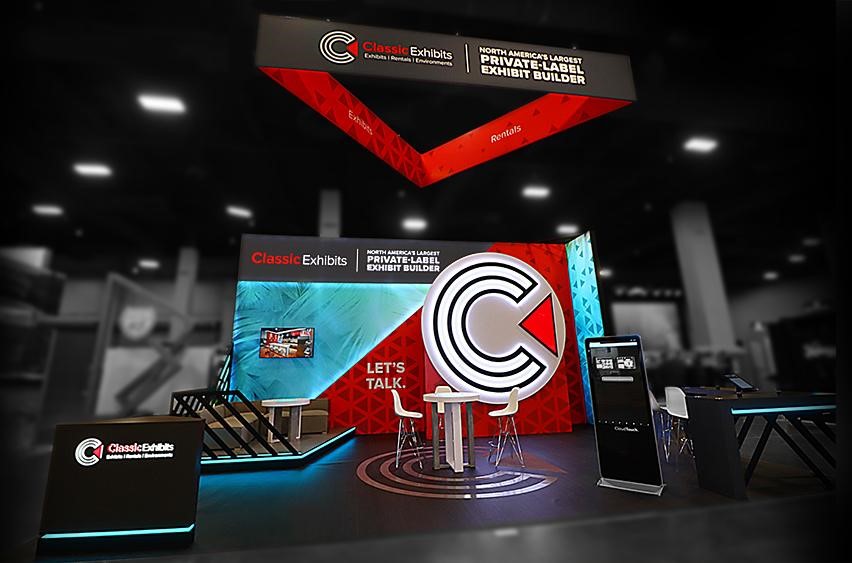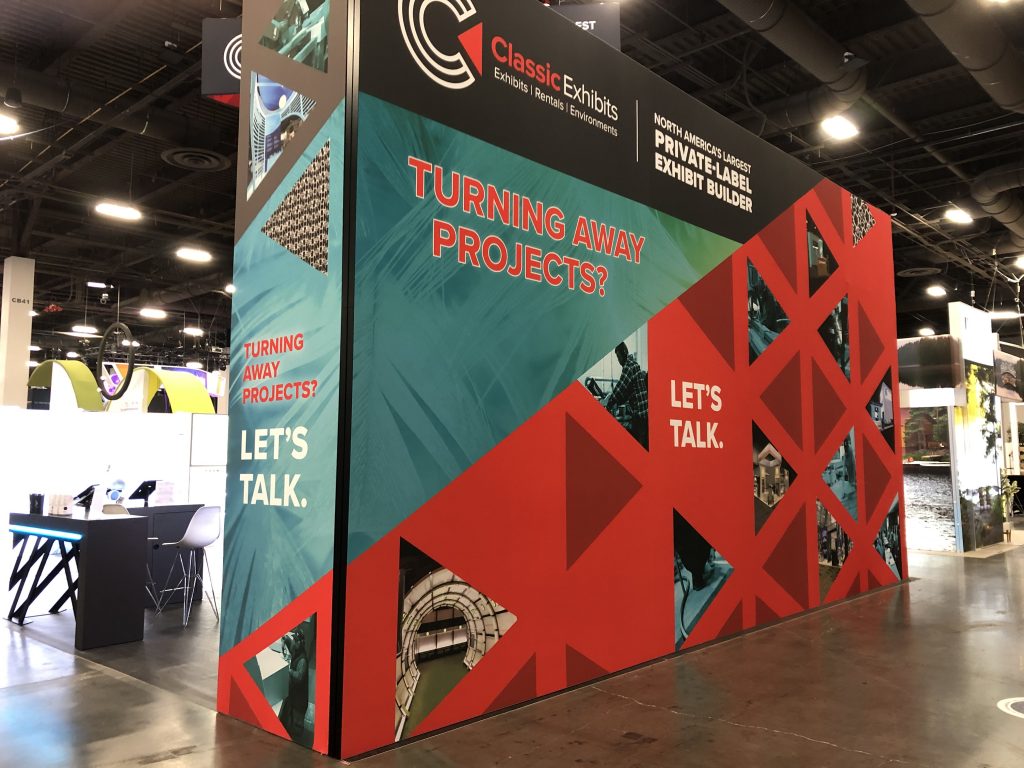 Halcyon
Solid and printed backlit fabric graphics on an inline exhibit back wall.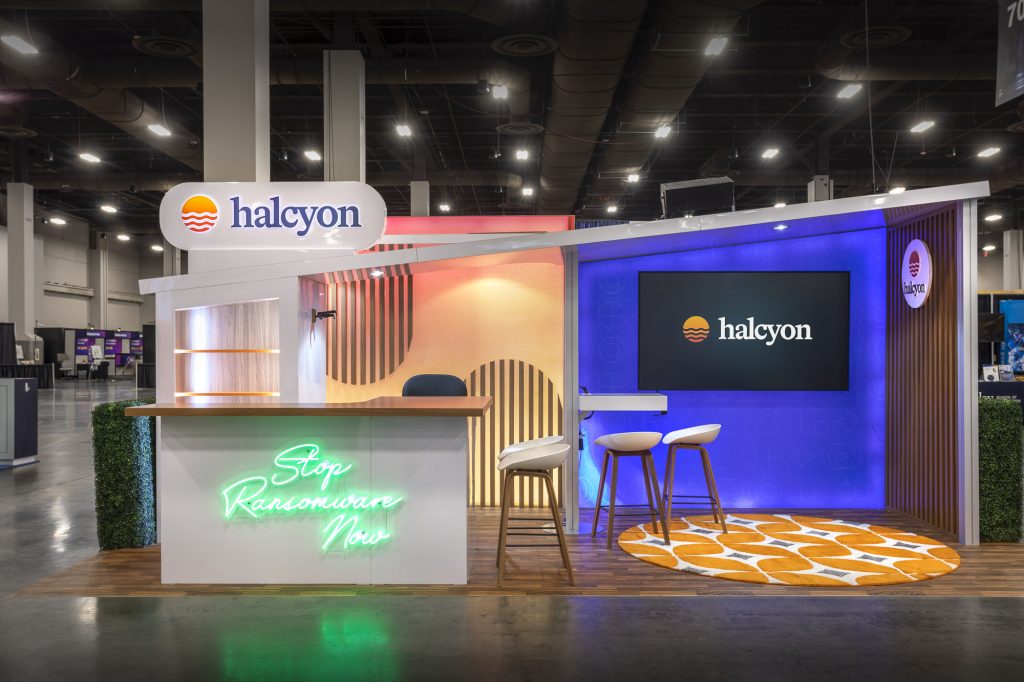 PA Hardwoods
Non-backlit SEG fabric graphics on two rectangular frames and one peak frame.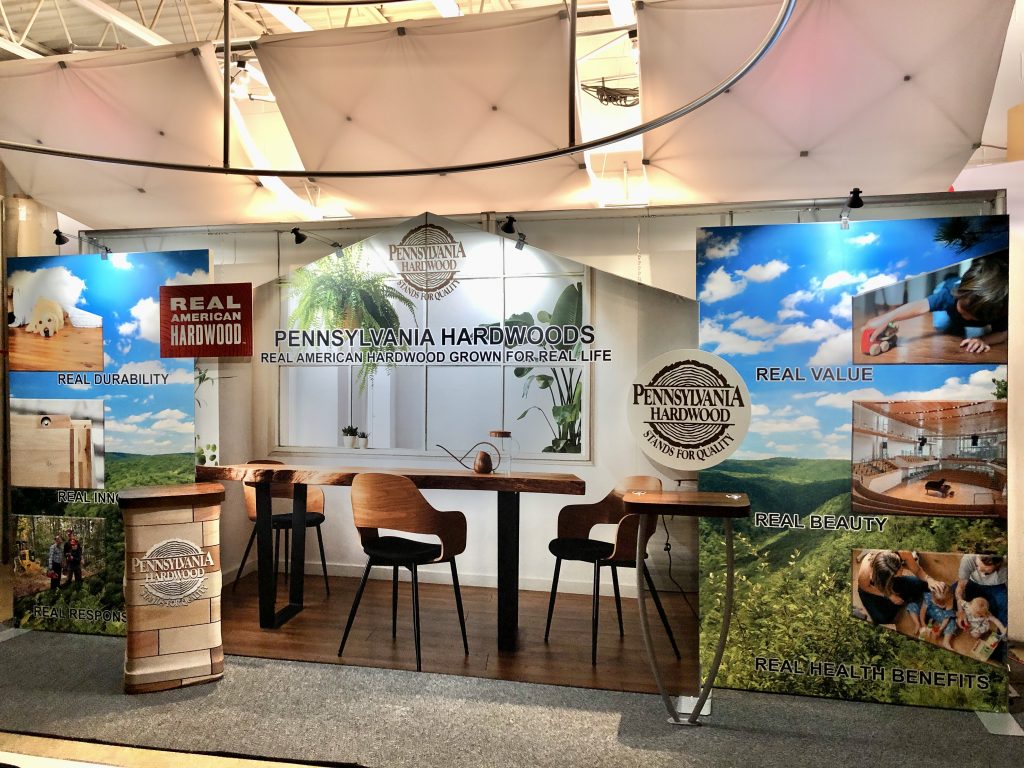 Captello
Non-backlit pillowcase and backlit fabric graphics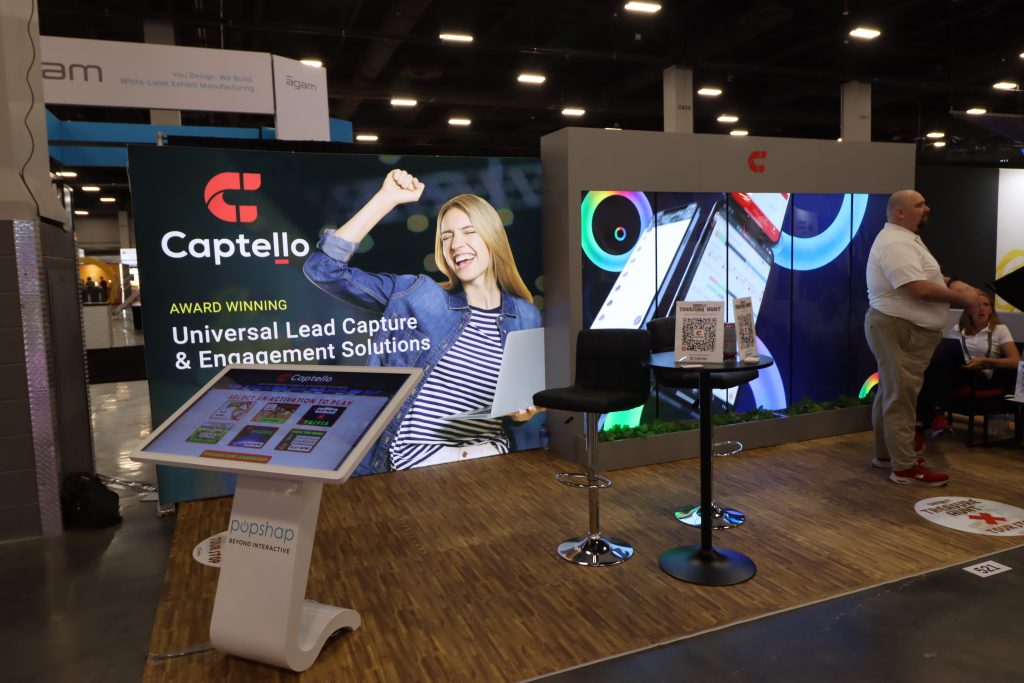 How Fabric Graphics Changed the Trade Show World!
Dye-sublimation fabric graphics took the trade show world by storm about 15 years ago. Before that, the only real way to print on fabric was silk screen. Dye sublimation printing changed everything. It offered a higher quality, lower cost graphic, which could be attached to aluminum extrusions with silicone strips or velcro. Suddenly, aluminum extrusion systems, which had been largely hidden or ugly duckling rentals became exhibit swans. Big, bold, and colorful exhibits with tension fabric graphics became the norm from 10′ x 10′ portable displays, like Symphony or Sacagawea, to 20′ x 20′ islands, like Gravitee. It was the classic chicken and egg scenario. Dye-sublimation fabrics made exhibits lighter and lighter exhibits allowed larger, more modular displays.
The Dye-Sublimation Process
Dye sublimation, also known as dye-sub, is an interesting process. In the first step, the graphic is printed on paper as a mirror image. If you've ever witnessed this process, you know the paper image is subdued and the colors muted. That's OK. The magic happens in the next step. The printed paper is then run through the sublimation press.
The sublimation press transfers the paper graphic, via rollers, to the transfer fabric. The paper along with the fabric passes at a very slow speed and a very hot temperature. As they pass close to one another, the "solid" ink instantly skips from a liquid into a gas and literally impregnates or dyes the fabric. The vivid color jumps to life and the print replicates the original digital design.
Advantages of Fabric Graphics
The dye-sub process has several additional advantages as well. Dye-sub graphics can be folded without "breaking" the ink (similar to what happens when you fold a piece of paper printed on your desktop printer). The fabric is lightweight and durable and folds into a compact shape for secure shipping.
— Durability —
The major advantage of a dye-sub graphic is overall durability. In the past, many custom exhibits and even some portable displays used backlit plex graphics or thin roll-able graphics. Those had to be handled with "white glove" care because they could get easily scratched, broken, or dinged. A dye-sub graphic is much smaller to pack and can't be broken. At the end of the day, the only way to damage a fabric graphic is to burn it, bleach it, or cut it. Dye-sub is also washable in the gentle cycle of most washing machines or it can be spot cleaned with a carpet cleaner.
— Lighting —
One of the least talked about advantages may be the most important. Traditional photography or inkjet prints, which are laminated or mounted to plex, usually have some form of front lighting, such as halogen lights. That lighting looks good with one noticeable exception. The lights create a glare (even on textured laminates) or hotspots. And it never fails that the hotspot is always in the most critical part of your message, photo, or logo! Unlike traditional first or second-surface graphics, fabric graphics absorb reflective light, which turns a serious negative into a positive.
— Cost —
The last of the big benefits of fabric is cost. Money matters. Trade show and event budgets are getting squeezed or are under scrutiny. In most cases, fabric graphics are about half the price of a Lambda or inkjet print of the same size. With the new super wide dye-sub printers, you can print up to 120 inches without a seam and up to 72 inches with a "Better than Life" quality.
Rental Exhibits and Fabric Graphics
Today's rental exhibits are as custom as a Rolls Royce. Many have towers up to 20 feet tall in custom configurations that are less expensive to install all the time. No longer is it necessary to ship huge panels and plex graphics when you can use lightweight aluminum and fabric. Most rentals have become indistinguishable from new exhibits. Even smaller 10′ x 10′ and 10′ x 20′ hybrid exhibit rentals are now available in shapes and features unimaginable just two years ago. Fabric graphics made all that possible.
3 Rental Designs with Fabric Graphics
RE-9167 | Island Peninsula Rental. (1) 12 ft. H x 9 ft. W storage tower with fabric graphics and a 12 ft. archway and graphic header. (4) double-sided SuperNova lightboxes with SEG fabric graphics.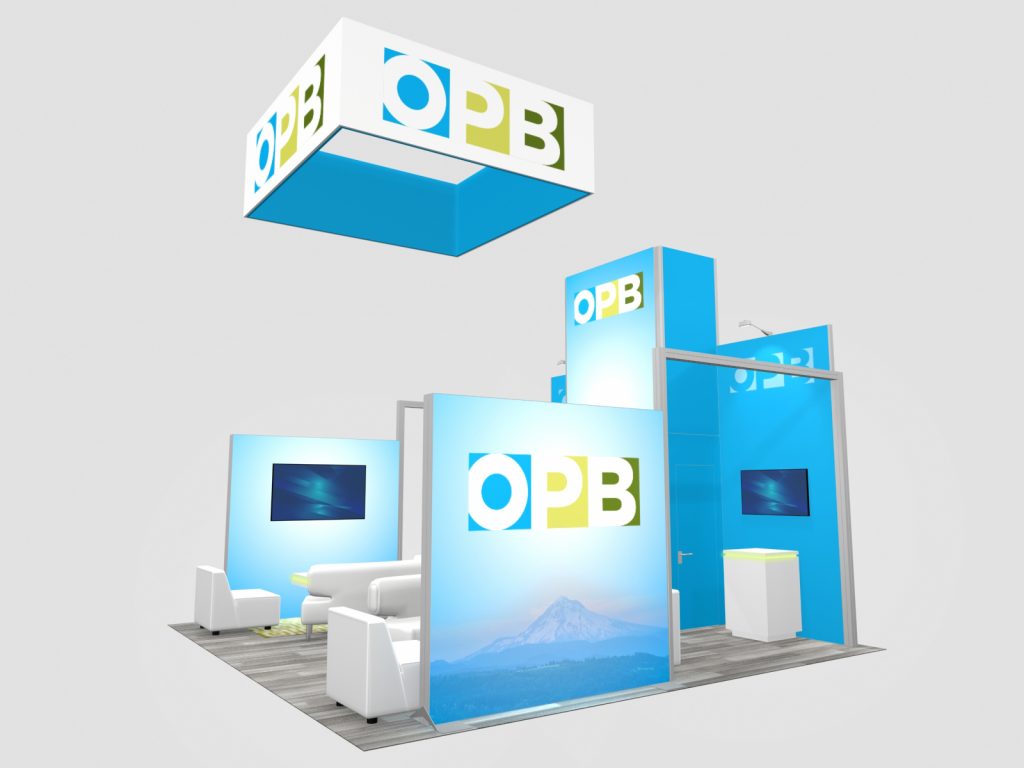 RE-2094 | Gravitee Inline Lightbox. (3) Gravitee lightboxes with SEG fabric graphics and (4) non-backlit fabric graphics.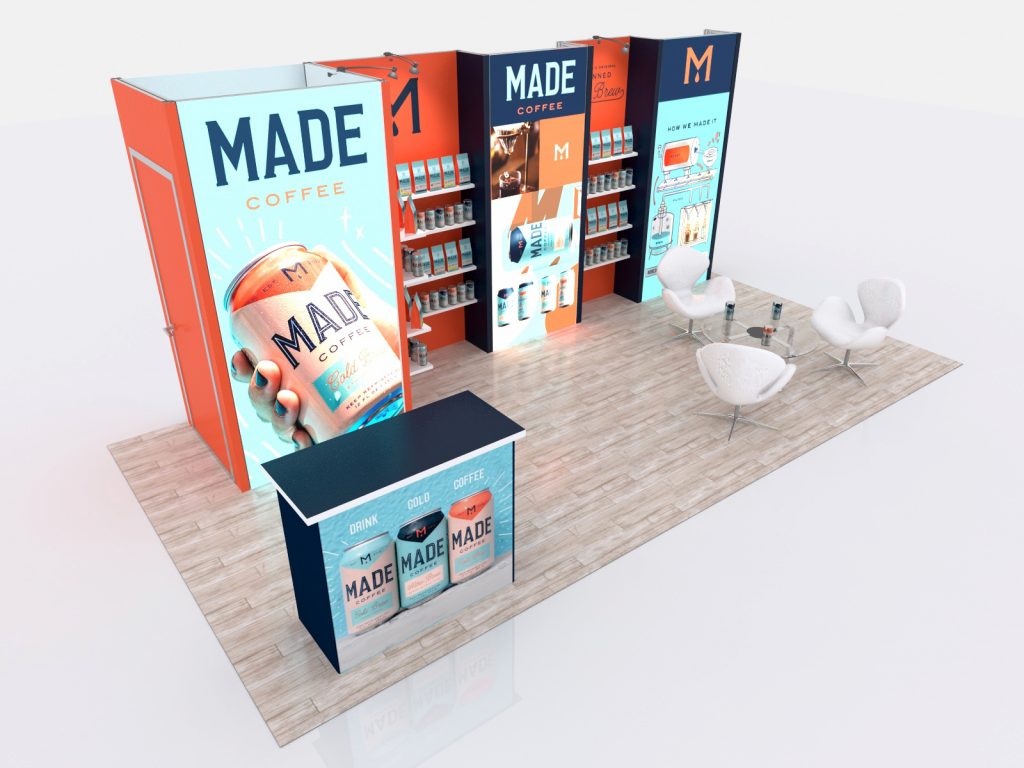 RE-1592 | Lightbox Counter. Double-sided lightbox counter with backlit SEG fabric graphics.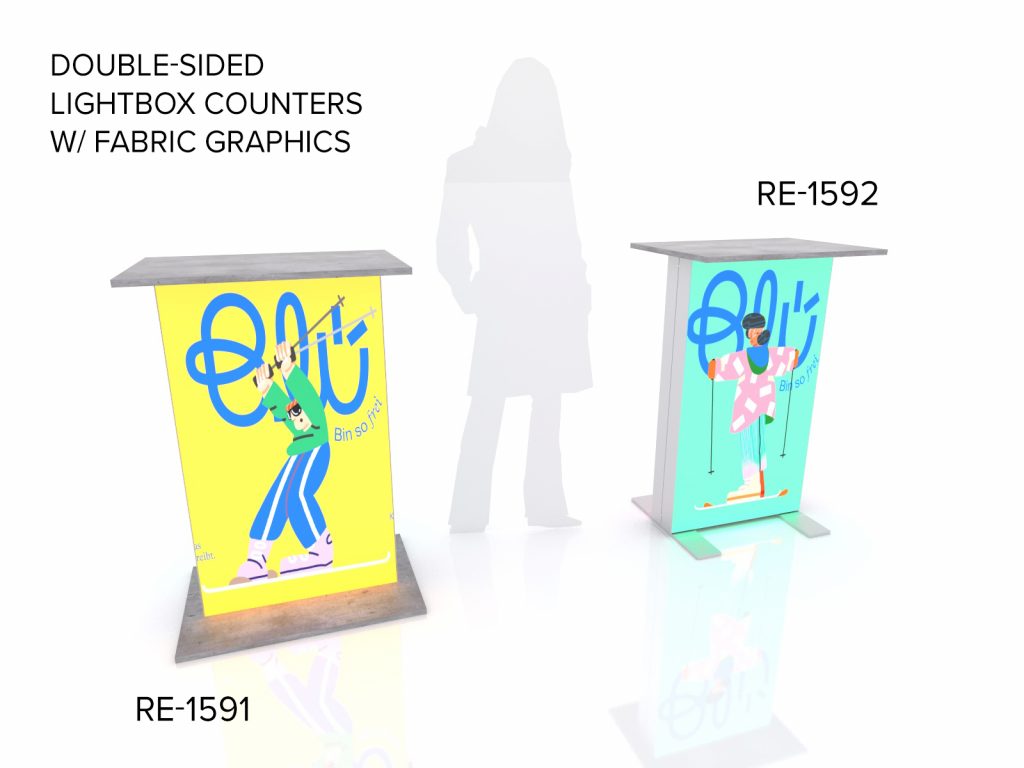 Fabric Graphics with Classic Exhibits
Looking at the big picture (no pun intended), dye-sub fabric printing hasn't changed the world like the Internet or antibiotics or opposable thumbs. But for us who allow trade show exhibits to rule our lives, it is pretty darn important.
Understanding how fabric graphics are printed, attached to the display, and packed is indispensable in today's trade show environment. Nearly every display from tabletops to islands includes fabric graphics. The trade show professionals at Classic Exhibits guide clients through the design and printing process every day.
Classic Exhibits has been designing and building solutions since 1993. We've been honored as an Exhibitor Magazine Find-It Top 40 Exhibit Producers and an Event Marketer Fab 50 Exhibit Builders multiple times. Along with numerous Portable Modular Awards.
With over 200 Distributor Partners throughout North America, there's a Classic representative close by to assist with any rental project. Contact us today whether you need an inline rental display, a double-deck island exhibit, or a contemporary kiosk rental. At Classic, we're not just different. We're better.