EuroShop 2020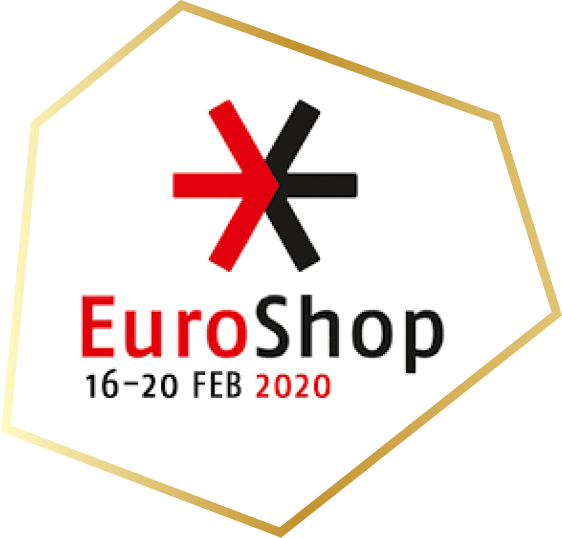 In Dusseldorf at EuroShop? Kevin Carty and Katina Rigall Zipay are there too. They will be walking the floor and connecting with colleagues at the EDPA booth, along with meeting our European partners in Germany and France. And, if all goes as planned, they will share photos and their reactions in several blog posts and on Instagram. See Photos #1, Photos #2, and Photos #3.

Feel free to contact Kevin or Katina if you would like to chat with them while they're at EuroShop. Or just arrange to meet them in the mannequin hall, the creepiest hall at EuroShop.
EXHIBITORLIVE 2020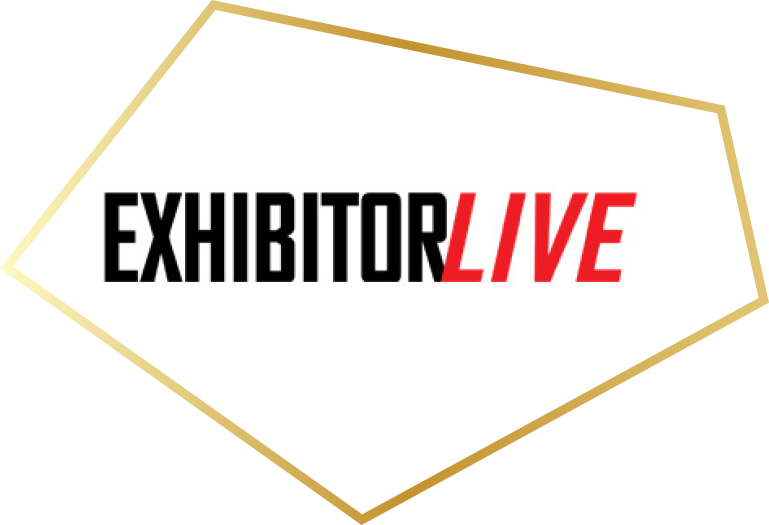 Do you remember when EXHIBITOR announced the 2020 date for EXHIBITORLIVE and you were puzzled by the late March date? We were, but now were delighted since it's crazy busy at Classic Exhibits. That's not to say, we aren't checking off our EXHIBITORLIVE tasks. Here are a few things to expect from us.
We'll have two booths this year — #220 (10 x 30) and #242 (10 x 15), both perimeter spaces. There's a reason for this, which you'll just have to discover at the show. 😉
Classic Exhibits is sponsoring the 2020 Annual Portable Modular Awards. You are invited to attend as our guest. It will be held on Tuesday after show hours. Also, are you STILL voting on the People's Choice Award? Don't make us nag!
Interested in attending the Women in Exhibitions Breakfast? Contact Katina or register here. Seats are limited so early registration is strongly encouraged.
Would you like to schedule a meeting with us at the show? Just let us know. Kevin, Mel, Jim, Katina, Kim, Jen, Harold, and Tom will be in Las Vegas for all or a part of EXHIBITORLIVE.
Oh yes… the NEW Symphony Portable Display line is entered in the New Product Showcase. Yea!
Still need to register for a free show hall pass? Go to this page and enter Code 4044. There's no limit so share (and share) away. 
Classic Sales Territories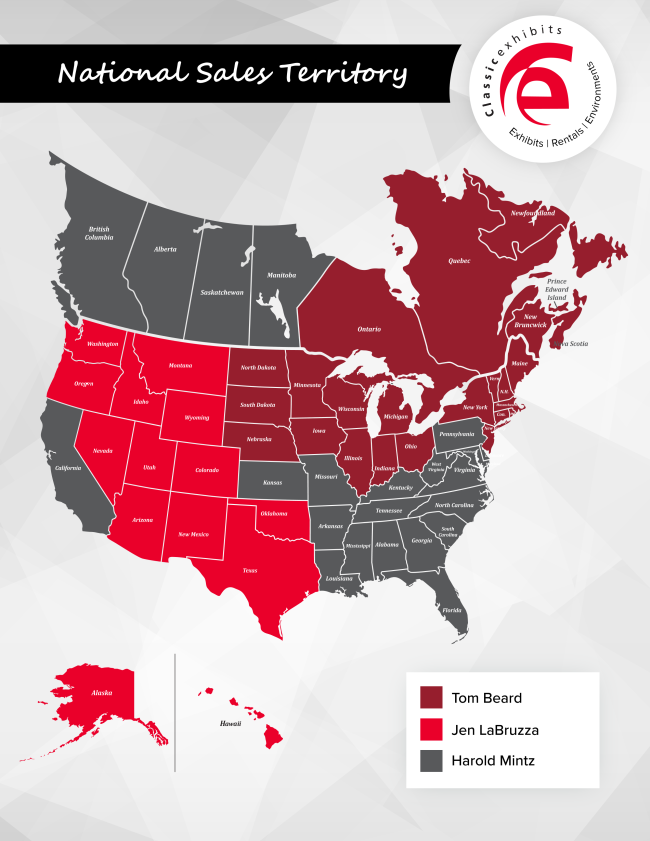 Beginning in January, we realigned the Sales Territories for Jen LaBruzza, Tom Beard, and Harold Mintz. You can click here to view the map, but in general, Jen, Tom, and Harold cover the following geographic areas:
Jen LaBruzza, National Sales Manager: West and Southwest, excluding California
Harold Mintz, Regional Sales Manager: California, South, Mid-Atlantic, and Western Canada
Tom Beard, Regional Sales Manager: Midwest, Northeast, and Eastern Canada
Past Five Days
Did you know that Past Five Days, the daily photo gallery, is the second most visited site on the Classic Exhibits website?
Since 2006 (yes, 2006!), we have posted photos of select projects passing through our shop and when possible, linked them to the designs in Exhibit Design Search. We can't show everything, but we do our best to showcase exciting designs and builds in real time. All thanks to you! Your willingness to allow us to post these photos benefits the entire Classic Exhibits Community.
Don't forget to tap into P5D as a search tool too. It's a great place to search for exhibits with "shelves," "custom charging" solutions, "lightboxes," and "Gravitee" (for example).
Shared Knowledge University June 15 & 16