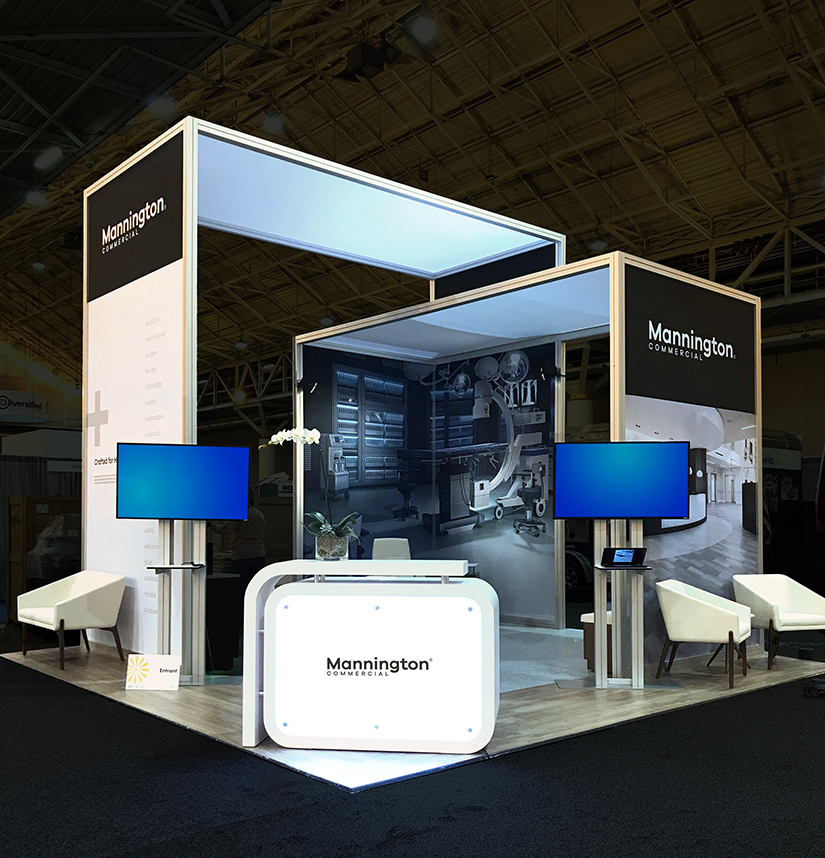 Through October 2019, Classic Rental Solutions (CRS) delivered over 283 rental projects this year. Mostly larger customized inlines or islands. That's a lot of rentals and a healthy increase over the previous year.
With so many Classic Exhibits Distributors adding rental inventories, you may be wondering why our sales continue to surge. It's simple. Our size and manufacturing capabilities give us six rental advantages. Those advantages benefit you, a Classic Distributor, and your clients.
Our Six Rental Advantages
Advantage #1. Design
Our designers are dedicated to rental designs. They don't dabble in purchase design requests. CRS typically delivers complete rental designs within 3 to 4 days of your design requests.
We'll work directly with you and/or with your clients on conference calls to review their vision for the design and functionality of their booth. Experience has shown us that the closing ratio improves significantly when our designers work directly with exhibitors.
Need ideas? Our three Rental Galleries (with over 300 designs) provide a great starting point to generate concepts and budget ranges as well.
Advantage #2. Project Management
Do you get bogged down in the present, making it challenging to focus on future opportunities. Let us manage your rental projects to avoid disrupting your in-house production load. We'll design it, build it, and communicate the progress all along the way. This makes it easy for you, and allows your team to focus on existing jobs and new opportunities.
Nearly every CRS rental ships directly to the trade show and has for over 10 years. We're really, really good at getting it right at every stage.
Advantage #3. Unparalleled Customization
Almost every rental exhibit CRS designs and produces has custom elements. We understand the importance of including key features that set your projects apart. This is also true for the more economical budgets.
We're not limited to 20 modular wall panels or two or three counters. Our rental inventory is virtually unlimited. In almost all cases, we can design and build to your specifications.
Advantage #4. Industry Leading Solutions
Classic Exhibits has always been a leader in innovation and new product development. CRS is in the same facility. Our design offerings include these new products, which constantly provides a fresh new look. It also provides a substantial sales advantage, especially in competitive situations where that one new element can really make a difference.
Here are three examples of game-changing products that Classic has introduced:
InCharg Charging Stations: Available in a large variety of contemporary designs, including bistro, coffee, end, and conference tables. And now produced with wireless and USB charging ports. All pre-wired for easy assembly. These attractive high-quality charging stations provide excellent branding opportunities with top surface vinyl graphics.
Gravitee One-Step Modular System: Over the past couple of years, our Gravitee System has literally revolutionized our rental program. The pre-constructed panel systems is amazingly easy to setup and take-down. And it's extremely versatile to reconfigure from inline designs to large islands. It works great for continuous SEG fabric graphics, or direct print Sintra inserts. It's used for multi-level towers, backwalls, kiosks, and conference rooms. Our inventory is huge and growing all the time.
SuperNova LED Lightboxes: The single biggest attraction on most show floors are LED lightboxes with vibrant SEG fabric graphics, lightweight aluminum extrusion, and dynamic LED lights. Many of our lightbox designs now assemble with minimal or no tools. Many of our rental designs include lightboxes, including custom sizes built into kiosks, headers, or single, or double-sided wall structures with high impact backlit fabric graphics.
Advantage #5. Flexibility
At Classic, we're extremely flexible! We don't have strict policies that restrict us from assisting you. Our goal is to win projects and be successful with every opportunity. We understand that. So when it comes to special requests, like tight timelines, custom colors and components, or large quantity orders that require us to invest in more inventory, we'll do everything we can to accommodate your needs. We can't always say "yes," but we're going to do everything possible not to say "no."
Advantage #6. Assurance
We know what it takes for you to earn your customer's business and trust. That's why it's so important to communicate and to assure them that their projects are coming together successfully. In today's long-distance business relationships, it's critical that customers are confident the project is going smoothly especially if they've never visited our facilities.
At CRS, we follow a strict process for every project, which includes updates along the way. And when your orders are completed and staged, we send detailed staging photos, packing photos, setup instructions, and packing lists. It's your assurance that every expectation has been met with success.
I've been in this business for over 35 years and love what I do. Every project is a new challenge, whether large or small. Our CRS team is committed to designing, producing, and managing the best possible rental solutions for your customers. The most exciting part of my job is walking through the shop each day, and seeing our completed projects being staged and getting ready to ship to trade shows all across the country. That never gets old to me.
I look forward to partnering with you on your next, or possibly first, project with us!
Jim Shelman, GM Classic Rental Solutions, jshelman@classicexhibits.com