The trade show marketplace has undergone seismic changes in the past six months. You made that VERY, VERY clear at EXHIBITORLIVE. Since our business depends on happy distributors, we returned to Portland committed to upgrading our product lines to appeal to EVEN MORE corporate exhibit buyers.
Four EXCITING New Galleries in Exhibit Search
Please check your branded Exhibit Design Search. You have four new product galleries, all with at least 80% margins. Gone are Visionary Designs, Perfect 10, Sacagawea, and SEGUE. These have been replaced with more budget-friendly systems and interactive products. As we learned from EDPA, it's all about the "experiential" for contemporary exhibitors. They want to feel things. Touch them. All while staying within a Dollar General price range. At the same time, you need to maximize your margins. On some products, we are extending your discount to 90%*, but you have to provide the paper boxes and paper bags. We are prohibited from using plastic bags in Oregon. Sorry.
It's a BRAND NEW DAY for Classic and our Distributor Family. Join us in celebrating the four new galleries listed below. As always, we welcome your feedback. We are who we are because of you. Just think about that.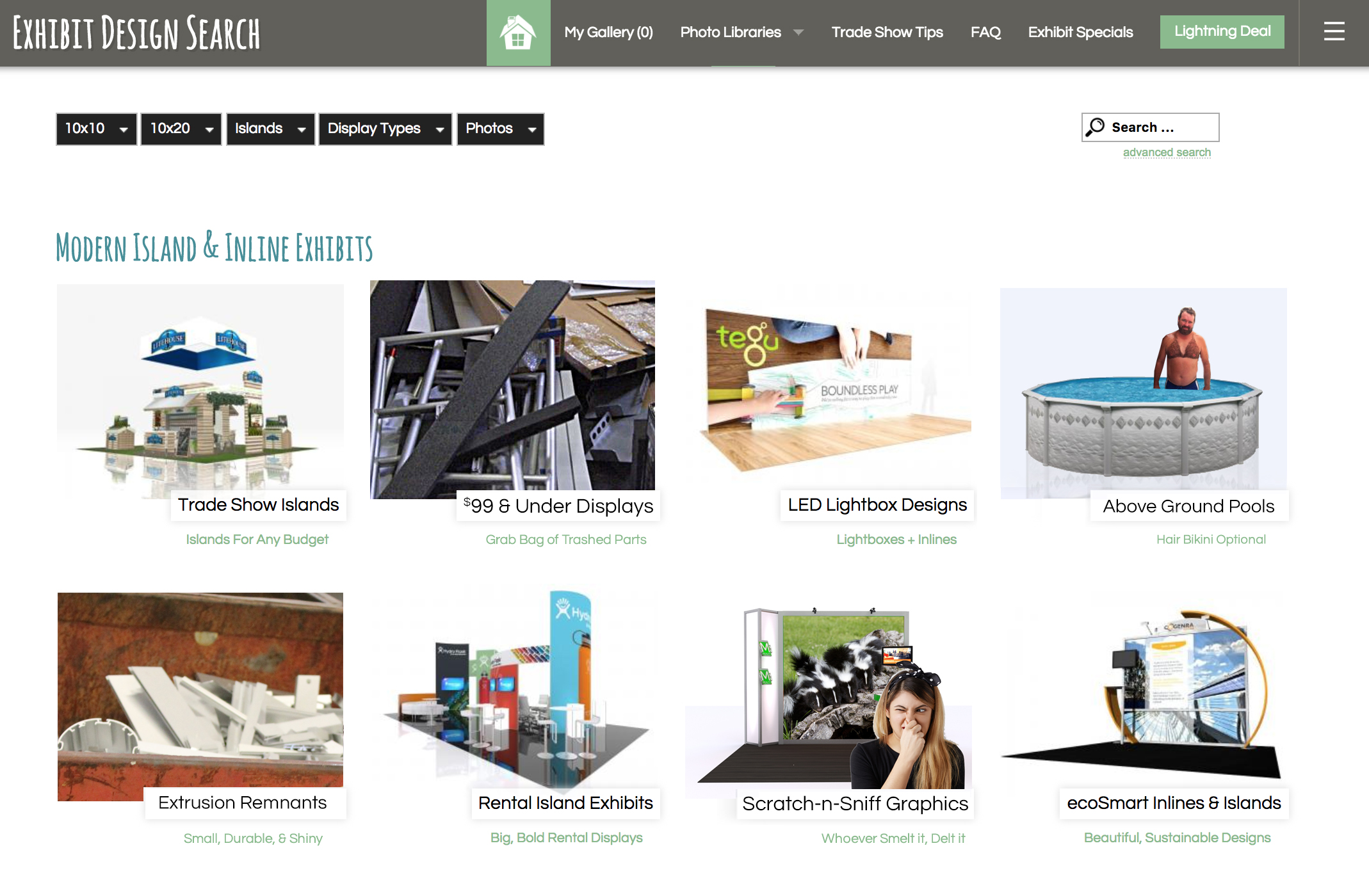 $99 & Under Displays.  Never lose another sale! Except to the $49 & Under Display website. Bastard!
Above Ground Pools.  Affordable and interactive. Your pre-show marketing plans just got easier. Discount chlorine too!
Extrusion Remnants.  Surprises galore in the extrusion grab bags. Anything is possible with enough screws and duct tape.
Scratch-n-Sniff Graphics.  Go ahead and touch it. Perhaps this time it's Pina Colada. Perhaps not! Scratchy scratchy.
*Please sell responsibly. Quantities are limited while supplies last. May cause bleeding or sudden death. Don't take candy from strangers. Or strange people. Or anyone really. Not responsible for direct, indirect, incidental or consequential damages resulting from any defect, error or failure to perform. All rights reserved. April Fools.
To read about the REAL updates in Exhibit Design Search, CLICK HERE.
–Mel White
mel@classicexhibits.com
http://www.linkedin.com/in/melmwhite
**********************************************
Classic Exhibits Inc. designs and manufacturers portable, modular, hybrid, and custom exhibit solutions. Classic Exhibits products are represented by an extensive distributor network in North America and in select International markets. For more information, contact us at 866-652-2100 or www.classicexhibits.com.