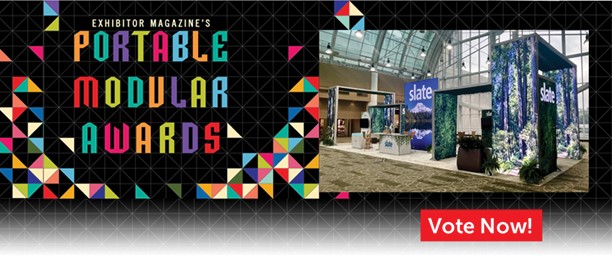 We all love lists, especially the 25, 50, or 500 best of anything: 
Two weeks ago, EXHIBITOR announced the 2022 Portable Modular Awards finalists (50 total) and winners. Without a doubt, this was the most competitive year yet, and we congratulate all the winners. Now, the next stage is the People's Choice Voting Page. All 50 finalists (in every category) are vying for your attention. Who's your favorite(s)?
You can vote once per day until June 22, 2022. The finalist with the most votes will be named this year's People's Choice Award winner. All winners will be announced during a ceremony at EXHIBITORLIVE 2022 in Las Vegas.
As many of you know, we have been consistent cheerleaders for the PMA since the beginning, including sponsoring the voting page (see banner ad).
Please support the PMA by voting for the next two months. And don't forget to register for EXHIBITORLIVE. Use code 4044 for a free exhibit hall pass.