Experiential Marketing Summit 2022 (EMSlive)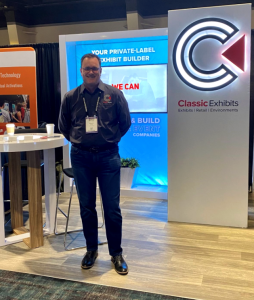 What a great week in Las Vegas at EMSlive 2022. I walked into this event not knowing what to expect, but several friends who had attended before told me, "Just go, interact, network, and converse and you will quickly see why this event is a part of our yearly plans." They were correct.
EMSlive is a blend of EXHIBITORLIVE based on the end-user attendees and EDPA ACCESS with its showcase floor. And yet totally different.
For Classic Exhibits specifically, we participated for two reasons: guilt and opportunity. We have been named to the Event Marketer FAB 50 Exhibit Builders for 5 of the past 7 years, but we hadn't participated in their event. We owed it to them to be there. However, guilt was not the only reason (Click to read the full article).
Tom Beard Returns (Part Deux)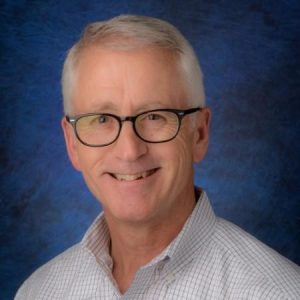 On March 18, 1995, Michael Jordan sent an "I'm Back!" fax to the media announcing his return to basketball. Like MJ another Chicagoan is returning. Please welcome Tom Beard back as a Regional Sales Manager for Classic Exhibits.
According to Tom, "I look forward to re-connecting with my friends and colleagues in the industry. In case you retired my contact information, I can be reached at tom@classicexhibits.com and 815-321-9258."
Tom will be responsible for IL, WI, MN, IN and MI. Expect to see or hear from Tom in the coming weeks.
New EDS Gallery — Games & Digital Activations (CP)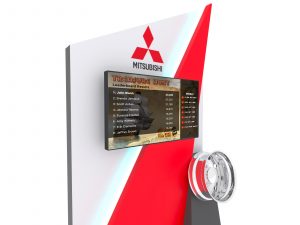 There's a new Gallery in Exhibit Design Search – Games and Digital Activations (CP). We delighted to welcome Captello as a strategic partner to EDS. The Captello gallery includes eight affordable games for trade shows or events which can be launched on any electronic device. The games include custom branding, leaderboard options, and prizes. And like our other partner galleries (CORT, DS&L, Brumark, and Taylor), you can order directly from them (not Classic). Click HERE for the Ordering Process PDF.

Business Model: 10% Referral Fee or 30% Reseller Fee
Referral Fee is when distributor refers end-customer to Captello to handle invoicing, payment, etc.
Reseller Fee is when the end-user purchases directly from the Classic Distributor and the Distributor handles the purchase and support. Resellers will have access to their own Captello account and the ability to switch to different sub-accounts to set up the end-user software on their behalf. Reseller Partners receive training and support from Captello. End-users do not have to pay an onboarding fee with this model. Reseller can profit from professional services and training in addition to license fees. White label options are also available.
EXHIBITORLIVE 2022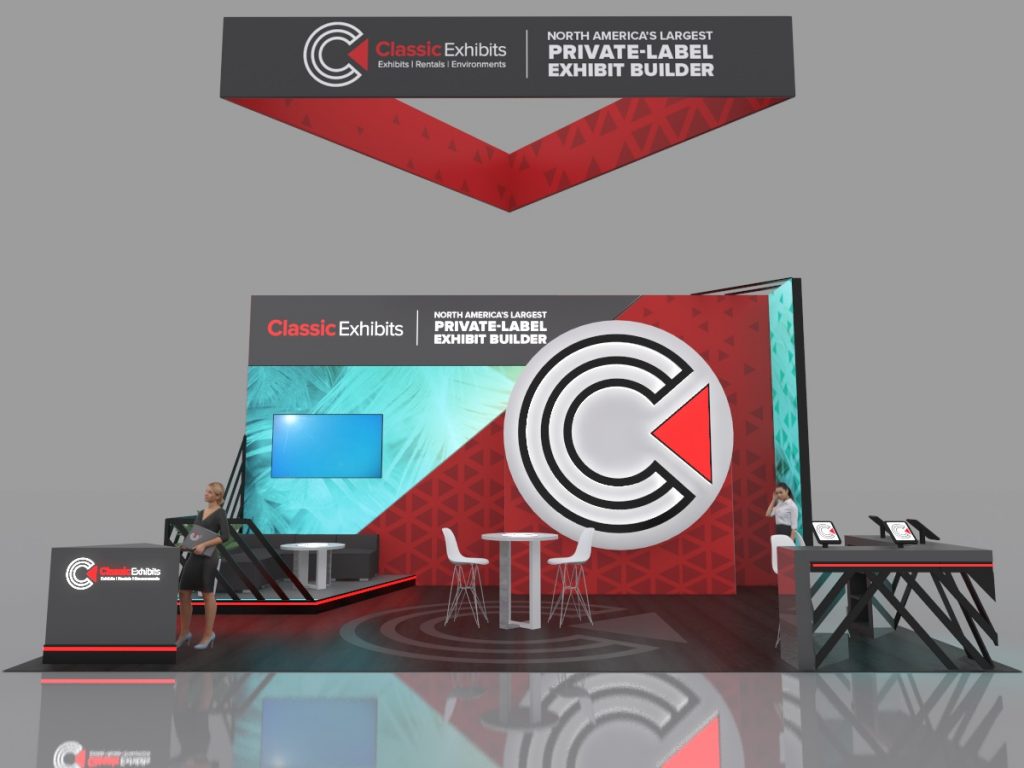 Las Vegas… one final time?
Conference: Mon., June 20 – Thurs., June 23
Exhibit Hall: Tues., June 21 – Thurs., June 23
To register for your FREE HALL PASS, go HERE and ENTER code #4044. Classic will be "glowing" with a 20 x 30 island in booth #1219. Visit us and you could win a $500 discount on your next order.
People's Choice Voting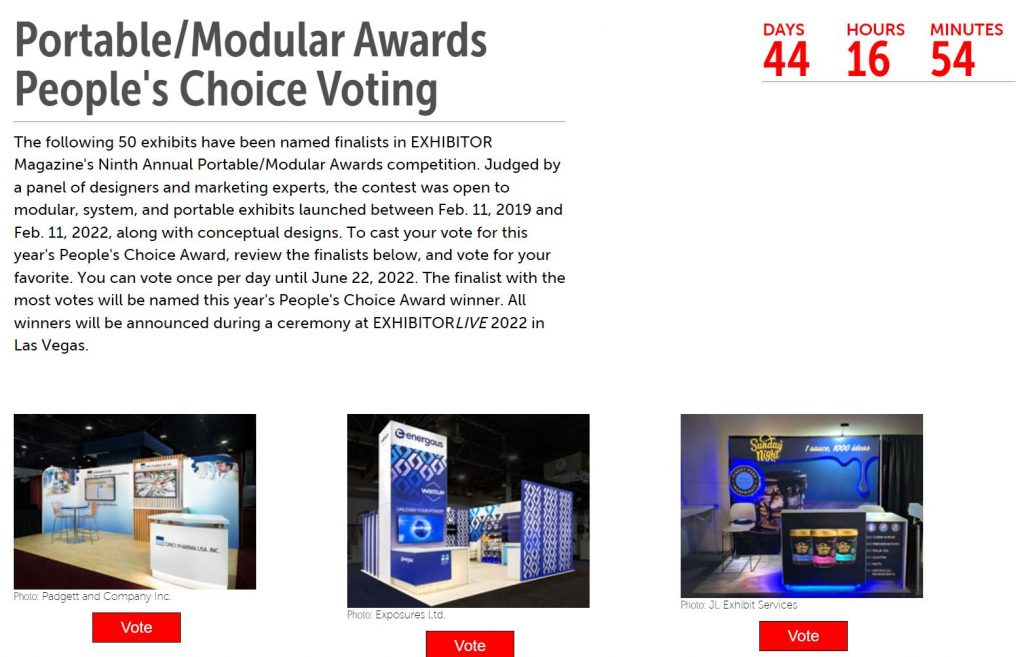 The People's Choice Page is active with 50 finalists. However, only one design can win the People's Choice.
You can vote once per day until June 22, 2022. The finalist with the most votes will be named this year's People's Choice Award winner. All winners will be announced during a ceremony at EXHIBITORLIVE 2022 in Las Vegas.
As many of you know, we have been consistent cheerleaders for the PMA since the beginning, including sponsoring the voting page (see our banner ad). Please support the PMA by voting for the next two months.
Women in Exhibitions Breakfast

Calling all Women in Exhibitions and Events! The 4th Annual Women in Exhibitions Breakfast event will be held in the Connection Zone at EXHIBITORLIVE on June 22 from 8-10 am. Enjoy a delicious continental breakfast while you network with peers and share your experience in breakout sessions. Learn how women are uniquely suited to take on leadership roles from our special guest speaker MaryCay Durrant.
Date and Time:
Wed, June 22, 2022
8:00 AM – 10:00 AM PDT
Register HERE
Space is limited. Purchasing tickets in advance is STRONGLY recommended.
Find It Top 40 Exhibit Producers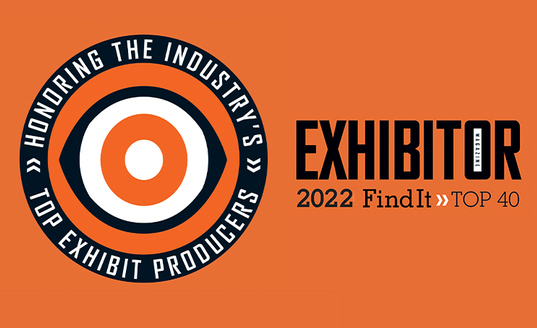 For the 5th straight year, Classic has been named an EXHIBITOR Find It Top 40. EXHIBITOR "received nearly 500 applications from exhibit houses in North America, all of which were subjected to an exhaustive evaluation process including more than 50 individual criteria weighted to reflect how EXHIBITOR readers and Editorial Advisory Board members value them when vetting and selecting potential partners."
We're honored to be named a Top 40 once again, and we're proud and delighted for the 29 Classic Exhibits Distributors who were also honored. Well done! Pretty darn special.
Webinars
In May and June, we are sponsoring (3) "fast-paced" webinars in conjunction with Lev Promotions, Brumark, and Tim Patterson (The Tradeshow Guy).
20 Trends in 20 Minutes
20 Clever and Creative Promotional Products with Rama Beerfas, Lev Promotions
20 Step-by-Step Flooring Trends with James Zacharias, Brumark
The Fast and Furious 50
Tradeshow Stupid to Tradeshow Smart in 50 Minutes. 50 Essential Trade Show Tips for Every Newbie (or Wannabe). Tim Patterson, Tradeshowguy Exhibits
Look for the details, including dates and times, in an ebroadcast later this week.