Yes, EDS has changed… again. Now, don't shake your head. You should be excited about these changes since they are all based on suggestions from you, our Classic Exhibits Distributors. I'm going to refer to them as "3 Modifications" since the word "change" makes some of you sweat like a cold watermelon on the 4th of July.
Modification #1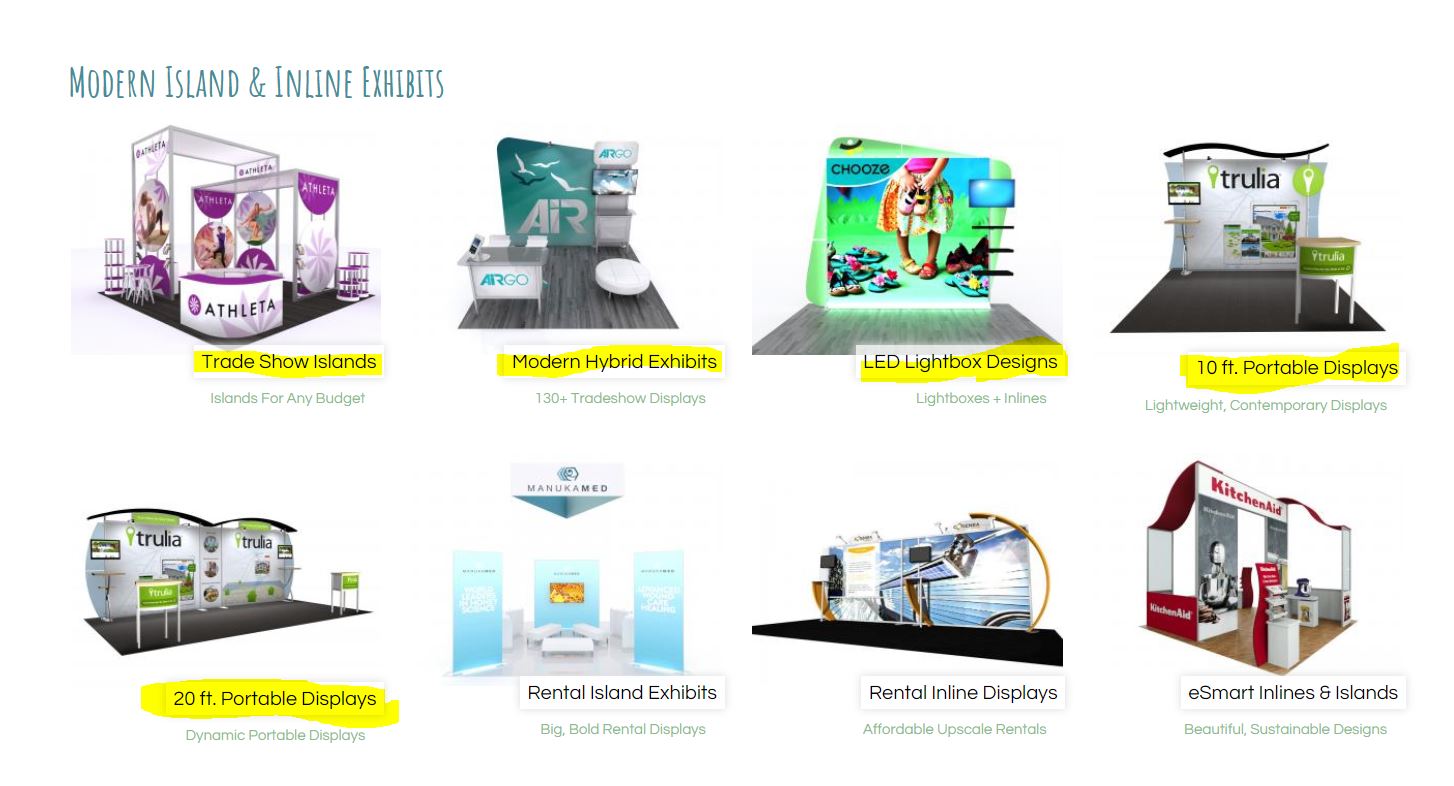 This one is BIG. About three weeks ago, we reorganized five galleries from product-centric to functional galleries. In hindsight, we should have done it before. It took a few weeks to make the switch since it required shifting hundreds of kits to new galleries. In short, the new galleries are more logical. Now, instead of Sacagawea, Magellan, SEGUE, and Perfect 10 galleries, there are the following:
Trade Show Islands:  All islands from Classic Exhibits with some from Eco-systems Sustainable
Modern Hybrid Exhibits:  Upscale, mid-priced inline exhibits, whether modular or custom
LED Lightbox Designs: Inline LED lightbox designs, whether custom, modular, or portable
10 ft. Portable Displays: All 10 ft. Sacagawea and Perfect 10 kits, plus portable SEGUE, Magellan, and Visionary Designs. It does not include the Quadro or FGS pop up displays which are in separate galleries
20 ft. Portable Displays:  Same as above, except 20 ft. inlines
Same kits. Same information. Just reorganized to make it easier to find the ideal design.
Modification #2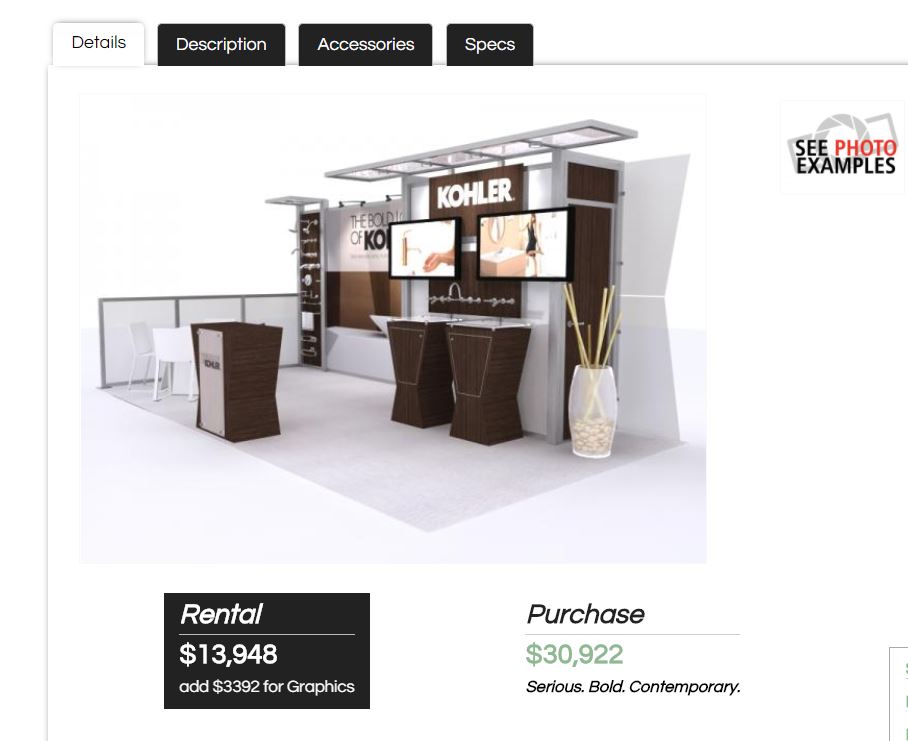 Several months ago, we expanded our rental design offerings, adding over 200 new kits — inlines, islands, and accessories. At the same time, we added a price comparison feature making it easier to compare rentals and purchases. That's been HUGE hit with distributors, since it opens the door to chat with clients about rentals.
It also said to Classic Distributors, "Talk to us about what your client wants for a rental whether or not you see it in EDS. We're open to any and all design suggestions." And boy-oh-boy you have embraced that enthusiastically. We love the ideas. Keep them coming.
However, the additional kits made the Rental Gallery somewhat overwhelming, so we split them into two galleries — islands and inlines. There are now three Rental Galleries in EDS:
Modification #3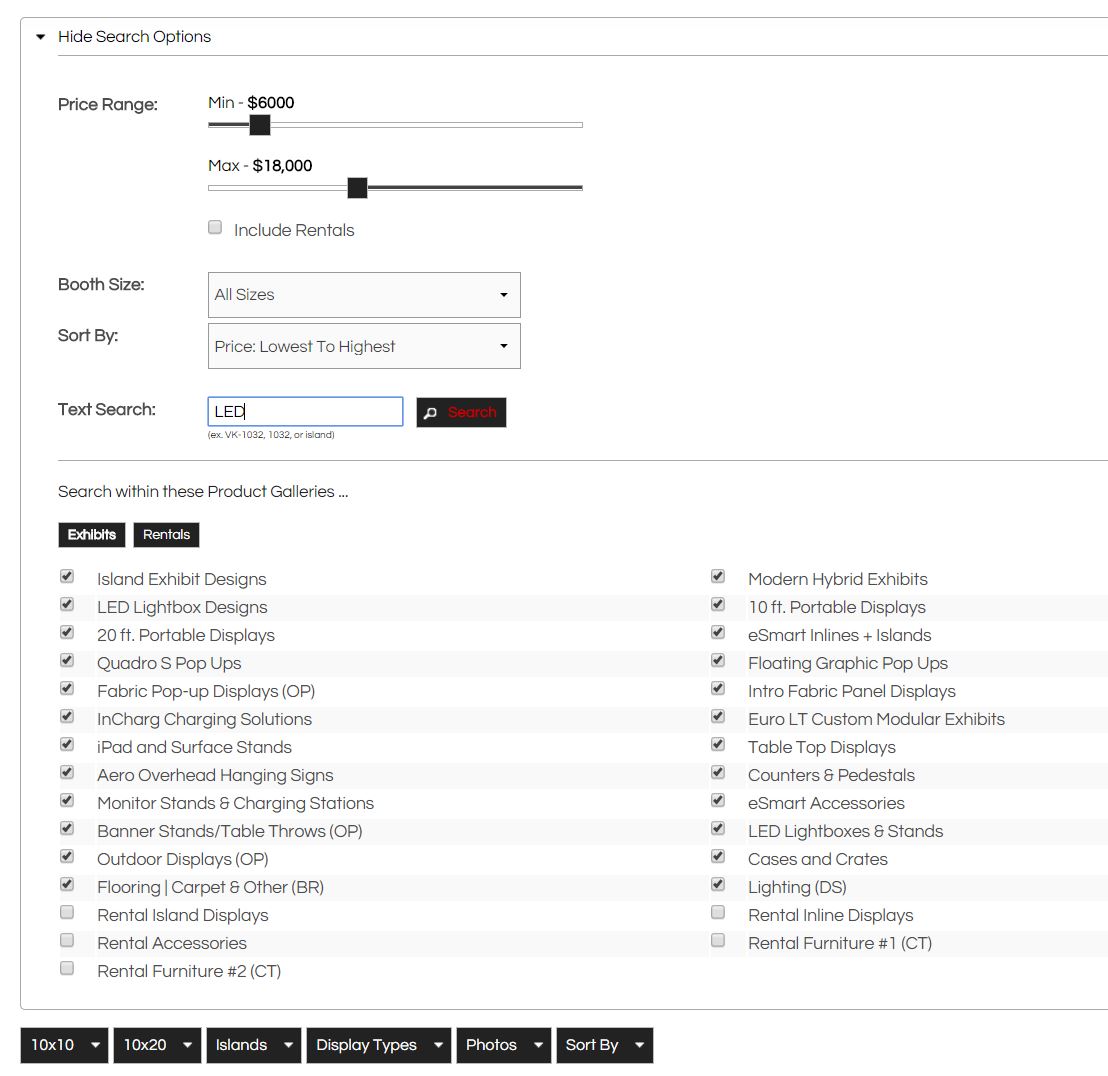 Personally, I love the Advanced Search feature in EDS, but I suspect that few distributors use it. That's not surprising since the link isn't a fancy button or surrounded by flashing lights. But if you are a power-user of EDS (feel free to add that skill to your LinkedIn profile), then the Advanced Search can make your life much easier when narrowing down the perfect designs for your clients.
With all the gallery changes, we had to decide whether to keep the product search functionality or migrate to the new search options. We chose the later, since you've told me (many times) that the product names often confuse your clients. While that hurts my feelings, a little, I need to be the better person and not hold a grudge for the rest of my life (Internal voice:  "Suck it down Mel. Just suck it down!")
I encourage you to explore the Advance Search feature, using it to search select galleries, conduct text-related searches, or drill-down to very specific design options such as a "lightbox with shelves." No, it's not Google good, but it's still pretty darn impressive.
I plan to conduct several Exhibit Design Search training webinars this spring so look for the email notification. These usually last about 45 minutes and move pretty fast. If you've ever spent more than 10 minutes with me, you know I have a lot to say about EDS. Clearly.
Got questions? Give me a call or send me an email. In the meantime, explore EDS on the Classic site, the unbranded version, or your unique branded Exhibit Design Search. Confused about whether you have a branded version, contact me or Jen Labruzza, the National Sales Manager.
–Mel White
mel@classicexhibits.com
http://www.linkedin.com/in/melmwhite
**********************************************
Classic Exhibits Inc. designs and manufacturers portable, modular, hybrid, and custom exhibit solutions. Classic Exhibits products are represented by an extensive distributor network in North America and in select International markets. For more information, contact us at 866-652-2100 or www.classicexhibits.com.