Interview Introduction
Recently, I spoke with Jessica Sibila, who's the owner of Jessica Sibila Consulting, and the Executive Director of The Exhibitor Advocate. If you are unfamiliar with The Exhibitor Advocate that's understandable. It's brand new. However, the professionals spearheading this association have been championing the rights of exhibitors for many years.
For anyone who's worked in the exhibit industry or participated in trade shows, you know it can be complicated, confusing, and often opaque, especially to exhibitors. They don't always know their rights or how to dispute charges or even propose changes to a show. Collectively, they have the largest financial commitment to the success of a trade show but often the least amount of influence on how it's priced, managed, and marketed.
The Exhibitor Advocate Mission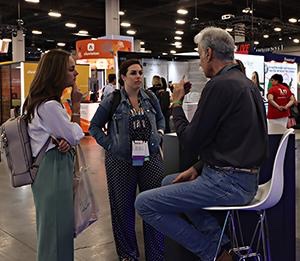 The Exhibitor Advocate is a newly formed non-profit organization dedicated to supporting exhibitor needs in the exhibitions and events industry. The group provides expert advice, research, and tools to act on behalf of all exhibiting companies, focusing on addressing challenges and pain points so that exhibitions and events remain a valuable and irreplaceable marketing channel.
Exhibitors are an essential part of the industry ecosystem; without them, we don't have a trade show. In this post-COVID world, exhibitors are being challenged by exponentially rising costs, lack of data availability, and limited metrics and ROI. It's important the industry understands the needs of the exhibiting community and works towards addressing these issues in order to sustain the industry for the future. We can no longer rely solely on the attendee to drive the success of a trade show. The exhibitor is a strategic partner in creating an event that is beneficial for all parties.
The Exhibitor Advocate amplifies the voice of the exhibitor. We are a powerful community that finally has a platform for sharing best practices and addressing challenges we face. We invite all industry stakeholders to join the cause and support The Exhibitor Advocate. Become a member or donate funds at ExhibitorAdvocacy.com. Together, we can ensure the enduring success of the exhibitions and events industry.