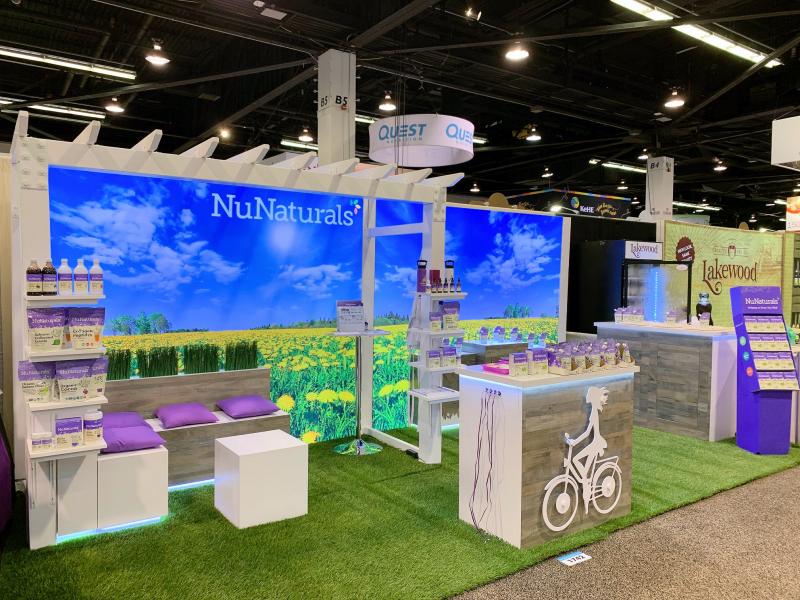 "Build it and they will come" – All too often, exhibitors embrace this phrase as the beginning, middle, and end of their trade show marketing program. Unfortunately, success at trade shows requires MUCH MUCH MORE. It requires planning – lots and lots of planning including setting goals and a budget.
Everyone loves the custom exhibit design process. It's the fun part. With a carefully designed trade show booth, you stand a much better chance of attracting potential clients, making sales, gathering contacts, and generally spreading the word about your company. If your booth represents a microcosm of your business, then it should also reflect not only your products and services, but also your culture, your customer service, and your marketing.
Exhibit Planning: Where to Begin?
It's never too early to start planning. Begin by assigning one person to be in charge of timetables and schedules. Assign another person to draw up the budget and define the marketing goals. This person will have to account for the cost of renting or buying a booth, the cost of accessories such as literature racks, as well as travel expenses. Travel expenses will vary depending upon the location and duration of your stay. If you decide to rent, you should expect to budget:
25% on renting your booth space
20% on design and graphics
15% on electrical, cleaning, and drayage
10% on shipping materials to and from the trade show
10% on press kits and pre-show promotions
20% on staffing, travel, and other miscellaneous expenses

Regardless of your decision to purchase or rent an exhibit, you would be wise to work with a professional graphic designer with trade show experience. Most exhibit distributors have a designer on staff or rely on their exhibit manufacturer to supply design and rendering services. You will need to follow the rules and regulations on booth design for your particular show as well as observe basics such as fire, electrical, and safety codes and provide wheelchair accessibility. Professional exhibit designers understand those requirements.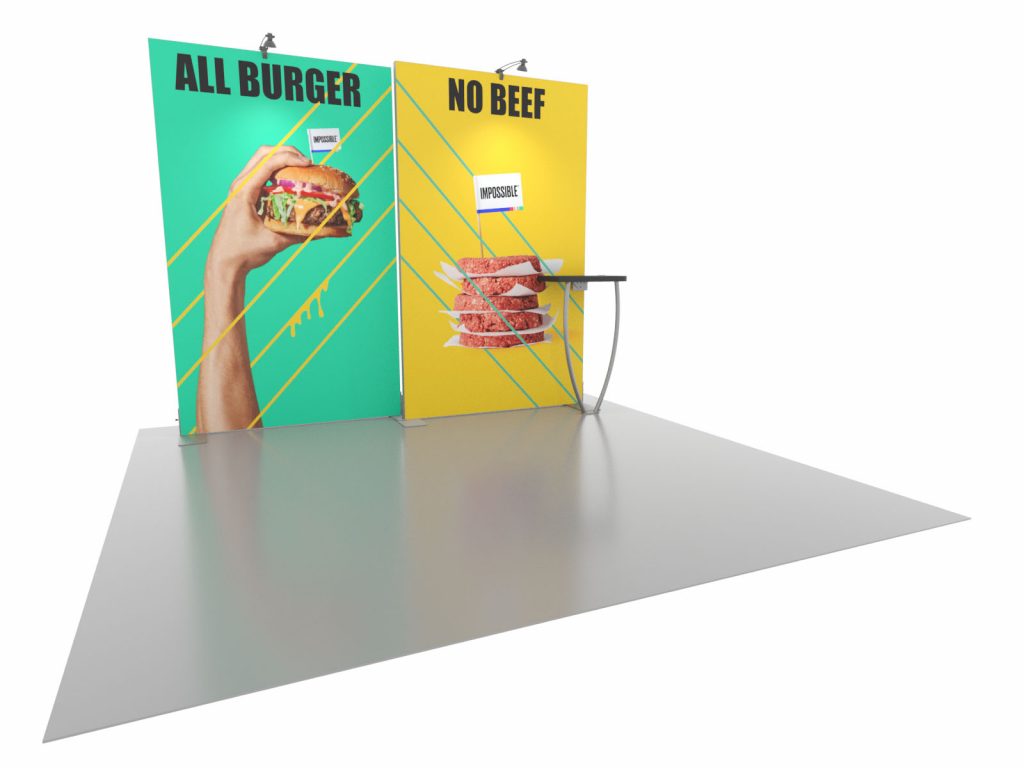 Exhibit Planning Guideline & Tips
When considering the dimensions of your booth, take into account booth staffing, as well as account for kiosks, counters, conference rooms, and the storage of materials. Be sure your design allows for the free flow of attendee traffic in and around your booth. Remove any obstacles at the designing stage. Keep your traffic objective in mind. For instance, if you're there to demonstrate a new product, erect walls that force passers-by to cluster at the front of your booth. And while you want to be busy, design the flow so attendees are not confused or overwhelmed by your booth. As a rule of thumb, your exhibit space should resemble a well-organized party and not a crowded dance floor.
A 10 x 10 booth is sufficient for a small business. At 100 square feet, you can accommodate at least four people at once, two staffers, and two attendees. Consider a 10 x 20 for a medium business, and islands for a larger business. The size of the booth, however, depends on your goals and products. At a trade show, size matters, but it should complement, not dictate your exhibit marketing goals.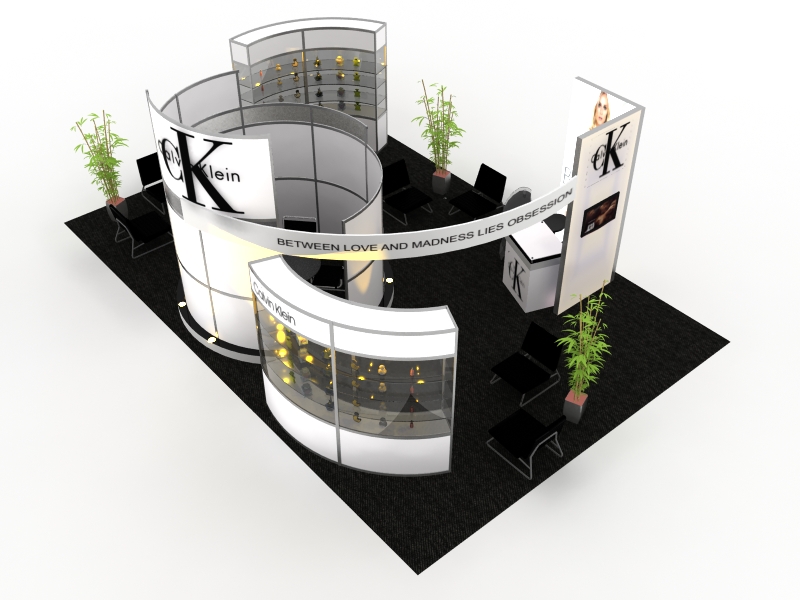 Exhibit Planning Process
Think of your booth as a 3D advertisement for your company. You should include your company's colors wherever possible unless you are using a theme that necessitates certain colors. It is also a good idea to display the company logo as prominently as possible. You will want to coordinate the flooring with the rest of your booth, either by renting carpet from the show decorator or purchasing more upscale solutions such as hardwood flooring, raised flooring, or cushion flooring.
In order to both conserve space and add an exciting look to your booth, display your literature in a literature rack. Audio/Video presentations have become commonplace and affordable for any size exhibit. These allow show attendees to participate in the booth experience and learn more about your company. Large screen monitors are perfect for product demos, interactive videos, or entertaining promotions. Like a moth to a light bulb, show attendees are instantly drawn to professionally produced videos.
For more information, be sure to consult with an exhibit designer or trade show professional. Participating in trade shows can be expensive, but it's not difficult to maximize your Return on Investment (ROI) with the right planning and expertise.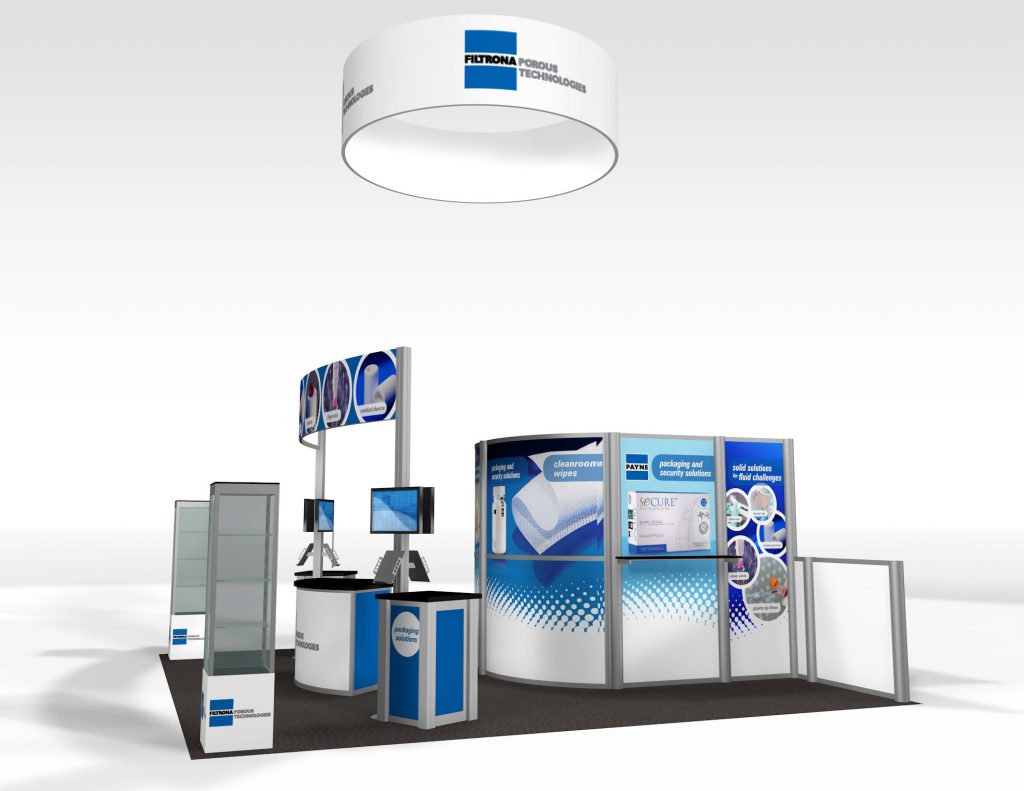 Exhibit Planning: 7 Mistakes to Avoid
A weak or non-existent exhibit marketing plan without stated goals and objectives.
A casual attitude toward pre-show marketing. Well-designed traditional and social marketing campaigns give attendees a reason to visit your booth.
A fuzzy or ill-conceived exhibit identity and message.
An exhibit marketing message that doesn't differentiate you from your competitors.
An exhibit design that hinders effective client interaction (too noisy, too cluttered, too casual, or too formal)
Poor booth staff etiquette that sends the wrong message to attendees and customers. Inappropriate etiquette is a common (and avoidable) mistake.
Slow, ineffective, or nonexistent post-show follow-up with potential sales leads. There's a reason they are called "sales leads" and not "sales." 
Convention Exhibit Event Planning
Successful Exhibit Event Planning requires time, energy, creativity, and money. Far too often, companies think "showing up" is the same as "showing off." To reach your trade show goals, consider these critical exhibit design and marketing tips.
Traffic Flow
In what direction do attendees enter the show hall? Is there a natural traffic flow? Position your exhibit to take advantage of the traffic flow.
The Three-Second Look
Does your exhibit communicate your key message(s) within three seconds? After three seconds, an attendee will move on to the next exhibit if your message does not capture his or her attention. Consider simple, declarative text and bold, relevant graphics. And PLEASE do not put your website address at floor level.
Continuity/Branding
Does the exhibit match your marketing materials? Too many mixed messages or images, no matter how creative, creates confusion.
Safety
Is your exhibit structurally stable when filled with attendees? One small disaster can ruin a well-planned and potentially successful show.
Storage
Do you have adequate storage for literature, electronics, promotional incentives, briefcases, and portable shipping cases? Do you require secure storage for valuables during and throughout the show? You don't want purses, briefcases, or tablet cases cluttering the booth.
Finish
Is your exhibit worn or dated from one too many shows? Plan ahead before you purchase your next exhibit. Light colors show seams and damage more easily than dark colors or patterns. Glosses scratch easier than matte laminates.
Budget
Does the exhibit fit your short and long-term budget? If you spend too little, you may not reach all your marketing/sales goals. If you spend too much, you may be forced to curtail your trade show program just when it is making a difference.
Exhibit Planning Support from Classic Exhibits
Classic Exhibits has been designing and building trade show solutions since 1993. We've worked hard to win many design awards and love to challenge our team with new and innovative designs. We take great pride in our planning processes, client interactions, and the products we deliver. We look forward to working with you to plan, design, and execute a trade show experience that exceeds all your goals.