Portable Modular Awards (PMA) and People's Choice Voting Page
EXHIBITOR Magazine announced the finalists for the 2018 Portable Modular Awards this week. They also launched the People's Choice Voting website where you can vote once a day for your favorite design (regardless of the category).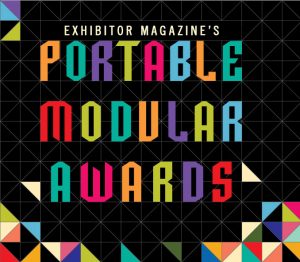 The categories are:
Best 10-by-10-Foot Exhibit
Best Fabric Exhibit – An exhibit comprising predominantly fabric components
Best Use of Graphics – Graphics for the entire exhibit and/or individual applications or purposes, such as info graphics, way-finding systems, product-display graphics, overhead-signage design, large-format graphics, etc.
Best In-Line Exhibit (10-by-20s, 10-by-30s, etc.)
Best International Design – An exhibit designed by a company outside of North America or an exhibit designed by a North American firm but launched at a show outside of North America.
Best Island Exhibit Less Than 600 Square Feet
Best Island Exhibit 600 to 1,000 Square Feet
Best Island Exhibit More Than 1,000 Square Feet
Best Reconfigurable Exhibit – An exhibit that can be reconfigured to accommodate various footprints, goals, shows, etc. Entrants must submit photos of the booth in at least two different configurations.
Best Rental Exhibit – A portable, modular, or system exhibit comprising predominantly rented components.
Classic Exhibits has been an active supporter of the PMA since its inception five years ago, both through submissions and advertising. This year is no exception. We submitted five entries, and four were accepted as finalists.
Best Island Exhibit 600 to 1,000 Square Feet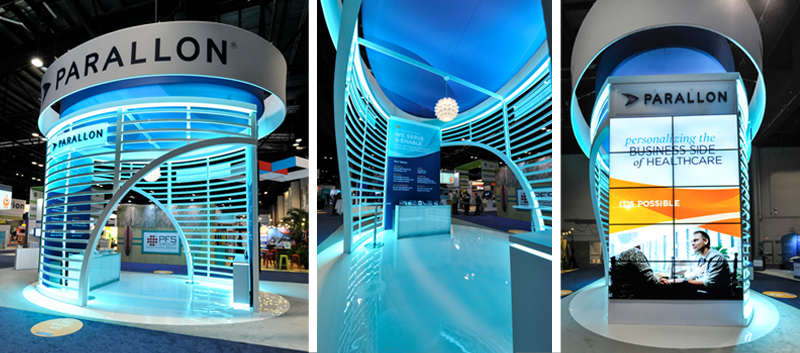 Design/Marketing Challenge:  Parallon wanted an exhibit that made a big impression with attendees from across the show hall and in the booth space. They requested an open concept allowing for a natural flow of traffic through the booth and multiple conversation areas. In addition, the modular components had to fit different size footprints. Equally important was the use of technology and integrated lighting throughout the design. One big challenge was Parallon's requirement to easily re-brand the booth for their strategic partner HealthTrust, which uses the structural components of this booth at shows where Parallon does not exhibit. Finally, the client wanted to improve their operational cost savings compared to their previous booth.
Design: Astor Group, Cheryl Harnishfeger and Classic Exhibits, Kim DiStefano
Best Rental Exhibit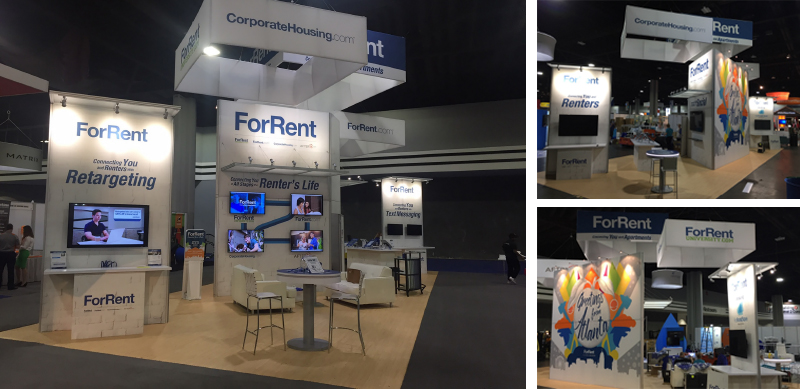 Design/Marketing Challenge: ForRent.com wanted a substantial presence on the show floor with cohesive branding for all their divisions. They decided to feature all their sub-brands in their booth for the first time:  ForRentUniversity.com, ForRent.com, CorporateHousing.com and After55.com. With 30 working employees in their booth, they needed a large amount of secured storage, lots of interactive demo areas for 1-on-1 sales, social media activity, and both in-depth and casual meeting spaces for building relationships with customers. The materials needed to have a residential feel to focus attention on their residential properties. Finally, they wanted more design flexibility while achieving their goals which is why they choose a 20 x 50 rental (rather than a typical purchase).
Design: Classic Rental Solutions, Doug Cole and TPS Displays Richmond, Neil Carroll
Best In-Line Exhibit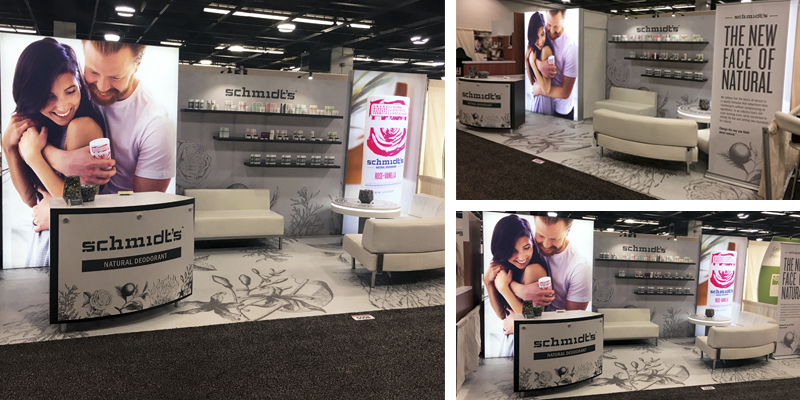 Design/Marketing Challenge:  Schmidt's Naturals wanted the natural and clean qualities of their well-established brand to be reflected in their booth. They wanted a clean product display area, storage, space for casual meetings, and an overall inviting feel. The space also needed well-organized sampling areas where visitors could smell the products.
Design:  Classic Exhibits, Kim DiStefano, and TradeshowGuy Exhibits, Tim Patterson
Best 10-by-10-Foot Exhibit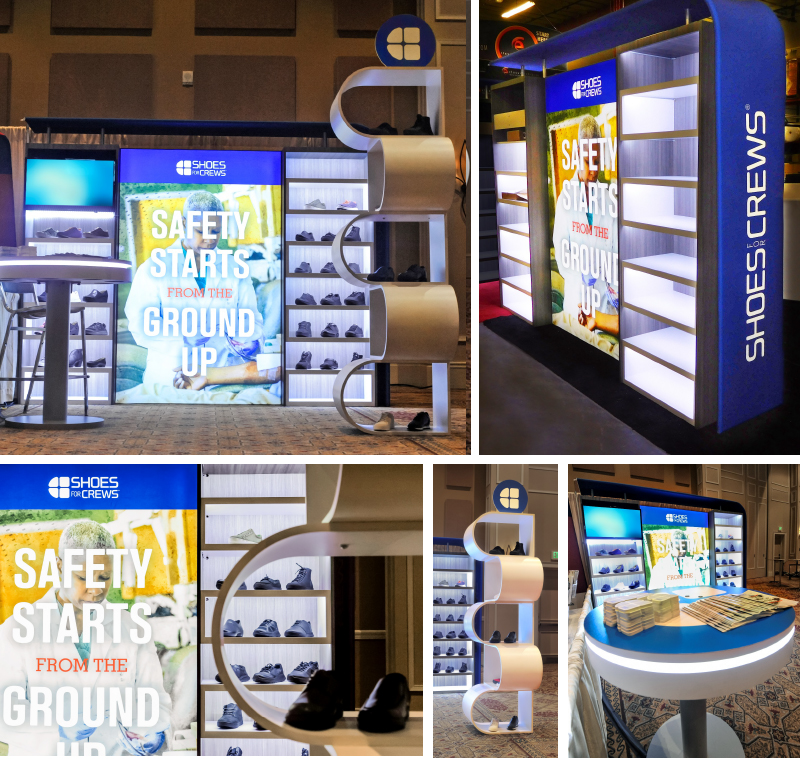 Design/Marketing Challenge:  Shoes For Crews wanted their trade show displays to reflect their recent updated branding. The company participates in about 70 shows per year with various booth sizes, so they needed a distinctive, lightweight, reconfigurable, well-lit exhibit with enough shelving to show 40-50 shoes representing all their product lines. They didn't want typical shelving;  they wanted their shoes displayed in a creative fashion. Also they hoped to engage customers in their booth space with media, recreating a breakroom experience that their customers experience in their respective environments.
Design: Classic Exhibits, Kim DiStefano and Art Guild, Ron McEntee
We encourage you to vote for your favorite(s) over the next three months. Let us know if you have any questions, and we would enjoy hearing your comments about the four finalists. Finally a HUGE thanks to the Classic Distributors for their support with PMA and to Katina Rigall Zipay, our Creative Director, for submitting the entries.
Winners will be announced at EXHIBITORLIVE.
–Mel White
mel@classicexhibits.com
http://www.linkedin.com/in/melmwhite
**********************************************
Classic Exhibits Inc. designs and manufacturers portable, modular, hybrid, and custom exhibit solutions. Classic Exhibits products are represented by an extensive distributor network in North America and in select International markets. For more information, contact us at 866-652-2100 or www.classicexhibits.com.
Tags: Classic Exhibits, Exhibitor Magazine, ExhibitorLIVE, PMA, Portable Modular Awards