Thank you for a CRAZY FALL SEASON. We've had strong sales, including a record number of AMAZING custom projects. You kept us busy and inspired in Q3, which the Classic Exhibits Family appreciates.
The rental division, Classic Rental Solutions (CRS), saw the largest surge. And that's not surprising. Exhibit rentals are growing at Classic and throughout the industry. More and more exhibitors are attracted to the smaller upfront investment and the luxury of changing their design from show to show or year to year. The exhibitor's desire to "mix things up" challenges many builder's design flexibility and capacity. Not every company has the capability (or willingness) to stretch their rental program.
But We Do. And Here's Why.
#1. Classic Exhibits and CRS support over 200 distributors. Not every distributor taps into our rental division, but the vast majority send us multiple projects every year. That volume means we have an unmatched inventory when your client needs five LED lightboxes, a double-deck display, a 40 x 40 island, or 37 monitor stands for an event. There are few requests we can't handle.
#2. We are the manufacturer. We're not ordering modular frames, cut aluminum extrusion, or custom wood counters. We're building them. If the rental division needs a custom counter or curved Gravitee One-Step frames, it's done in days, not weeks. It also means we control the quality. We have no hesitation about throwing away damaged aluminum, chipped laminate, or rebuilding or replacing crates. What we ship has to be perfect because we're answerable not only to you but also to your client. Happy customers mean more rental orders. And that makes us happy.
#3. We are the designer (in most cases). That gives us enormous flexibility to create customized rental designs. We can choose to build a custom component for a specific design. So many rental designs on the show floor are cut-and-paste, carbon copies of modular panel templates. Be honest. How often have you seen the same rectangular tower with four arches and stock counters? Rentals are growing but some of the designs on the show floor are getting pretty stale.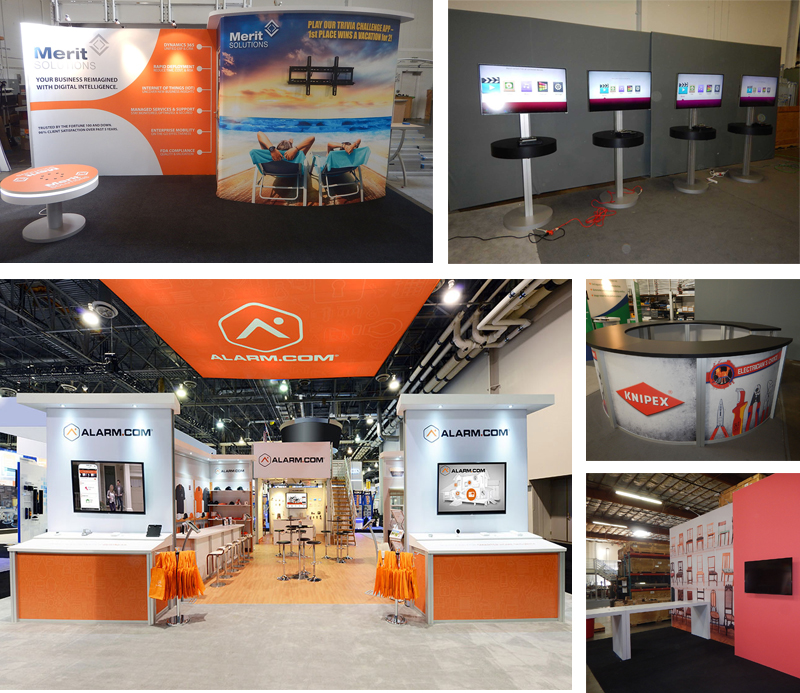 #4. We are Classic Exhibits. Over the years, we've built our reputation on design, quality, flexibility, and nimble engineering. And especially predictability. When you open a rental crate there should be no surprises. It will include detailed instructions, immaculate packaging, and graphics that fit, since the display was staged and photos taken in our facility.
#5. Lightboxes, Charging Stations, Monitor Stands, Tablet Solutions, LED Accent Lighting, etc. Trade show industry trends change FAST. Those trends should apply equally to rentals as they do to purchases. Sadly, that's not true for all suppliers. At Classic Exhibits, we have no reason not to cross-pollinate purchase trends with rentals. We benefit. You benefit. Your client benefits.
So…. you may be wondering about the title of this blog post — "We Don't Care. We Really Don't Care." On occasion, a distributor will apologize for a rental order. Their client considered both a rental or a purchase but eventually decided to rent. Yes, the initial order is is smaller but that's fine. Rental orders, over time, tend to be larger than purchases. And frankly, the margins are better. There's no need to apologize. We don't care whether you purchase or rent from Classic Exhibits. We only care that you do one or the other.
Thanks again for a remarkable fall. Be sure to visit the Rental Display Gallery. We've added over 120 designs in the past two months, all with rental and purchase prices.
–Mel White
mel@classicexhibits.com
http://www.linkedin.com/in/melmwhite
**********************************************
Classic Exhibits Inc. designs and manufacturers portable, modular, hybrid, and custom exhibit solutions. Classic Exhibits products are represented by an extensive distributor network in North America and in select International markets. For more information, contact us at 866-652-2100 or www.classicexhibits.com.