Two New Rental Furniture Galleries
While attending a trade show earlier this month, I conducted an informal poll with Exhibit Appointed Contractors (EAC). EAC's are the folks who provide the labor for most trade show installs and dismantles. I asked, "What percentage of exhibitors rent furniture? Tables, chairs, casual lounge furniture?" Their answer surprised me, ranging from 75-95%. And that furniture rental has increased in recent years.
If you have ever rented furniture from the show book, you know it's not always user-friendly. And too often, it's a task that's completed right before the show, adding stress and expense to your trade show experience.
We have a better solution. Exhibit Design Search, the one-stop shop for exhibits, has two new furniture rental galleries. These galleries include chairs, soft furniture, tables, bar stools, even stanchions for crowd control. You'll see photos, dimensions, and prices that include delivery and drayage.
So easy. Simply contact your Classic Exhibits Distributor to order what you need. They'll make all the arrangements and your furniture will arrive on time… and get picked up at the end of the show. No hassle. And should there be any problems, you'll have access to a 24-hour support line.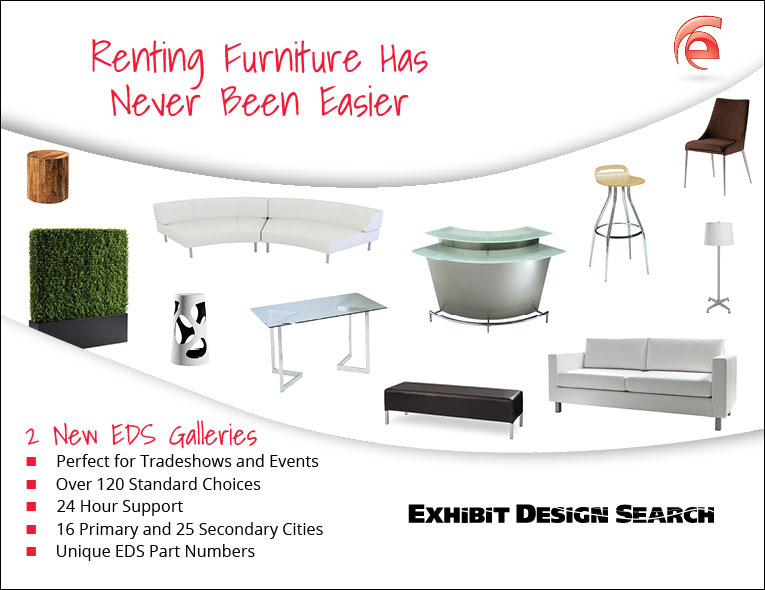 Don't see what you need? Let us know. There are more options available than in the EDS Galleries.
–Mel White
mel@classicexhibits.com
http://www.linkedin.com/in/melmwhite
https://twitter.com/melmwhite
**********************************************
Based in Portland, Oregon, Classic Exhibits Inc. designs and manufacturers portable, modular, and custom-hybrid exhibit solutions. Classic Exhibits products are represented by an extensive distributor network in North America and in select International markets. For more information, contact us at 866-652-2100 or www.classicexhibits.com.