After Nearly 22 Years
July will mark my 22nd year at Classic. I often hear, "Wow, that is a long time by today's standards to be with the same company." Or I am asked, "What is it that keeps you there for so long?" The answer is easy.
This past weekend I was on a getaway with my daughter — a Daddy/Daughter Camp Weekend with a group of dads and their daughters. While there, a couple of the Dad's asked me about my tenure at Classic. Then on Monday in a meeting with Mel, he put the exact words to my feelings. It involves the 4 C's — Culture, Continuity, Capabilities, and Customers. Those four words encapsulate not only my feelings about our organization, but also what we hear from our wonderful distributors.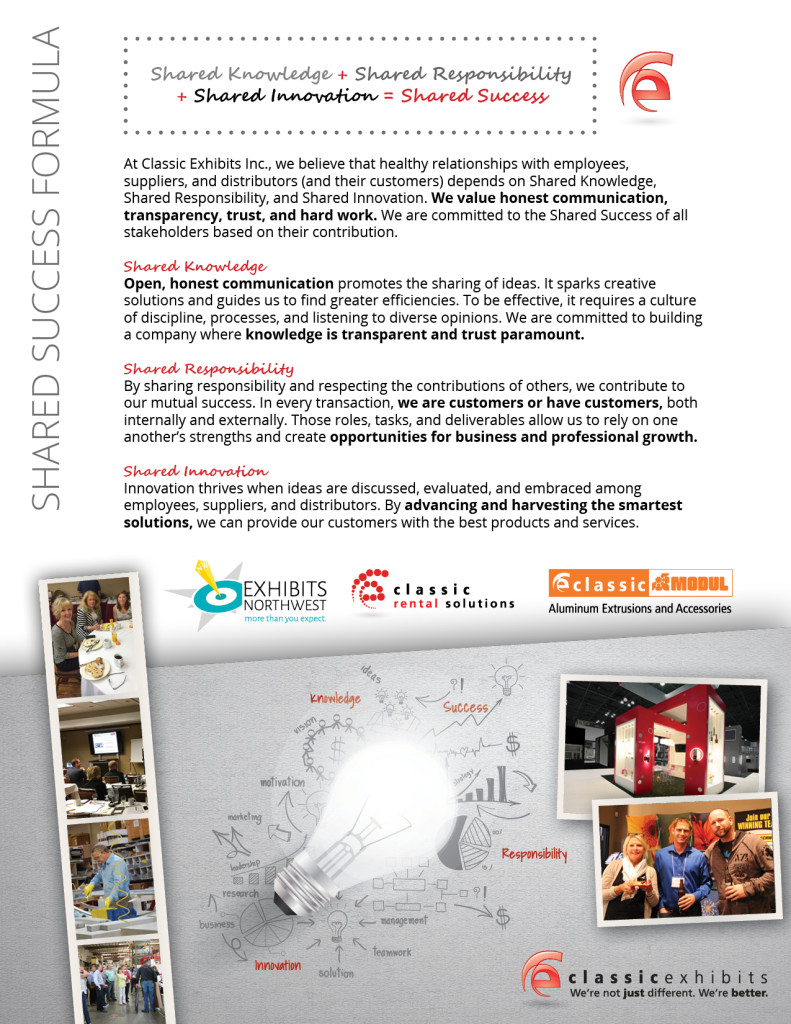 Culture is king. Each year, at Shared Knowledge University (SKU), we devote 30-45 minutes to a post-training Q&A. Everyone gathers in a circle on the Production floor and talks about their experience, what they learned, any surprises, constructive criticism, etc. Each time, we are humbled by their comments regarding Classic Exhibits.
In a nutshell, they tell us that Classic is exactly who we say we are. No artifice. No pretense. No corporate b.s. What they see in person is exactly who we say we are in visits, in our blog, and at industry events.
Culture defines our family of employees and our great family of distributors. It's "Who Classic is" in the exhibit industry and each day inside of this building. Yes, we summarize our values into a handy formula:  Shared Innovation + Shared Knowledge + Shared Responsibility = Shared Success. However, a values statement is useless unless it permeates your culture. Don't get me wrong. We're not perfect, and we stumble. But the "Shared" philosophy serves as a touchstone. It reminds us of what we strive to be as a company.
Continuity is the 2016 version of "predictability." No one gets an "atta boy" for continuity, but creating consistency in your production, sales, marketing, and human resource processes wins hearts and minds over time. At the end of the day, neither a customer nor an employee should ever be surprised by your answers or your actions.
Continuity also speaks to the great group of people I get to work with. Folks don't believe me when I share with them that most of our employees have been with Classic for 5-15 years — aside from new hires as we grow. Same can be said about our loyal distributors who have been with the Classic Family for years and years.

Capabilities make what I do every day fun. I told one of the dads this weekend, "I love walking into a different business each day." On my way to my office, I pass by our Setup Area, which is like a walking by a candy store to me. Our Production, Design, and Customer Service staffs work together to create the next great exhibit or design or process. It's almost embarrassing at times when I find myself saying "I did not know we could do that." Frankly, I would shrivel up into a ball after a week of doing the same thing 8-10 hours a day. That's not a job I'd want.
Customers. Sounds like a cliché, but Reid, Jen, Mel, and I have said for years that "When given the choice, we would rather work with friends than with a customer on the other end of the phone." And in large part, we have succeeded. We made a decision about ten years ago not add a distributor for sales volume alone. Don't get me wrong, we all need that. We are a business… BUT, in order for our culture to thrive internally and externally, we realize that, once again, Culture is King. We would much rather work with friends. So when choosing distributors we ask ourselves, "Are these folks who share our business values?" And, we have been extraordinarily blessed in this regard. I think we have the best network in the business! Which is easy for me to say because so many of them are my friends.
Each year, as we roll through spring, head towards summer and my work anniversary, I find myself reflecting more and more on my job. For some people, that reflection is geared towards "How much longer do I have to do this before I retire?" But for me I find myself saying, "How much longer to I GET to do this before I am forced to retire." A long time. The reason is simple: the 4 C's — Culture, Continuity, Capabilities, and Customers. That's what makes Classic Exhibits my home away from home.
Oh… Two more "C's"…Costco Cookies! Someone keeps us in full supply around here.
Hope you all have a great weekend ahead.
–Kevin
http://twitter.com/kevin_carty
http://www.linkedin.com/pub/kevin-carty/3/800/32a