Happy Holidays
You've probably seen the "Match Made in Hell" commercial by the Ryan Reynold's creative team. The only thing missing was an empty convention center.
It's been a tough year for the exhibition and event industry, as well as travel, food, and hospitality. With the release of vaccines, there's a glimmer of hope for a healthier 2021.
It would be easy to pooh-pooh the holidays this year. To dismiss it and move on. And yet, neither you nor Classic has taken that path. During our Classic Conversations sessions in December, you've talked about what you're grateful for. For example, how the pandemic strengthened relationships, broadened your skills, and allowed you to reassess your business. And how you have learned to embrace the present and are planning for the future.
The Classic Exhibits Family wishes you a Joyous Holiday and a Brighter New Year. Above all, we are grateful for your friendship and support throughout 2020.
PANTONE Color of the Year 2021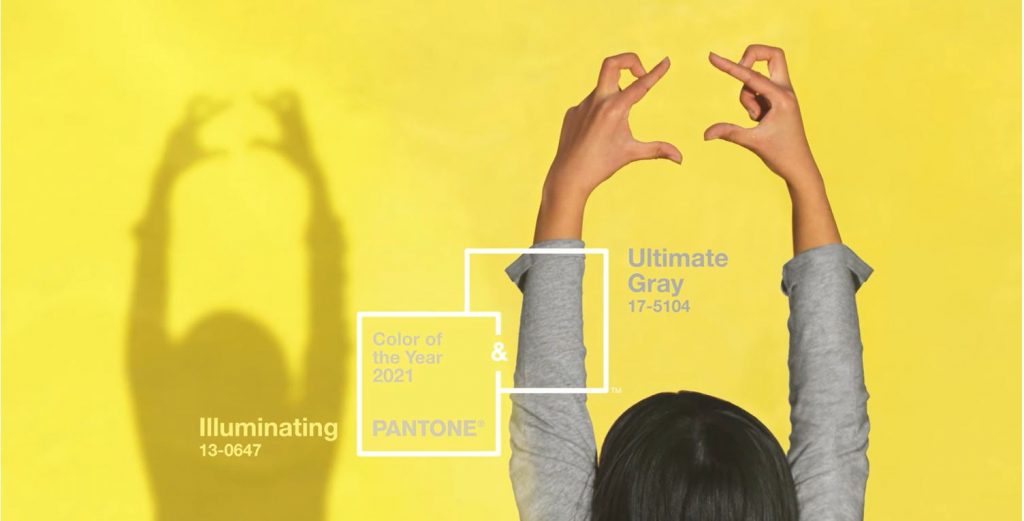 Introducing Cheerful and Dependable | The EXACT Opposite of 2020.
PANTONE 17-5104 Ultimate Gray + PANTONE 13-0647 Illuminating, a marriage of color conveying a message of strength and hopefulness that is both enduring and uplifting. Illuminating is a bright and cheerful yellow sparkling with vivacity, a warming yellow shade imbued withsolar power. Ultimate Gray is emblematic of solid and dependable elements which are everlasting and provide a firm foundation.
See https://www.pantone.com/color-of-the-year-2021.
EDPA's 2020 DOTY to KRZ
Please join us in congratulating Katina Rigall Zipay, Classic's Creative Director, for receiving EDPA's Designer of the Year Award.
The award was presented to Katina at the EDPA ACCESS Conference in San Antonio.
The Designer of the Year Award acknowledges a designer who works diligently to enhance the professional standards of experiential/exhibit designers, contributes their talents, creativity and personal time to bring innovation to experiential/exhibit design.
She was also recognized as a 2020 EDPA Future Leader. Congratulations Katina!
EXHIBITOR Portable Modular Awards
Earlier this week, EXHIBITOR announced the finalists for the Eighth Annual Portable Modular Awards. We are delighted to have five finalists: Greystar Worldwide, NuNaturals, Verity, Odyssey Foods, and GE Appliances. This is our eighth straight year of having multiple finalists. And, yes, we are bragging (a bit).
See all 40 of the finalists on the PMA People's Choice Voting Page. You can vote for your favorite, once a day, until March 1. Classic has won the People's Choice Award on several occasions, including last year (yes, a little more bragging).
We encourage you to vote and support the PMA's.
Event Marketer Fab 50
Absolutely Fabulous! If you understood that reference, then you're clearly over 45 and watched too much Comedy Central (or PBS) in the 1990's.
Our thanks to Event Marketer for naming Classic Exhibits a Fab 50 company, their annual editorial listing of the industry's top builders.
What's even more exciting is how many Classic Exhibits Distributors made the list – 34 TOTAL. That just proves we are in good company.
This year represents our fifth year as a Fab 50 honoree. If you watch Saturday Night Live, you know the importance of being on the Five-Timers List.
A HUGE CONGRATULATIONS to all the Exhibit Builders on the Event Marketer Fab 50 List.
Classic's Exhibit Design Search
Recently, we updated EDS on the Classic website to the format of the branded EDS sites. Over the past three years, we've made significant UI changes to the branded sites, such as larger gallery images, full screen optimization, hamburger menus, and a mobile-friendly format. Those upgrades are now part of the Classic EDS.
Please let us know if you see any issues or have questions. We welcome your feedback.
Some Good News: As we head into 2021, we've made the decision not to charge a subscription fee for your branded EDS sites for at least the first six months of 2021. It's in everyone's best interest. We want you to have Classic products on your website. AND, we both know you're more likely to be successful selling portable, modular, custom and rentals with a branded EDS. It's that simple.
This applies to all Classic Distributors with an active branded EDS beginning in 2020 or added EDS this year. We will re-evaluate in May for the second half of 2021.