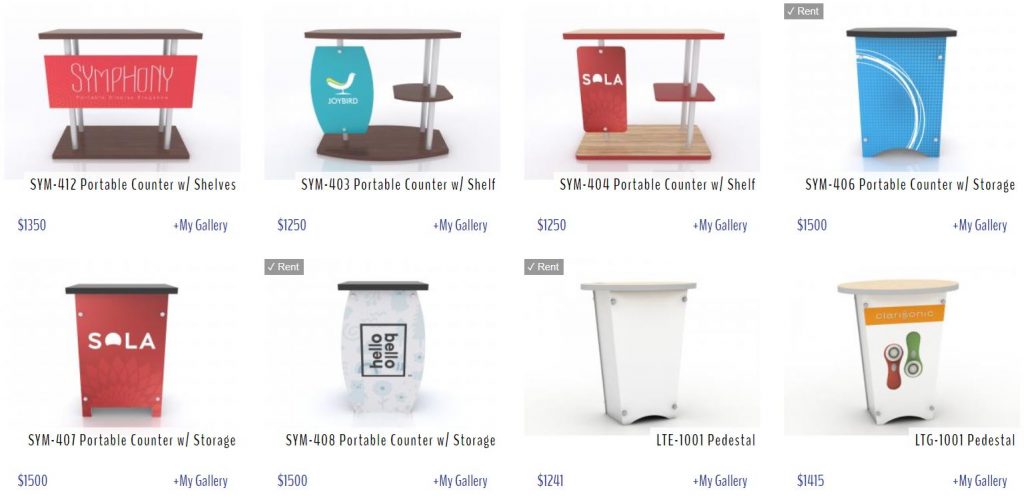 Historically, Portable Counters and Pedestals have been the ugly stepchildren of trade show displays. Are they convenient, practical, and lightweight? Yes. Attractive and durable? Not so much. The pop-up case-to-counter conversion is the perfect example. It's the textbook definition of a compromise. Not particularly stable. Storage is awkward at best. And the basic fabric or graphic wrap is often cheesy and cheap looking.
That's not to say there aren't excellent portable trade show counters and pedestals. Not just from Classic but from other suppliers as well. For example, the Symphony SYM-406, 407, and 408 series counters.
Why These Counters? Four Reasons:
First, they assemble without tools and pack in flat cases.
Second, they have locking storage, which is unusual for portable counters. Along with an internal shelf.
Third, the countertop is secure, meaning it can't be removed without disengaging the internal spring connectors.
Finally, with the right branding, Symphony counters are not only beautiful but also a tasteful addition to any exhibit – portable, modular, or custom.
Do you agree? We'd love to hear your thoughts.
Symphony Portable Counters | #1
Symphony Portable Counters | #2
Contact Us.
With over 200 Distributor Partners throughout North America, there's a Classic representative close by. Contact us today whether you need a durable hand sanitizer stand built to last, a rental display guaranteed to attract trade show attendees or a lightbox with all the bells and whistles. We're not just different. We're better.