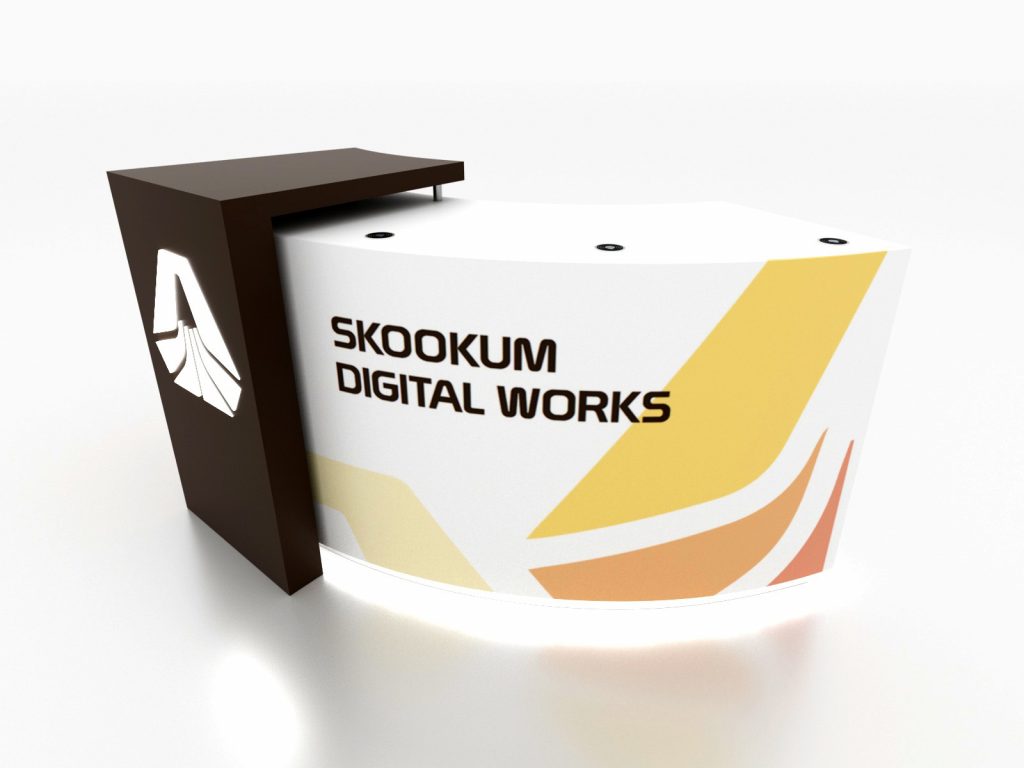 Pedestal stands are like middle children of trade show displays. They get less attention than their older or younger siblings so they're more likely to be independent, resourceful, and accommodating. OK… that metaphor may be a bit of a stretch but in reality pedestals, counters, and kiosks are the unsung heroes of trade show exhibits. They are rarely the main focus of any exhibit design, yet they do much of the heavy lifting in any trade show booth.
Pedestal Stands for Trade Shows
Whether you call them pedestals, counters, or kiosks, trade show booth design would be incomplete without them. The perfect pedestal will complement the overall design, not only by its shape but also by its graphics. In inline displays, like 10 x 10s and 10 x 20s, a pedestal along the aisle is often the first thing an attendee sees. It's that subtle wink that draws them further into your booth.
As a result, the branding and messaging on a pedestal or counter is critical, which can be challenging since there's not much graphic real estate. The default branding is often the company's logo. Which is fine, if attendees recognize what you do and what problem you solve. If not, then it's time to be creative. You can ask a question? Or design a clever graphic that stops an attendee in their tracks. More than anything, you want a reaction that allows you (or them) to start a conversation.
In an island exhibit, there are usually multiple counters, which can vary from a large reception counter to a small product demo pedestal. Each should have a specific function, which will determine how they're branded. With all the space available in an island exhibit, it's tempting to fill that space with pedestals, counters, and kiosks. However, just like with graphics, white space (or empty space) has merit. Clutter just creates confusion, particularly if it doesn't contribute to your messaging.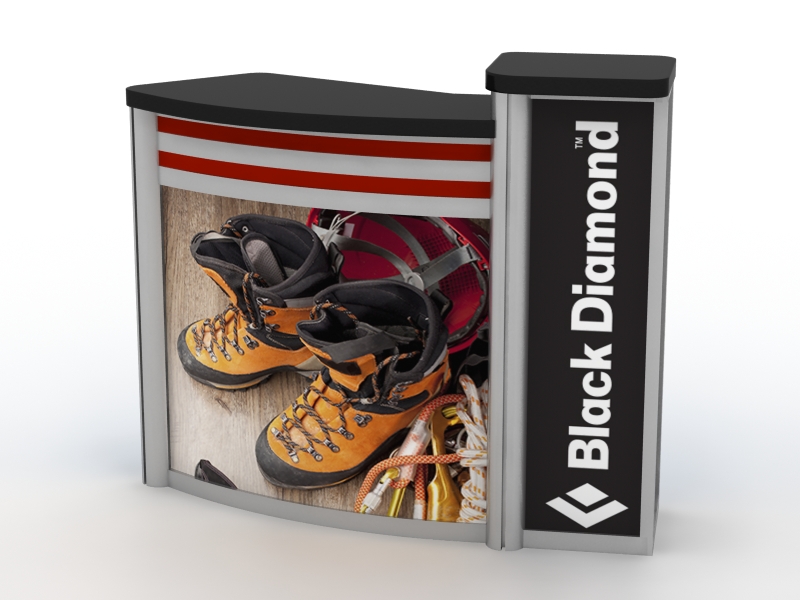 Types of Trade Show Pedestal Stands
The range of sizes, functions, and designs is staggering. Classic Exhibits has nearly 400 styles in three galleries in a wide range of prices and materials. There are even assembly options, like fully-assembled, partially-assembled, and unassembled pedestals. Most have locking storage. Others have backlit graphics. Still others include LED accent lighting and wireless charging pads. However, your exhibit design and your budget will dictate your counter/pedestal choices, which (thankfully) makes the decision more manageable.
Let's explore a few categories:
Custom
Custom pedestals are typically fully-assembled and constructed (primarily) from wood. However, custom can mean a counter customized to your unique design requirements. With custom, anything is possible: any finish, accessories, shape, and size. See MOD-1592 for an example.
Parsons
If you've ever been to an Apple store, you've seen a basic version of a Parsons counter. In reality, they are more tables than counters but they can include storage, accent lighting, and charging. See MOD-1707 for an example.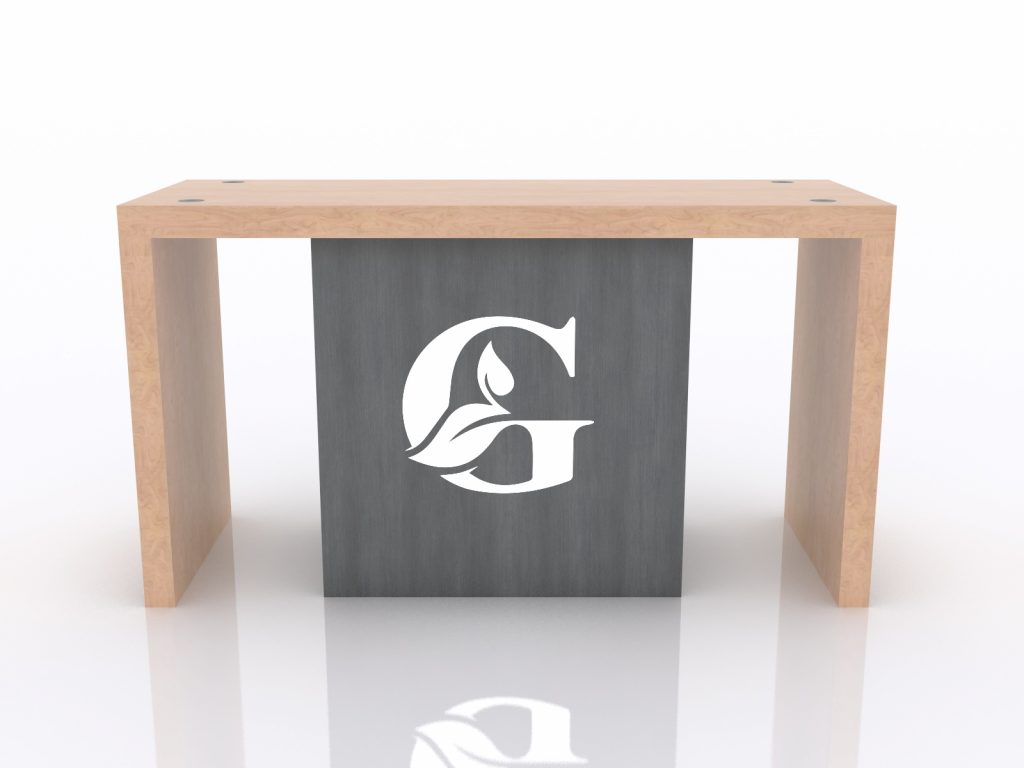 Backlit
Backlit pedestals and counters are HOT right now. Many have backlit fabric graphics. Others profile or custom-cut logos. Sizes vary as well from small product pedestals to L-shaped reception counters. See MOD-1716 for an example.
Modular/Hybrid
Modular/Hybrid pedestals are typically partially assembled for easier shipping. And unlike a custom pedestal, the framework is usually engineered aluminum extrusion. This makes them lighter. Also, if a part is ever lost or damaged, it can easily be replaced. See MOD-1552 for an example.
Portable
Portable simply means it packs in a case that can be shipped via UPS/FedEx. It does not mean "tool-less" although many portable pedestals assemble without tools. Nor does it necessarily mean simple or basic. Many portables include locking storage, internal shelves, and wire management. See SYM-408 for an example.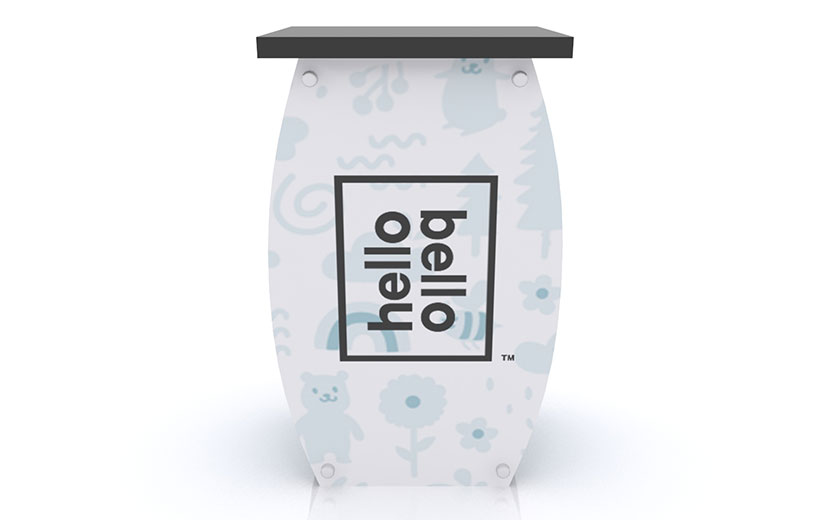 Charging
This can be a bit confusing at first glance. Counters and pedestals with charging pads, wireless or wired, are often called Charging Counters. Which is true. However, charging counters can be custom, modular, portable, and backlit. Practically any design can be a charging counter as long as the design accommodates wire management. See GOD-1558c for an example.
Uses for a Trade Show Display Pedestal
What's the best use of a trade show pedestal? That's easy! The one that fulfills your specific trade show marketing goals. The only limitation is your budget. Here are a few ways exhibitors use pedestals.
Product Displays
Reception Counters
Storage
Charging
Tablet Kiosks
Meeting Tables
Literature
Demo Stations
Refreshment Stand
Pedestal Display Examples
We love browsing through the hundreds of pedestal designs in Exhibit Design Search. No other trade show supplier has a larger and more varied selection. But we have our favorites. Browse through the gallery below to explore some of the pedestals and counters available. Don't see exactly what you need? No problem. Contact us. We'd love the design one that matches your specific requirements.
View the detailed gallery here.
Need Pedestal Stands For Your Next Trade Show?
Classic Exhibits has been designing and building solutions since 1993. We've been honored as an Exhibitor Magazine Find-It Top 40 Exhibit Producer and an Event Marketer Fab 50 Exhibit Builder multiple times. Along with numerous Portable Modular Awards.
With over 200 Distributor Partners throughout North America, there's a Classic representative close by. Contact us today whether you need a custom pedestal, a rental counter, or a sustainable kiosk with all the bells and whistles. At Classic… We're not just different. We're better.