More Favorites
Last week was moving week for the Sherwood family. This week is putting stuff away week. How can a family with two house fires in less than two years have this much stuff? I'm blaming an 11 month old girl. Little Reida (not really her name, but it is MY blog) weighs 17 pounds and takes up 1100 square feet of living space. Once we actually re-purchase bedroom furniture it won't seem so bad.
Last week was also favorite's week. Food and beverage favorites to be exact. Here are some of my other favorites, and the why's. I have nothing to base these on but my opinion, so if you don't agree, that's fine.
Favorite Airline – American Airlines. When you travel as much as I do, you notice that things tend to go wrong.  Unless you learn to deal with that quickly, you will be in the cardiac care unit. Everyone thinks that it's all about points and miles. And it is to a point. But when things go wrong, it's how an airline handles it that sets them apart. Because I fly from Grand Rapids most of the time, and American has a small presence here, I have gotten to be friends with some of the gate agents. In my case, a quick phone call to them and many things get "fixed" (and you don't ask questions). They take care of their customers.
Favorite Hotel Chain – HILTON all the way. They know customer service like nobody else. I have been a diamond member for 11 years now. They ONLY thing they do that bothers me is that they refer to me as Mr. Sherwood. Mr. Sherwood was my father. I am not old enough to be Mr. anything. It seems as though sometimes they can read your mind. It doesn't matter if you stay at a Hampton Inn or the Conrad. The service is always impeccable. And their loyalty program is second to none.
Favorite Car Rental Company – Here is where I have NO loyalty . . .  this is all about MONEY or saving it. Lately I have been using Priceline and have gotten some great deals. Only a couple things matter to me about a rental car. First – it must be a 4 door. I was cool 30 years ago. Now I am practical. The other thing that matters is that it's an American-made car. No, I am not prejudice. American cars allow your cell phone to charge while the car is off and you are at an appointment.
Favorite City to Visit – This is a mixed bag. As a general rule, I am not a fan of cities, which is why I live in Newaygo, Michigan. But if I were picking favorites, I'll break it down into super large cities and small cities.
Super Large – Chicago. The Rush Street life is great and the pizza rocks.
Small Cities – This is a coin toss. Both Savannah, Georgia and Portland Maine are great towns. They offer much of the same. Lots of history, great seafood, small homey atmosphere. Savannah has great music on the waterfront every night, so I guess that is the deciding factor.
Favorite Sunset – There are some awesome sunsets around the world. I don't believe there is a better one than at the end of Mallory Square in Key West, Florida. And they serve cocktails there.
Favorite Stadium – Emotions aside, I think the greatest place to see a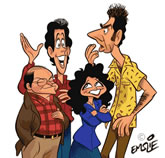 game is Joe Louis Arena — possibly because I am a Michigander at heart — probably because it is just that special of a place — absolutely because you get to throw octopus on the ice! There's no place like it.
Favorite TV Show – Anyone who knows me very well knows that I am a sitcom junkie. It comes down to four shows:  MASH 4077, Friends, All in the Family, and Seinfeld. My favorite is Seinfeld. How they pack so much laughter in a 30 minute show is amazing to me. I have seen every episode a dozen times. I don't even have a favorite. Just all of them.
Favorite Exhibit Company – Classic Exhibits by a light year. Home of the Portable Hybrid: Sacagawea, Magellan, Perfect 10, and Visionary Designs.
Now if I missed anything of importance, please comment and let me know.
Talk to you next week  . . .
–Reid Sherwood