Demand for Green Exhibits Draw Partners Closer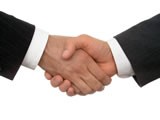 Grand Rapids, Michigan – Effective June 1, 2010, Eco-Systems Sustainable Exhibits and Classic Exhibits Inc. will forge an equity partnership. The two companies have been joint venture partners since November 2007. The Board of Directors for Eco-Systems Sustainable Exhibits approved the sale of stock to Classic Exhibits, making Classic a substantial equity partner in the company.
According to Tim Morris, president and CEO of Eco-Systems, "Our three-year partnership has been mutually beneficial. We share many of the same distributor relationships, and we have the same commitment to quality and design. Through the first five months of 2010, orders have been strong for eco-friendly exhibits, and Classic provides us with additional capacity and manufacturing efficiencies."
"Taking steps to enhance Eco-Systems' capabilities makes complete business sense as the green exhibit market continues to grow," states Tim Morris.
Eco-Systems' manufacturing operations will transition to the Classic Exhibits facility in Portland, Oregon during the third quarter 2010. The Corporate offices, including sales, marketing, and design, will remain in Grand Rapids, Michigan.
"We have a history of strategic partnerships with companies that share our corporate culture and are trendsetters in their market segment" says Kevin Carty, VP of Sales at Classic Exhibits Inc. "Tim and his team are the recognizable leaders in 'green' and have taken a no-nonsense, no green-washing approach to sustainable exhibits. We are excited to be an owner in this rapidly growing segment of the exhibit business."
As part of the equity partnership, Eco-Systems designs will be featured in Classic's Exhibit Design Search tool, a comprehensive database of trade show exhibit designs. This exhibit search engine is available on Classic's website as well as on many Classic and Eco-Systems distributor websites.

Eco-Systems specializes in the design and manufacturing of environmentally responsible exhibits for events and trade show applications. Eco-Systems' display products are built from rapidly renewable materials, recycled content, and supported by sustainable manufacturing practices. Reincarnation is the industry's most comprehensive exhibit recycling program providing clients the opportunity to make a better choice in retiring obsolete exhibit properties.
For more information on sustainable exhibits go to www.ecosystemsdisplays.com or contact Eric Albery at 866.463.2611.

Based in Portland, Oregon, Classic Exhibits Inc. designs a full-line of portable, modular, and custom-hybrid exhibit solutions. These solutions include Perfect 10 Portable Hybrid Displays, Euro LT Custom Modular Exhibits, Quadro Pop Ups, Visionary Designs, and Sacagawea Portable Hybrid Displays.
For more information, go to www.classicexhibits.com or contact Mel White at 503.652.2100.