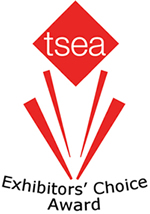 Classic Exhibits has been nominated for the Best Exhibit House in the 2010 TSEA Exhibitors' Choice Awards.
We're shocked, flattered, and frankly a little overheated at the moment. To the person or persons who nominated us — thank you very, very much!
The Trade Show Exhibitors Association (TSEA) Exhibitors' Choice Awards recognize the best in the exhibition industry. The Awards identify companies and individuals who have made outstanding contributions to exhibitors' success in the face-to-face events industry.
If you would like to vote, please click on the link below.
http://tsea.org/Foundation/ExhibitorsChoiceAwards/tabid/281/Default.aspx
Voting will take place in June and July, and winners will be announced at TSEA's Red Diamond Gala on July 14, 2010, in Boston, in conjunction with TS2.
Finally, our thanks to TSEA for the opportunity to participate, and we look forward to seeing everyone in Boston at TS2.
And a very special thanks to all the employees at Classic Exhibits Inc. You deserve it!