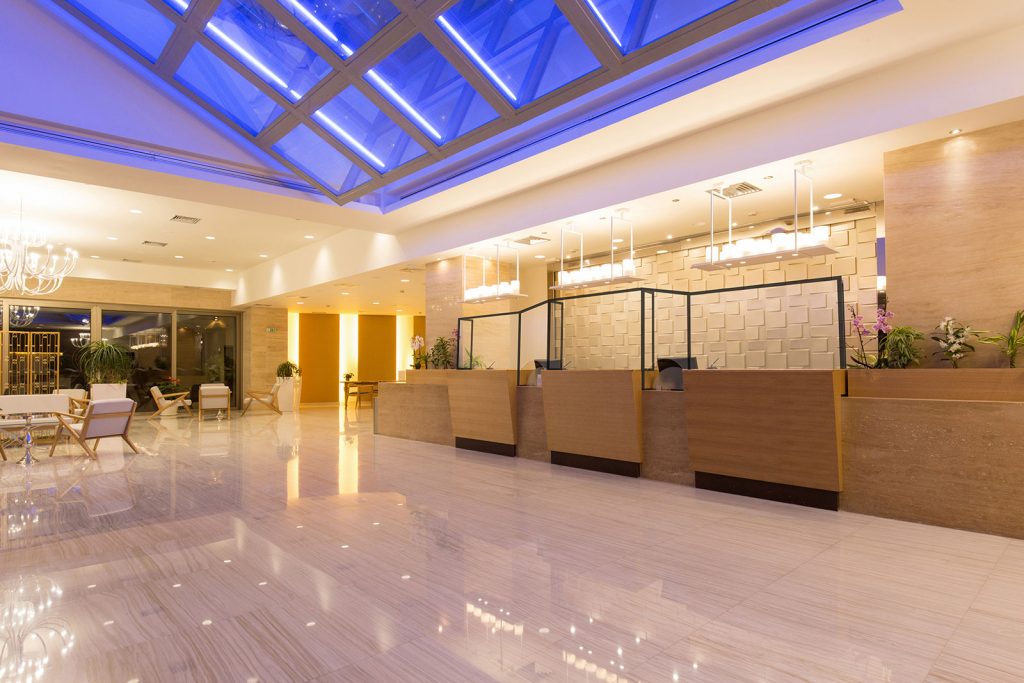 Recently, while chatting with a sales associate in the grocery checkout line, I realized that I'd gotten used to safety barriers (or dividers). It was normal or at least normal enough in most businesses, government offices, schools, and public gatherings. For the associate, who saw hundreds of customers each day, the safety partition reduced their exposure to germs and viruses. Yes, the barrier made conversations more challenging, although less so now that masks are optional.
From Necessity to Common Courtesy
What was at first a necessity has become a common courtesy and a workplace expectation for many employees and customers. It's pretty clear (yes, pun intended) that plexiglass safety dividers are not going away. What is changing, however, is that temporary partitions are transitioning into permanent designs. Those tacky, unattractive, and often flimsy solutions are being replaced with barriers designed to be visually seamless. They're becoming less noticeable as they blend into the overall architectural design.
Getting Started with Safety Dividers
Safety dividers will always be situation-specific. What's appropriate at a bank wouldn't work at a supermarket, a clothing store, or with a trade show display. The same applies to concerts, schools, lobbies, churches, or any other place where people interact. Safety Divider solutions have evolved over the past two-plus years. There are now attractive, pre-configured designs in a variety of shapes, features, and sizes.
But unlike two years ago when getting a divider in place as quickly as possible was all that mattered, businesses are now taking the time to identify what they need and how it looks. Sometimes an off-the-shelf solution is ideal or close enough. However, for others, the partition has to conform to the existing branding and/or architecture of the room, counter, kiosk, or colors. Plus, getting the right size can often be problematic since desks, POS stands, and counters are often built to be site-specific.
Thankfully, there are companies that will design and build custom safety dividers. They'll work with the customer to ensure they receive a customized solution with not only the right look but also one that fits the space perfectly. For example, the video below shows before and after photos of a bank lobby with teller windows. At first, the bank installed temporary Plexi stands. However, they quickly realized the need for a more permanent solution, one designed to follow the shape of the counter.
Are COVID Dividers Effective?
To be honest, it's inconclusive. Research on how well partitions work to slow the spread of COVID-19 is lacking, experts say. "There are, to my knowledge, no peer-reviewed studies assessing the efficacy of these barriers," says Michael Fischman, MD, a consulting doctor in occupational and environmental medicine and toxicology in Walnut Creek, CA, and clinical professor of medicine at the University of California, San Francisco. Even so, he says, "intuitively, it makes sense that the barrier would capture large droplets and that might reduce the risk of transmission."
One expert says the plexiglass shields work kind of the same way as face shields. "Face shields will block the large droplets," says William Ristenpart, Ph.D., a professor of chemical engineering at the University of California, Davis. Likewise, plexiglass partitions "would be less effective against aerosol transmission" than droplet transmission. "
As a barrier, plexi has many advantages. It's readily available, easily worked, smooth, transparent, and easily cleanable. In addition, plexiglass is more durable and less expensive than other forms of barriers, such as tempered glass or polycarbonate. It's not a perfect solution, but it's a reasonable method for creating distance and separation.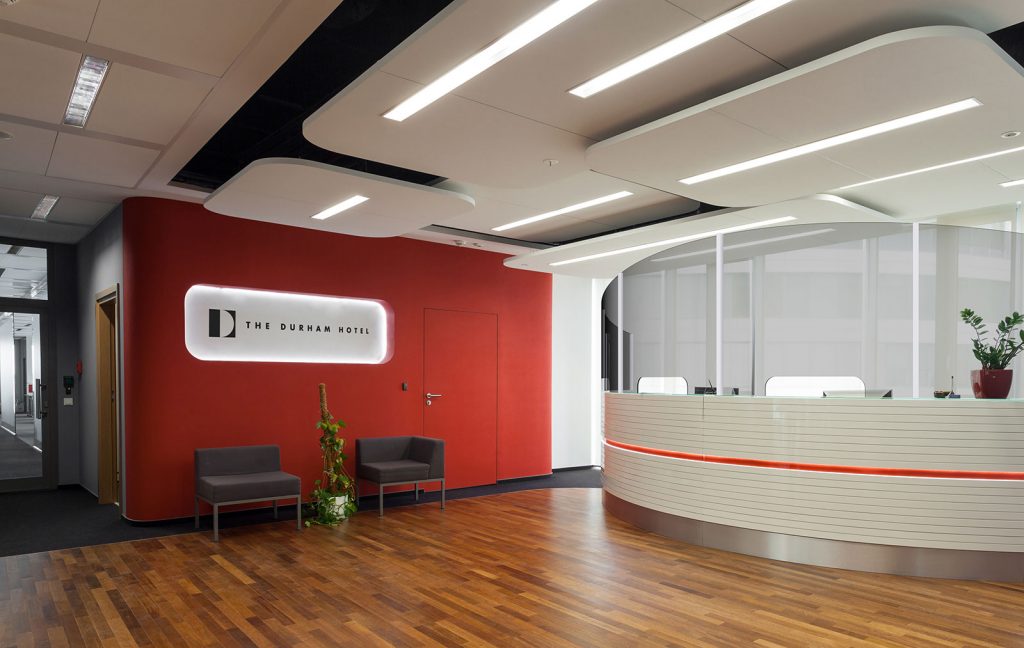 Types of Safety Dividers to Protect Your Team
COVD has forced organizations to reimagine their work and the role of offices in creating safe, productive, and enjoyable jobs and lives for employees. Open offices, once a popular trend, are a no-go for most employees. As are shared spaces. As a result, more employees are working from home; however, that's not always a viable option for all employees or companies. Organizations have been pushed to create safer spaces not only in a traditional office environment but also on production floors and retail spaces. Basically, anywhere people interact has become ground zero for personal protection equipment.
Office Desk Dividers
The open-office concept has taken a battering with the pandemic. And while barriers are not a perfect solution, they are effective at limiting the spread of contact and airborne viruses and germs. Dividers range from basic rectangle shapes, like the MOD-8054 to three-sided enclosures, like the MOD-8050. There are even customized shapes for larger reception counters like the MOD-8051 and MOD-8052.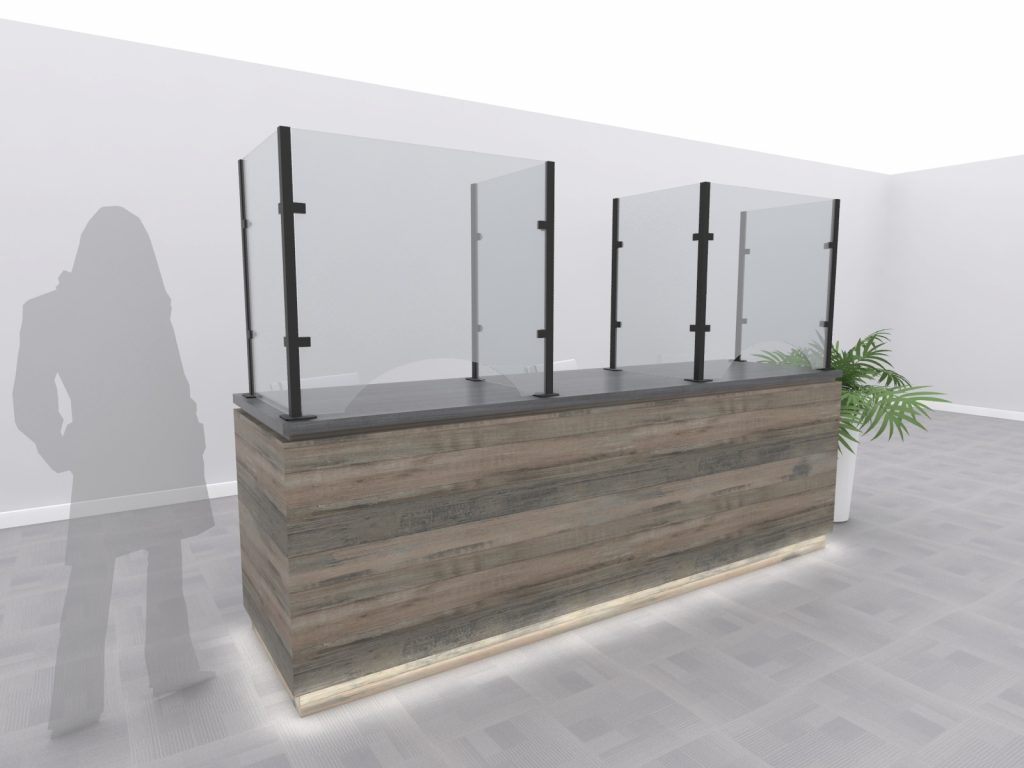 Cubicle Dividers
Offices with cubicles may appear to be an obstacle to a safe and hygienic workplace. Yet, even pre-existing cubicles can be upgraded to offer additional protection by adding cubicle risers and floor partitions. 
By design, cubicle walls offer some privacy when seated but not when standing. Even then, the cubicle walls are generally not much higher than 5 ft. Cubicle Height Extenders can increase the height from 12 to 36 inches and fit on most existing cubicle systems. And the cost is very reasonable. In addition, free-standing safety dividers, with or without wheels, can serve as a temporary wall or barrier to the cubicle entrance.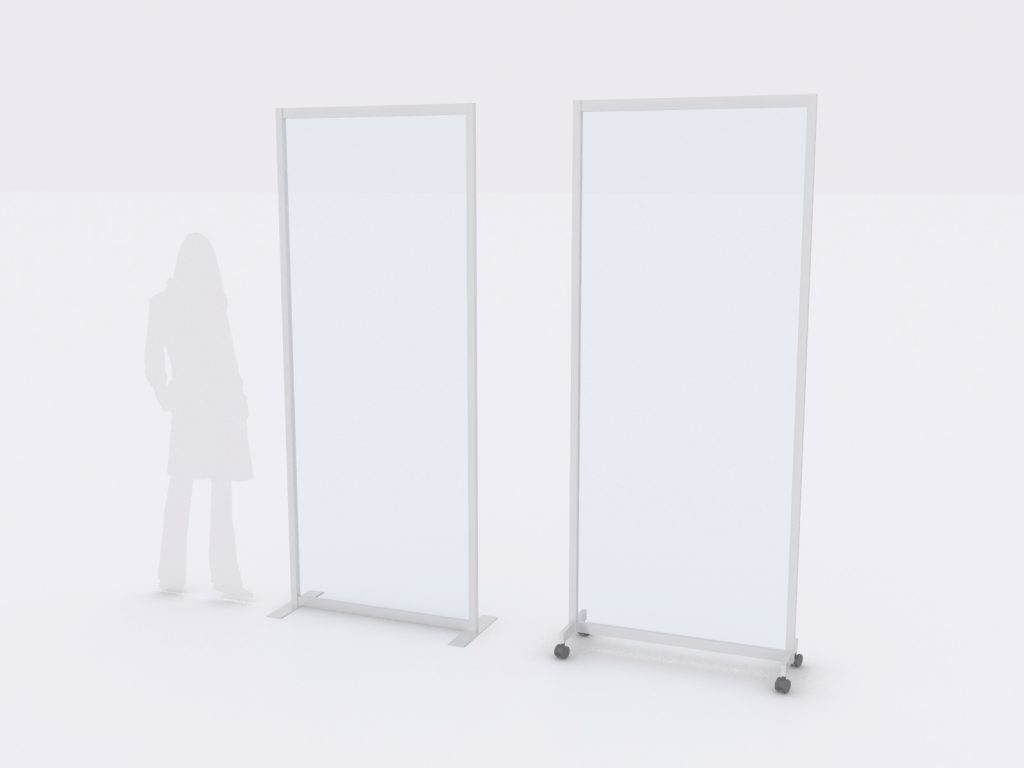 Clear Partition Walls
Plexiglass partition walls come in a wide range of sizes and shapes to meet any office, retail, or event need. For example, there are 3-panel folding dividers, V-shaped dividers, L-shaped partitions, and even Z-shaped designs. Want a little more flair?  There are ones with curves, planter boxes, and graphics. Even colors.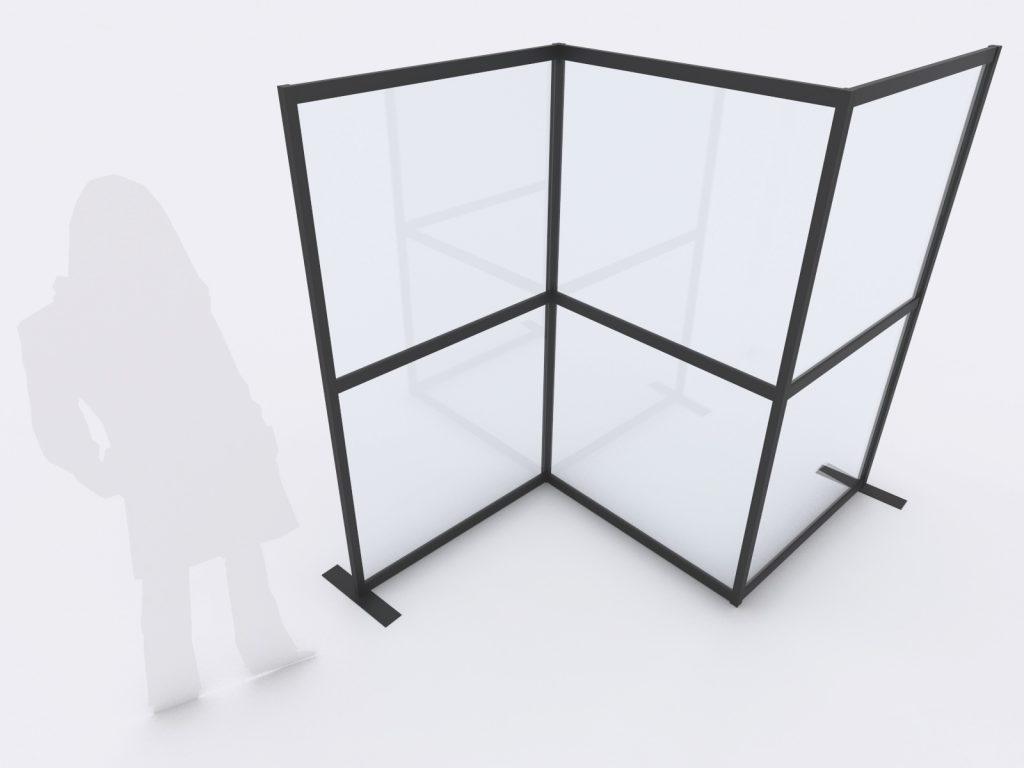 What's the Best Safety Divider?
The best safety dividers are the ones that meet your objectives. There are basic free-standing stands that can be assembled in minutes. They may not be "pretty," but they're a barrier. At Classic Exhibits, we offer safety dividers in standard sizes and colors with ⅛" acrylic and engineered aluminum extrusions and connectors. These are anodized to resist scratching and can be safely cleaned with off-the-shelf sanitizer products.
In addition, Classic Exhibits can design and build safety partitions to your specifications, such as sizes, shapes, colors, and graphics. The options are almost unlimited. They're easy to assemble and come with a lifetime warranty on workmanship.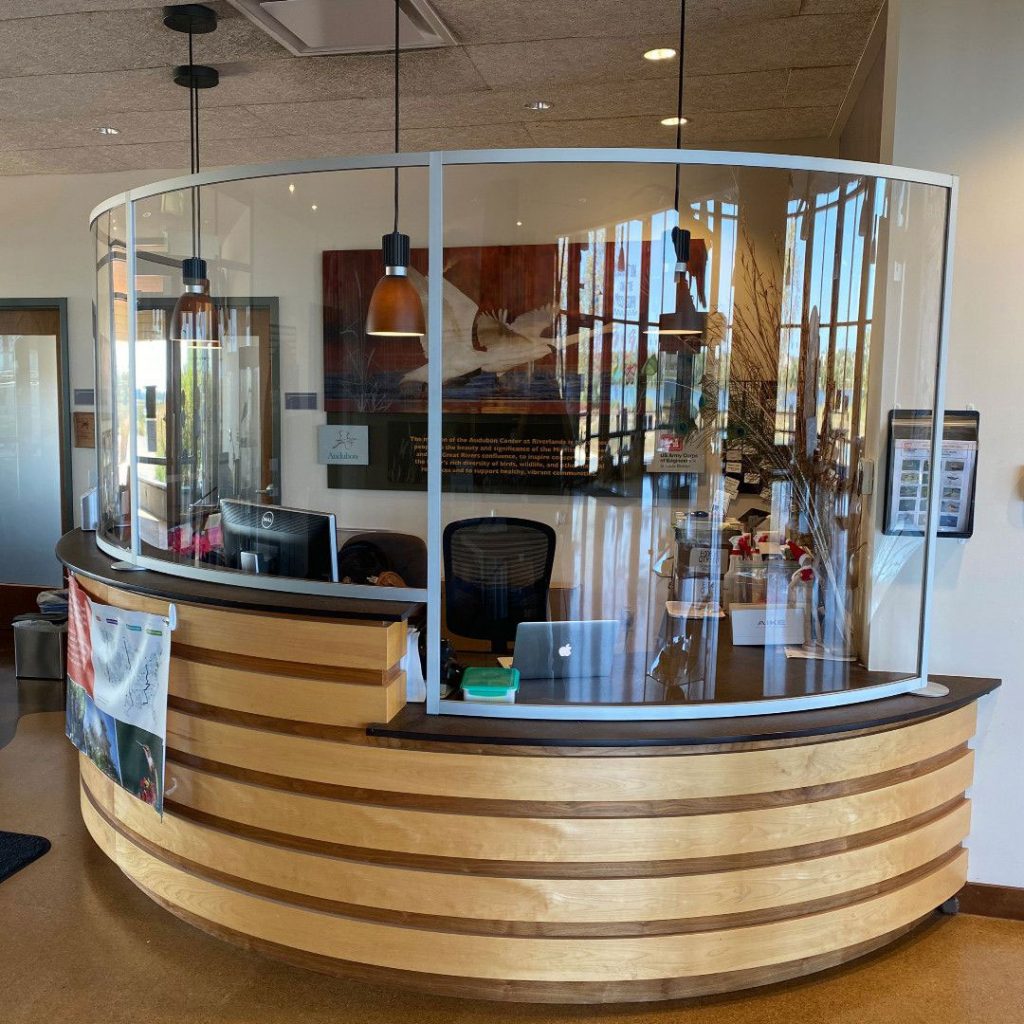 Safety Dividers from Classic Exhibits
Classic Exhibits has been designing and building solutions since 1993. We've been honored as an Exhibitor Magazine Find-It Top 40 Exhibit Producer and an Event Marketer Fab 50 Exhibit Builder multiple times. Along with numerous Portable Modular Awards.
With over 200 Distributor Partners throughout North America, there's a Classic representative close by. Contact us today whether you need a durable hand sanitizer stand built to last, a rental display guaranteed to attract trade show attendees, or a custom safety divider with all the bells and whistles. We're not just different. We're better.