In an article by Rachel Wimberly for the Trade Show News Network, she writes: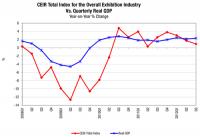 For the ninth quarter in a row, the trade show industry still is growing, according to the Center for Exhibition Industry Research's latest CEIR Index, albeit at a slower rate in the third quarter of this year, with concerns over not only the looming fiscal cliff, but also the global economy.
"Concern about the fiscal cliff and the global economy has continued to take a toll in the exhibition industry," said CEIR's economist Allen Shaw, Ph.D., chief economist for Global Economic Consulting Associates.
He added, "The results show that the exhibition industry continues to grow, but attendees and exhibitors are being cautious due to the uncertainty about the global economy."
See the full article.
–Mel White
http://www.linkedin.com/in/melmwhite
mel@classicexhibits.com
*********************************
Based in Portland, Oregon, Classic Exhibits Inc. designs and manufacturers portable, modular, and custom-hybrid exhibit solutions and engineered aluminum extrusions (ClassicMODUL). Classic Exhibits products are represented by an extensive distributor network in North America and in select International markets. For more information, contact us at 866-652-2100.