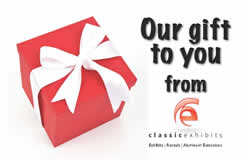 I wanted to give you a heads-up on an exciting online event happening in the trade show world this month! We've been invited to participate in a special promotion — along with other exhibit industry vendors — to celebrate the 10th Anniversary of the book, Build a Better Trade Show Image, by Marlys Arnold.
She's put together a week-long gift-fest from Feb. 19-25. (Which also happens to be the 13th Annual "Build a Better Trade Show Image" Week) We'll be offering (2) 30 minute design consultations, and there will be more cool gifts from the other vendors, including some great exhibitor education from Marlys. (In case you're not familiar with her, she's a trade show marketing strategist and has worked with exhibitors and show managers in all kinds of industries, including some of the largest shows in the U.S.)
To be sure you get in on the party, go to www.imagespecialist.com/tradeshowgifts and sign up for daily e-mails during the week of February 19 that will list all the gifts, plus some unannounced special offers. You won't want to miss it!
In addition . . .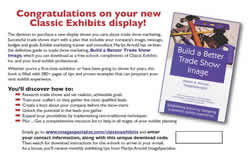 Beginning February 15, your customers will receive a FREE gift when they order a Classic Exhibits Hybrid Inline or Island, the complete 280+ page eBook of Build a Better Trade Show Image by Marlys Arnold. There will be a thank you postcard in their display packaging, complete with a promotional download code.
To see the download page, go to http://www.imagespecialist.com/classicexhibits
For more information about the promotion and a 45-page sample of the book, go to http://www.imagespecialist.com/classicexhibits/classic-exhibits-distributors/
Classic Exhibits will begin inserting the postcard into hybrid inline and island orders beginning Wednesday, February 15. The promotion ends May 31.
BONUS:  Meet Marlys Arnold at EXHIBITOR at the Classic Exhibits booth (#1645) from 11:30 to 12:30 on Monday and Tuesday and at the Classic/Eco-Systems Sustainable Hospitality Suite on Tuesday afternoon.
–Mel White
http://www.linkedin.com/in/melmwhite
mel@classicexhibits.com
*********************************
Based in Portland, Oregon, Classic Exhibits Inc. designs and manufacturers portable, modular, and custom-hybrid exhibit solutions. Classic Exhibits products are represented by an extensive distributor network in North America and in select International markets. For more information, contact us at 866-652-2100 or www.classicexhibits.com.
Tags: Classic Exhibits, Marlys Arnold, Promotion, Trade Show Marketing, tradeshows