Are you a POWER USER of Exhibit Design Search? You can be . . . all in 60 minutes. With our certified training program, you'll impress co-workers with your savvy EDS knowledge, close more display sales, reduce visible wrinkles, and regrow hair (lots and lots of hair). Trust us. We've done tests.
Join us on Tuesday, June 11 at 10 am PST (1 PM EST) for EDS Tips, Tricks, and Techniques. Mel White from Classic Exhibits, Gary Camarato from Optima Graphics, and Eric Albery from Eco-Systems Sustainable Exhibits will take you on a magical ride through EDS-Land. And, if you don't learn three new things, we'll refund the purchase price of this FREE Webinar. Heck, we'll double it.
Plus . . . and this is the desperation part of our pitch . . . you could win an Apple iPad. Yes, a real iPad! Perhaps even a new one. But, we'll see. Click on the image below to register (or this link). Space is limited to the first 50,000.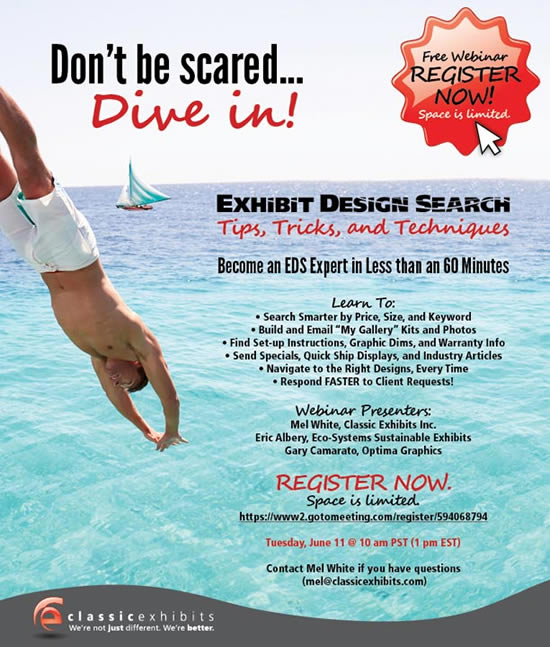 http://www.classicexhibits.com/tradeshow-blog/2013/05/30/the-ultimate-e…and-techniques/
–Mel White
http://www.linkedin.com/in/melmwhite
mel@classicexhibits.com
**********************************************
Based in Portland, Oregon, Classic Exhibits Inc. designs and manufacturers portable, modular, and custom-hybrid exhibit solutions. Classic Exhibits products are represented by an extensive distributor network in North America and in select International markets. For more information, contact us at 866-652-2100 or www.classicexhibits.com.
[subscribe2]