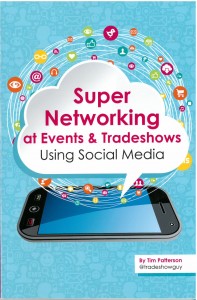 Fair Warning — This is a brazen plug for a free book about trade shows and social media. And a darn good one too.
A couple of months ago, Tim Patterson, otherwise known as The Tradeshow Guy, wrote a 90 page e-book titled, Super Networking at Tradeshows and Events Using Social Media. He had copies printed and gave them away to friends, industry colleagues, and at trade shows. Classic Exhibits was a sponsor for both the book and the printing.
Anyone who follows Tim knows that he researches and blogs relentlessly about Social Media as an effective tool for trade shows and events. You can read his posts at www.tradeshowguyblog.com. He's my dude whenever I have questions about this topic.
Now you can get your copy for FREE! It's a click away without any PITA registering or email address harvesting.
Whether you are a beginner, a dabbler, or an expert, Tim's book is an outstanding introduction to this must have skill set in today's business climate. You don't have to be an expert in Twitter, LinkedIn, Facebook, QR codes, etc. But you do need to understand the basics.
Sample Chapters:
Chapter 4:  Creating a Community
Chapter 7:  Eye on Video
Chapter 10:  Blogging — Your Home Base
Chapter 12:  (Almost) Everything Else
Tim is working on an expanded version, complete with fancy schmancy graphics and illustrations. That version will cost you, so don't wait. Get the low rent version with all information but without the upscale, midtown price.
I would love to hear your thoughts. And Tim would welcome your comments on his blog. Enjoy!
–Mel White
http://www.linkedin.com/in/melmwhite
mel@classicexhibits.com
**********************************************
Based in Portland, Oregon, Classic Exhibits Inc. designs and manufacturers portable, modular, and custom-hybrid exhibit solutions. Classic Exhibits products are represented by an extensive distributor network in North America and in select International markets. For more information, contact us at 866-652-2100 or www.classicexhibits.com.
[subscribe2]
@tradeshowguy