Yes, the title is a bit Jerry Seinfeld-ish. But we all know he'd continue with, "Do they run on gas and electricity? Does the higher MPS (miles per show) justify the price? Why do they look like something from an episode of Lost in Space?"
I challenge you to search Google for "Hybrid Displays" or "Hybrid Exhibits." Five years ago, your search would turn up a handful of links. Now . . . Yikes a Momma! Hybrid Exhibits have gone from curiosity to mainstream for trade show exhibitors. But why? What makes hybrid exhibits/displays so appealing? Actually, it's not very complicated, but first, humor me while I define what a hybrid display is and isn't (at least from the perspective of Classic Exhibits).
Hybrid Exhibit \ˈhī-brəd ig-ˈzi-bət\:  An inline or island display constructed primarily from engineered aluminum extrusion and large format tension fabric graphics. Other components, accessories, and graphics are often added, such as laminates, custom construction, and direct print graphics, but the structural backbone is almost always engineered aluminum and fabric. Most require allen tools for assembly, but there are systems that substitute knobs for a tool-less or a mostly tool-less set up.
Let's explore the logic and appeal of hybrid exhibits.
The 8 Pseudo-Immutable Laws of Hybrid Exhibits
1. Structural: Hybrids are always built with engineered aluminum, such as ClassicMODUL, AGAM, or Octanorm. Engineered aluminum systems are basically grown-up Tinkertoys but with all the benefits of structural strength and modular flexibility. There are hundreds of profiles, each with a particular visual, functional, or design appeal.
2. Lightweight:  It's aluminum . . . and it disassembles. Which means less weight and fewer cases or crates. Everyone loves lower drayage bills, except the general contractor for a trade show.
3. Malleable. Exhibit designers love it. Aluminum can be bent, cut, connected, welded, anodized, powder-coated, and milled. The design possibilities are endless, whether you want the aluminum to be visible or invisible.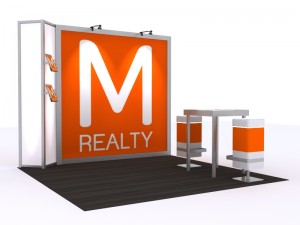 4. Graphics:  Bring it on — fabric, direct prints, sintra, plex, custom acrylics, laminates, vinyl. From small graphics to towering fabric images, hybrid exhibits do not discriminate. Hybrids welcome it all.
5. Aesthetics: There's something for everyone, where it's a rectilinear design with all right angles or more curves than a Lifetime or Bravo special.  Hybrids can be basic or breath-taking, depending on the budget, the designer, and your imagination.
6. Accessories: Don't even try to count the possibilities. You don't have enough fingers or toes. Hybrids are accessory magnets:  counters, workstations, monitors, shelves, literature racks, iPad options, lights, slatwall, pegboards, etc. Hybrids never say never.
7. Cost: Varies, depending on your budget, goals, marketing requirements, and display size. There are hybrid table tops and there are 50 x 50 hybrid islands. There are kits, priced as kits, and customized hybrid designs priced as custom. And then there are rental designs. Hybrids are ideal as rentals. The price is right, and their modular construction makes them uniquely customizable.
8. Assembly and Packaging: It depends on the design and the manufacturer. It can be easy. It can be PAINFUL. Or it can be somewhere in the middle. Let's not kid ourselves . . . if the price is too good to be true, there's a reason. No reusable packaging, no detailed instructions, no numbered parts, and the parts and pieces are made from substandard materials and graphics. Don't let a pretty picture fool you. Ask questions and expect answers and examples. Does it require tools, some tools, or no tools. It may not matter for an island, but it probably matters for a smaller inline booth.
What follows is a not so subtle commercial for Classic Exhibits and Classic Distributors.  😉
So, where should you start? Why not Exhibit Design Search? Look in the Sacagawea and Magellan Galleries for attractive, inexpensive hybrid 10 ft and 20 ft. inlines. For more upscale inlines, search the Perfect 10 and SEGUE Galleries. For a truly customizable hybrid with unmistakeable design, go to the Visionary Designs Galleries. Finally, don't overlook the Rental Gallery. Most are hybrids.
–Mel White
http://www.linkedin.com/in/melmwhite
mel@classicexhibits.com
*********************************
Based in Portland, Oregon, Classic Exhibits Inc. designs and manufacturers portable, modular, and custom-hybrid exhibit solutions and engineered aluminum extrusions (ClassicMODUL). Classic Exhibits products are represented by an extensive distributor network in North America and in select International markets. For more information, contact us at 866-652-2100.
Tags: Classic Exhibits, displays, exhibits, Hybrid Display, hybrid exhibit, modular display, portable display, Trade Shows