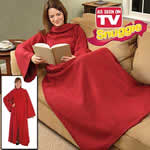 For the next two weeks, we'll share 10 Things We Probably Shouldn't — one each day. Actually one, plus another one.  Enjoy!
#1. When your shipping carrier arrives at noon, but your order isn't scheduled to ship until 4 pm and won't be ready until then, we always tell the driver it's your fault. Sorry, but it usually is.
Plus 1. During slow production months (November and May in particular), Classic Manufacturing transforms into  a "Snuggie" factory. What can we say . . . cash flow baby!
p.s. Now available in many fashionable patterns such as Leopard and Zebra!
See the Snuggie video parody (some offensive language).