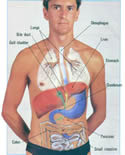 For the next two weeks, we'll share 10 Things We Probably Shouldn't — one each day. Actually one, plus another one.  Enjoy!
#2. When you call and ask us a question . . . and then there's a pause, it's probably because we're checking Exhibit Design Search for the answer. We love chatting with you (we really do!), but about half the questions you ask us are available in Exhibit Design Search online.
Plus 1. Combined, Reid Sherwood and Kevin Carty have one good liver. See them destroy what's left next week at the 15th Annual Randy Smith Memorial Golf Classic, October 12, 2009 at Berkeley Hills in Duluth, GA.
Scroll down to see entry #1.