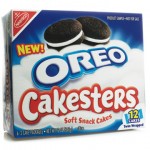 For the next two weeks, we'll share 10 Things We Probably Shouldn't — one each day. Actually one, plus another one.  Enjoy!
#5. Classic Exhibits markets two pop up displays — the Quadro S (Square Frame) and the Quadro EO (Self-locking, Economy Option Frame). We want to be sympathetic when you tell us that having two pop ups systems named Quadro is confusing (we really do). But the sarcastic side of us says, "This is the same person who could describe 'at length' the differences between the Oreo Sandwich Creme and the Oreo Double Stuff and why the Oreo Cakester is better than the Milk Chocolate Covered Oreo." 
Plus 1. Anyone who has ever visited Classic can confirm the following . . .  Classic has no lobby, no showroom, no receptionist. When you enter our building, you walk into our manufacturing plant. There's no better example of who we are and what we do than that. We are a designer, manufacturer, and marketer of trade show exhibits whose products are sold through an independent network of professional distributors.
Scroll down to see entries #1 -#4.