Say goodbye to February! Come Monday we will be three days into March already.
What a crazy first two months of the year it has been. And, we're only two short weeks away from all of us descending on Las Vegas.
I look forward to seeing you there. Classic is winding up the final touches to our booth as well as several vendor exhibits. I have to say, this will be the best group of exhibits we have ever brought to EXHIBITOR. Everything from a modified 20 ft. SEGUE for PRG to a fully custom build for EliteXPO. Both are "must sees" as you walk the floor.
Along with those two, we are once again building much of EXHIBITOR Media's booth. Wait until you see the magazine cover in large format on the show floor! Gonna be SuperNova big. 🙂
And of course there is the Classic Exhibits 20 x 30. It's a special design this year. It is a version of a design for which we are a finalist in this year's EXHIBITOR Magazine 2014 Awards Night Celebration.
Have you reserved your seat yet for the Awards Gala?
EXHIBITOR MAGAZINE'S
2014 AWARDS NIGHT
An evening honoring excellence in our industry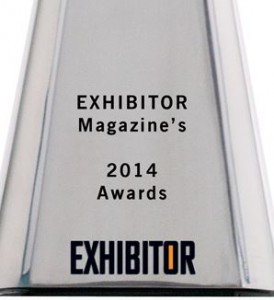 You're invited! Join us for an elegant evening of networking and celebration as we honor the best-of-the best in the trade show and event industry.
The first ever EXHIBITOR Magazine's 2014 Awards Night, honoring trade show excellence, takes place Tuesday evening, March 18 in Mandalay Bay's Lagoon Ballroom at EXHIBITOR2014. Festivities begin with a 6:30 pm cocktail reception followed by an awards dinner and program at 7:15 pm.
As an attendee to this prestigious event, you'll be there as we unveil winners of EXHIBITOR magazine's Exhibit Design, Portable Modular, and Buyer's Choice Awards programs. Discover who is named this year's Best of Show and be part of history as we honor the inaugural inductee into EXHIBITOR's Legends Hall-Of-Fame.
Seating is limited. (We suggest you get your tickets in advance.) Whether you "fly solo" or bring a friend, we promise a fun evening of networking and celebration. Single tickets and group tables can be purchased now at www.exhibitor2014.com/awardsnight. Don't miss this inaugural night celebrating excellence!
Reserved seats are going pretty quickly. There will be 10 of us there from Classic, Exhibits NW, and Eco-Systems Sustainable. I do hope that you will join us.
If you have time, please cast your vote for the People's Choice Awards. You can vote once a day. Plus, it's your opportunity to see all the displays in the mix for an award.
http://www.exhibitoronline.com/awards/pma/peopleschoice-vote.asp
In the meantime, March looks like it's going to be every bit as busy as January and February. So buckle up and let's enjoy the ride together.
Thanks again for all your continued support and business. We know you have choices in your partnerships, and we are honored to be partnered with so many of you.
Have a great weekend with your families.
–Kevin
http://twitter.com/kevin_carty
http://www.linkedin.com/pub/kevin-carty/3/800/32a