The Fab 50 — Ah Shucks, You Shouldn't Have!


Earlier today, Event Design and Event Marketer Magazine announced the FAB 50 MASTERS OF EXHIBITS in their April 2013 issue. From the architects of the Ex Awards, Event Design Awards, and the Top 100 Event Agency List comes the first editorial ranking of the best exhibit builders. These are the Top 50 fabricators serving corporate America by Event Marketer and Event Design Magazine.
Classic Exhibits Inc. was chosen as one of North America's top exhibit designers and builders, one of the few systems builders selected for this honor. We are delighted and honored.
Fab 50 Ranking of Exhibit Buildings in North America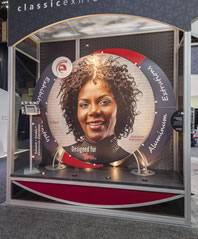 According to the editors, "Over the last few years, the exhibit landscape has become cluttered, cloudy, and fragmented . . . . Fortune 1000 trade show teams, event departments and procurement officers are presented with 'more choices than ever,' have 'a difficult time telling one exhibit partner from another,' and 'need an easier way to separate the great ones from the good ones.'"
Our sincere thanks to the editors for including us in this select group. More importantly, to the Classic Exhibit Family and to our loyal distributors, your commitment to quality, creativity, and customer service made this happen. Give yourself a pat on the back.
The April issue also includes a full page interview with Kevin Carty from Classic Exhibits. Click Here or on the image below to download the PDF.
As if you need another reason to read something else by Kevin. The guy needs his own talk show.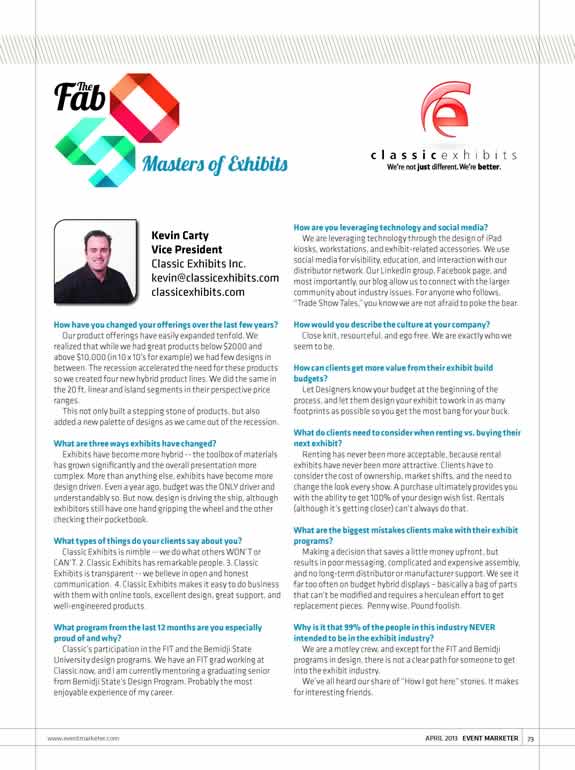 –Mel White
http://www.linkedin.com/in/melmwhite
mel@classicexhibits.com
**********************************************
Based in Portland, Oregon, Classic Exhibits Inc. designs and manufacturers portable, modular, and custom-hybrid exhibit solutions. Classic Exhibits products are represented by an extensive distributor network in North America and in select International markets. For more information, contact us at 866-652-2100 or www.classicexhibits.com.
[subscribe2]