Nearly 70 Colors
We just launched a web version of our Fabric Color Swatch tool in Exhibit Design Search. These fabrics are available for Quadro Pop Ups and Intro Folding Panel Displays.
Just a warning. It's extensive. Nearly 70 colors, including current and discontinued Front Runner and Prelude colors. Many you may not have seen for awhile.
http://www.classicexhibits.com/trade-show-exhibit-design-search/fabric-swatches/
These are in-stock at Classic Exhibits, with a few exceptions. To our knowledge, no one has more color choices.
There are a couple of ways to get to the Fabric Swatches page:
There is link under the "More" drop down menu.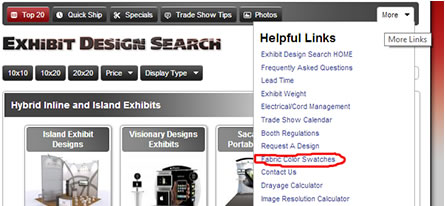 Links to fabric swatches are visible when viewing Quadro S, Quadro EO, and Intro kits, both full-size and table tops.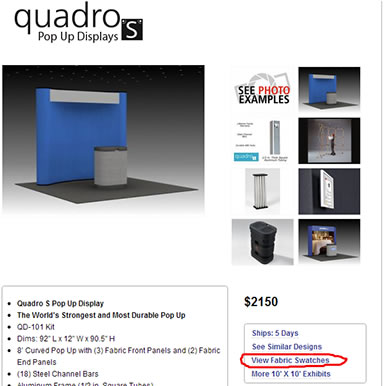 Or, simply go to the Docs & Dims tab.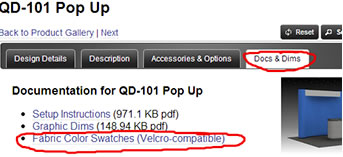 Long gone are the days when Lockfast would introduce a new color and we'd all be giddy.  That said, we still sell lots of pop ups and table tops with fabric panels, and getting the right color still matters to your client.
Let us know if you have any questions.
–Mel White
http://www.linkedin.com/in/melmwhite
mel@classicexhibits.com
**********************************************
Based in Portland, Oregon, Classic Exhibits Inc. designs and manufacturers portable, modular, and custom-hybrid exhibit solutions. Classic Exhibits products are represented by an extensive distributor network in North America and in select International markets. For more information, contact us at 866-652-2100 or www.classicexhibits.com.
[subscribe2]