Display Supply and Lighting Video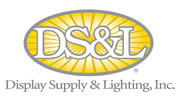 Rob Cohen, from Display Supply and Lighting (a strategic partner of Classic Exhibits), sent us this video. It's so well done that we just had to share. Here's a summary what you'll see, along with a little "smooth salesmanship" from Mr. Rob.
*****************************************
What did DS&L do at EXHIBITOR Show 2012? DS&L challenged attendees to THINK, IMAGINE, and CREATE what can be done with creative lighting products and design assistance from DS&L.
The focus of this video piece is on the back wall. This Classic Exhibits structure, covered with a tension fabric designed and produced by Optima Graphics (top and bottom pieces), was the centerpiece of this exhibit.
The top of the back wall was front lit with our new LED8822 arm lights. This is the highest light output LED arm light in the marketplace, providing the light equivalent output of a 125 watt halogen lamp. The fixture is a fully listed, ETL approved product with an integrated custom heat sink. The LED board uses all silicone coated diodes so there is no breakage of LED's with this product when in transit. Compare this to anything else offered in the market and you will not find a better product.
The back wall contained two different lighting systems to demonstrate different ways of lighting the same exhibit property.
The first lighting system used our Flex product. These are programmable LED nodes on wires. Each individual node can be addressed by the controller and told what to do. As a result you get the ultimate flexibility in programming to really paint your canvas with programmable LED lighting.
The second lighting system used our linear Fuse product. The top and bottom of the lower graphic was lined with this linear, programmable product and you can see the smashing color changing, washing, and fading effects in this video.
Of course even more was being shown.  The four cubes in front were manufactured by Classic Exhibits and the graphic inserts were printed by Optima Graphics. Inside each cube, different color temperatures of white light were used to visually teach attendees the different effect that color temperatures have on illuminating an object. The far left was warm white products at 2700 degrees kelvin, the next cube was lit at 3500 degrees kelvin, the next was a neutral white 4100 degrees kelvin, and the far right cube was daylight at 6000 degrees kelvin.
Bring your design ideas to DS&L and see what we can do to help bring your designs to life with vibrant lighting solutions.
–Mel White
http://www.linkedin.com/in/melmwhite
mel@classicexhibits.com
*********************************
Based in Portland, Oregon, Classic Exhibits Inc. designs and manufacturers portable, modular, and custom-hybrid exhibit solutions. Classic Exhibits products are represented by an extensive distributor network in North America and in select International markets. For more information, contact us at 866-652-2100 or www.classicexhibits.com.