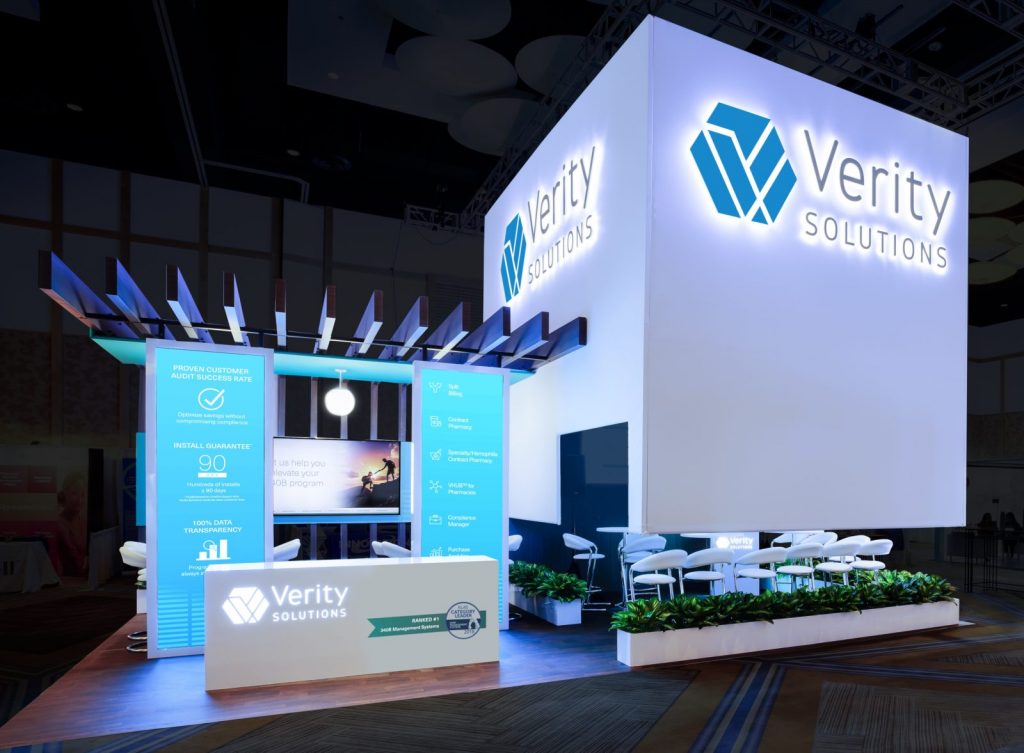 Trade Show Exhibit Design isn't for the faint of heart. It's a specialized craft learned over years of training and projects. Some designers transition into 3D exhibit design after starting as graphic designers. Others begin in industrial design. Still others simply love the trade show industry and are naturally creative. They become successful exhibit designers by working with other industry professionals.
For others, studying exhibition design starts by attending a college or university. Both Bemidji State University in Minnesota and the Fashion Institute of Technology in NYC offer either undergraduate or graduate degrees in Experience and Exhibition Design.
Trade Show Design Requests
Trade Show Design requests come to us in a multitude of ways. Sometimes they're simple napkin sketches. Other times they're 3D CAD drawings complete with measurements, material specifications, and building recommendations. All are welcome… but the more details and directions a client or distributor provides, the more likely we're able to hit a bulls-eye on the first pass.
However, hitting the bulls-eye can be elusive when clients are unfamiliar with trade shows, don't have well-defined goals, and are unsure of or unwilling to share their budget. The exhibit designer might as well be blindfolded, holding a plastic bat, and trying to crack open a pinata. When a designer has to guess, it almost always means multiple iterations. Iterations equals more time and more times adds to the cost.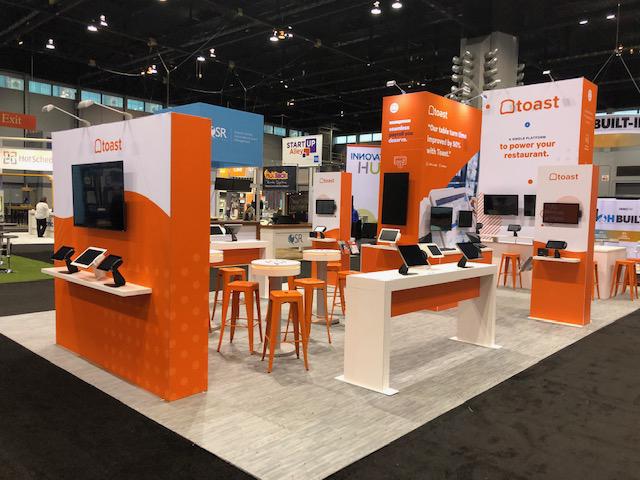 15 Important Exhibit Design Questions
Every designer wants happy clients who enjoy the process and are excited about the final product. That requires gathering information before any design starts. And while every project is unique and every designer different, there are questions common to any exhibit design project. The 15 Questions listed below may not be fit to every situation, but they're an excellent tool to start the process.
Design Questions 1-5
1. Does your company have branding guidelines/logo or graphic files/website address?
2. What size is the exhibit? Do you plan to reconfigure the exhibit for other shows? If so, what sizes?
3. What is the budget? Still undecided about an exact budget? The next best option is a workable budget range. No exhibitor wants to be surprised with a beautiful booth outside their budget or underwhelmed by a booth designed for a lower budget.
4. Purchase or rent? Or a combination of both? This assists the designer in choosing materials and designing to a specific budget.
5. What physical properties does the exhibit need to have? For example, workstations, counters, slatwall, semi-private or private conference area, monitors, storage, etc?
Design Questions 6-10
6. What type of display has the client used in the past? What did they like or not like about the previous booth?
7. Are there any materials or construction methods you prefer? Many experienced exhibitors have a strong attraction or aversion to specific materials.
8. Are there any unusual dimensional restrictions? Some trade shows or events have unusual restrictions for the height of the booth or setbacks from the aisle.
9. Do you show product(s)? What are the dimensions and specifications? Will they require display cases, counters, shelves, hooks, etc.?
10. Do you want a portable, modular, or custom trade show booth? Or some combination. This will guide the use of materials, and casing options.
Design Questions 11-15
11. Who will assemble the display: show labor or your own team?
12. Do you have any images of design elements you like? Even if these "inspiration images" are not trade show related, they are very helpful. For example, architectural elements, finishes, colors, natural elements, retail environments, etc.
13. Design due date? Typically, designs are completed within a week. However, every project and every client has their own timeline.
14. Show opening date? Creating the design and then building it depends on the time frame. Designers can make material selections which will go a long way toward meeting a three-week vs. a three-month window.
15. Are there any descriptive words you use to describe your company? What do you want visitors to your booth to "feel" about your company? From "opulent" to "bad-ass," we have heard some interesting descriptors, and this gives the designer the insight to craft a personalized, experiential space.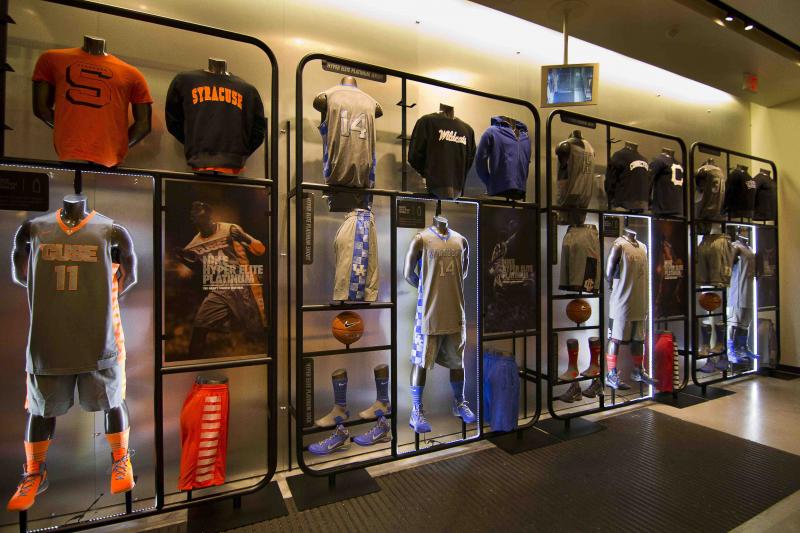 Are You Looking for Vendor Booth Display Ideas? We Can Help!
For any Exhibit Design Department, the busy season can be chaotic and stressful because good design takes time. But if you are a Classic Distributor, we have helpful solutions that will save you time and close your sales faster.
Exhibit Design Search (EDS). With over 1500 designs, Exhibit Design Search is the most comprehensive display site in the world. There are 32 galleries ranging from Islands to Inlines and Counters to Charging Tables. It contains purchase and rental solutions along with green/sustainable designs, hanging signs, tablet stands, hand sanitizer solutions, and so much more.
EDS is a great place to start gathering ideas about features, capabilities and prices. Since every design can be customized, it offers the added benefit of mixing and matching designs.. Do you like the shelving from one design, the workstation from another, and the backlighting from a third? No problem. We're happy to assist you with creating the perfect exhibit to meet the client's trade show objectives.
Photo Galleries: There are four photo galleries in Exhibit Design Search

These galleries are an outstanding place to see photos of actual design builds. The Past Five Days gallery is linked to kits in Exhibit Design Search making it easy to compare the rendering to the build.
Exhibition Booth Design Support
At Classic Exhibits, we support Distributor Partners with design requests in several ways.
Use us as your design staff if you don't have in-house designers.

Use us as your overflow design staff when your internal designers are beyond their capacity.

Have us on phone calls with your clients. We are happy to be introduced as YOUR designer. Hearing what the client wants first-hand ensures the best design quickly.

All those nice-looking designs in Exhibit Design Search are available to you as 3D files. At no charge.

So the next time you need to create a 20×20/10×20/10×10 design in one day, don't stress. We can easily show you ten different Classic designs with that capability. We've done the legwork, and these kits are ready to sell.

Support with High-Quality Trade Show Graphics
Most Classic Distributor Partners have in-house or contract graphic designers. Here's how we assist them with printing, file prep, and quality control.
1. When it comes to choosing the right printers, we're pretty picky. And we have multiple options. For most tension fabric graphics (SEG or Velcro), we process them in-house using our dye-sublimation printers. We do, however, use other suppliers with a long history of quality and reliability. For direct print graphics, we print both in-house and (mostly) at local printers in the Greater Portland area.
2. Before your graphics go to the printer, they are pre-flighted by Classic Exhibits. This minimizes any mistakes and allows us to identify issues quickly and return them to you for corrections.
3. Nothing leaves our facility without being staged and photographed. That means we see and inspect every graphic and ensure that the graphic fits perfectly. Whether it's a purchase or a rental, EVERYTHING is STAGED. We're happy (in fact eager) to share the photos with you once they're available. Keep in mind however, these are staging photos in our shop and not show photos, which means the lighting isn't ideal and the backgrounds may be messy or cluttered with other projects.
Classic Exhibits and Trade Show Design
Classic Exhibits has been designing and building solutions since 1993. We've been honored as an Exhibitor Magazine Find-It Top 40 Exhibit Producers and an Event Marketer Fab 50 Exhibit Builders multiple times. Along with numerous Portable Modular Awards.
With over 200 Distributor Partners throughout North America, there's a Classic representative close by. Contact us today whether you need a durable hand sanitizer stand built to last, a rental display guaranteed to attract trade show attendees, or a custom 30 x 40 exhibit with all the bells and whistles. We're not just different. We're better.
Tags: 3d files, Classic Exhibits, display design, Exhibit Design