Wow! I can't believe it has been six months since I joined Classic Exhibits as the General Manager for Exhibits Northwest! Either I have been super busy, or I'm getting older and time is accelerating beyond comprehension. Either way, I wanted to share some insights about my professional life as a newbie at Classic Exhibits.
Where to begin…
The Northwest is fantastically beautiful with postcard views in every direction. The folks are down-to-earth, extremely health, and environmentally conscious. Professionally, my daily challenges haven't changed very much, and the overall industry feel is more or less the same. Just like you, we use our experience to recommend the best exhibits and services to our customers. We want them to succeed as exhibit marketers, and it's our goal to be an extension of their business, if they are receptive to this approach. If not, well, then we guide them to an exhibit that meets their trade show or retail needs.
In my previous job, I used Exhibit Design Search, but now that I'm part of Classic, I have a renewed appreciation for this research tool. I am amazed at the vastness of the catalog of exhibits and accessories. I see firsthand how Mel and the Classic Design Department are constantly updating and adding designs, graphic dims, setup instructions, and refining the user experience.
My team at Exhibits Northwest has closed more than a handful of deals simply by walking a client through EDS and identifying elements such as lightboxes, workstations, presentation areas, etc.  On several occasions, the client has chosen an Eco-Systems Sustainable Exhibit based solely on design without realizing its eco-friendly benefits. This gives us an opportunity to discuss those benefits. All that would have been far more difficult without EDS.
In my former tradeshow life…
We would personalize a design and then hope our price point was in the ballpark. Next, we would check in periodically and use a call to action (general contractor or advanced warehouse deadline) to nudge the client into making a decision. In my new role with Exhibits Northwest, we take a different approach. Since pricing is visible on EDS, we can confirm a price range based on specific kits or design elements. Then we schedule a time when the prospect can tour Classic's manufacturing facility with us.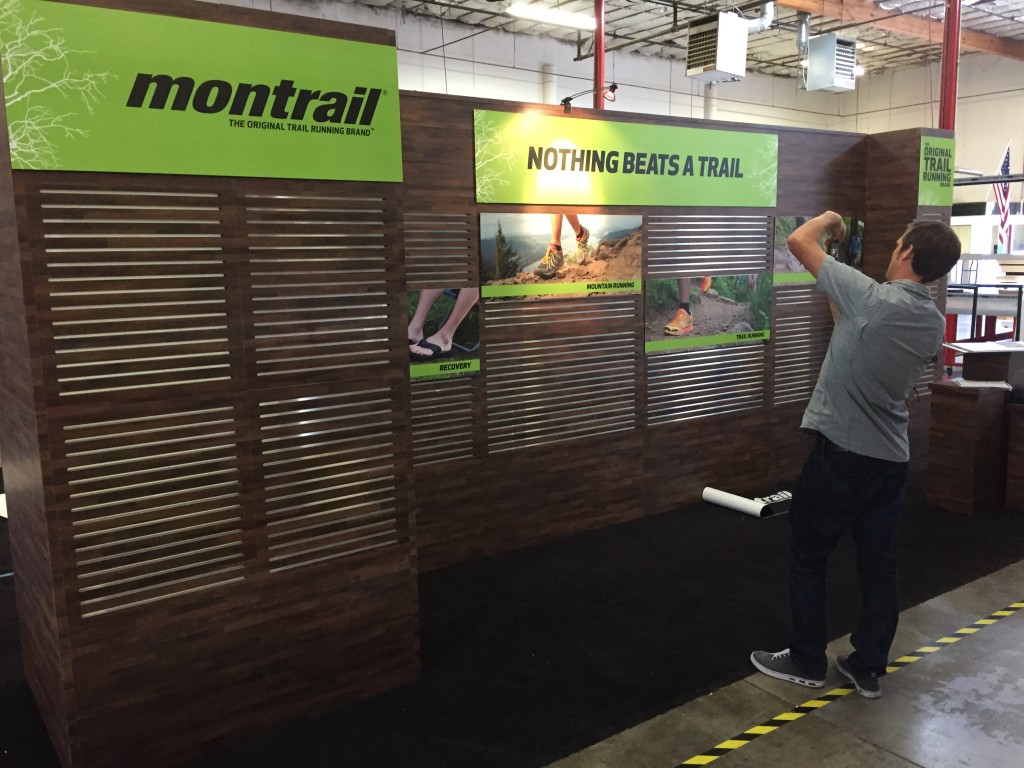 Honestly, I wish every Classic Distributor had the ability to tour Classic Exhibits with their clients. The facility is impressive. Clients see how raw extrusion and wood are transformed into a finished exhibit via production workstations, CNC equipment, and skilled technicians. Each display goes through multiple quality control checkpoints along the way.
Whenever an ENW prospect takes a guided tour, we know at some point we'll hear, "It's such a pleasure to see a strong, organized US manufacturing facility in our own backyard." I then direct their attention to the Peek-a-booth cameras and let them know that they can log-in and watch their exhibit being assembled from their desk.
Make no mistake…
As a former Production Manager at a point-of-purchase display division of Weyerhaeuser Corp in Charlotte, NC, I love seeing an organized, streamlined, and efficient manufacturing facility with highly skilled, motivated laborers producing well-made American products. Classic has the equipment, skilled labor, project management, and design staff to handle any trade show need from an inline Perfect 10 to a large custom island assembled entirely from wood and laminate.
I have worked side-by-side with the heavy hitters in our industry, and I have also worked with small husband and wife companies whose needs are much different than the big kids on the block. I have learned that Classic has the talent to compete with the best skilled custom exhibit builders in the country, yet they can handle the needs of smaller display distributors as well.
With a partner like Classic, I am able to focus on what I was hired to do… manage the culture and growth of Exhibits Northwest! BTW — having a record sales month in August certainly helped the cause!
I would love to hear from you. And I always look forward to meeting Classic Distributors when they visit for a preview or during Shared Knowledge University. The next SKU is November 9-10.  Set aside the dates and I hope to see you then.
John Zipay
GM Exhibits Northwest
jzipay@exhibitsnw.com
[subscribe2]