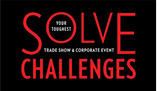 Attend 2011 EXHIBITOR for FREE
As a guest of Classic Exhibits Inc., you are invited to click this Classic-only link.
You will be taken to a registration form. Once you complete the form, the final price will be zero, gratis, zippo, nada to walk the Exhibit Hall.
For this most generous gift, we ask one favor. Visit us at booth #1455, a 20 x 30 island exhibit, where we'll showcase the latest products and rentals from Classic Exhibits Inc. and Eco-systems Sustainable Exhibits.
We look forward to seeing you there!

Tags: Classic Exhibits, Eco-systems Sustainable Exhibits, Exhibitor Show