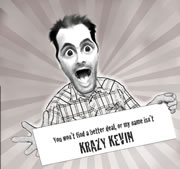 Quadro EO Pop-Up Special — Buy One. Get One.
Kevin Carty has lost his mind (again)! He's decided to "break the bank" with an insane promotion.
Here's the deal:
Get an EO-01 table top for just $150 retail. That's insane, frankly! The EO-01 retails for $950 msrp.
If that's not crazy enough:
Get an EO-01A table top (w/o graphics) for just $100 retail. The EO-01A retails for $870 msrp.
Quadro EO Features and Benefits
Easy Self-locking Aluminum Frame
One Piece Connecting Channel Bars
Durable Steel Pin Connectors
Convenient Monitor Mount Options
Lightweight Pop Up
Heavy-Duty Roto-molded Case with Wheels
Lifetime Frame Warranty
The Quadro EO Special is effective until 10/15/2010. Or until Kevin gets released from the State Hospital.