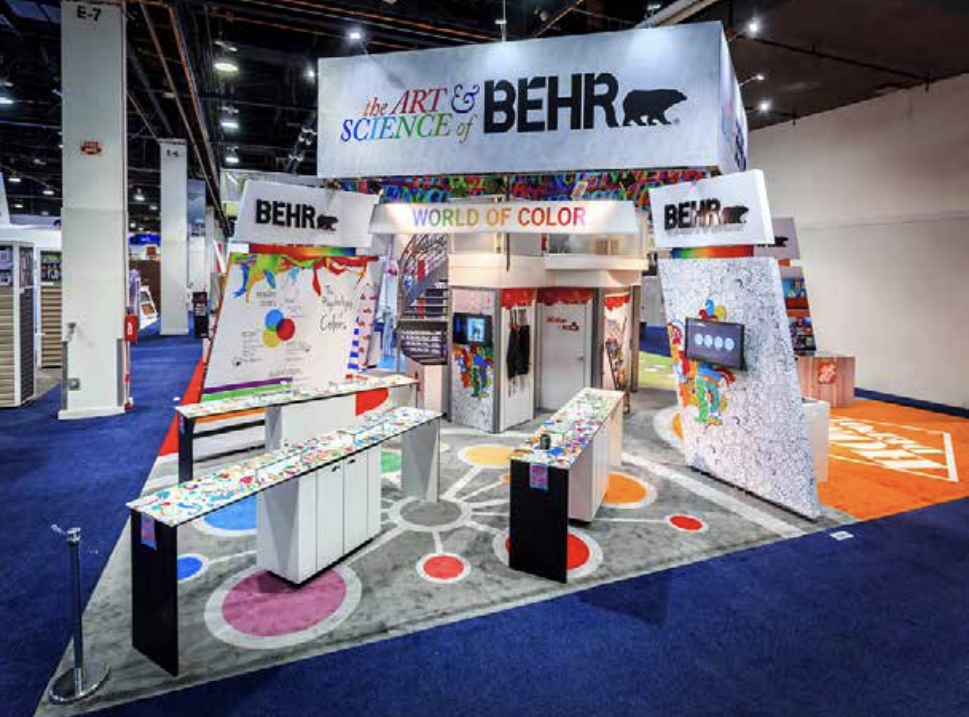 Trade show flooring doesn't have to be boring. It can be so much more these days with bright colors, direct printing options, and wood grain and stone patterns.
Trade show exhibitors spend hours designing their display structure. It makes sense. They want the exhibit to attract attention, communicate the perfect messaging, and facilitate client engagement on the show floor. So they'll agonize over the graphics, choose the perfect promotional giveaways, and even storyboard a killer video for the video wall. Every single step is made in order to achieve their trade show marketing goals and maximize their return on investment.
And then, someone will ask about the flooring, and they'll realize they haven't considered it. It's a mistake they wouldn't have made when remodeling their office or renovating the kitchen in their home.
Smart exhibitors know that trade show flooring can transform a great booth into the talk of the show.
Trade Show Flooring Ideas & Tips
Too often, exhibitors default to a solid black, gray, or beige carpet with basic padding. And that's OK. A neutral carpet may be the best choice for your exhibit presentation and budget. There are, however, other choices such as inlay patterns, custom colors, raised floors, printed flooring, tiles, and vinyl surfaces. Knowing what's available is the first step.
Flooring is the second largest surface in any booth. Don't ignore it. Ask your exhibit and graphic designers to include the flooring in the overall presentation. When designers are encouraged to be creative with flooring, it's like loosening the cap on a jar. Fun things happen!
Trade Show Booth Flooring Ideas to Avoid
Selecting the Wrong Color. The flooring should complement your booth graphics, not distract from them. Bright colors can be a hit or a miss depending on the overall design. Along the same lines, neutral colors can be positive or negative.
Choosing the Wrong Type of Flooring. For example, interlocking tiles, both foam, and vinyl are popular, reusable, and inexpensive. They are a great choice for inlines and smaller shows. However, a custom exhibit, inline or island, demands a more upscale solution that elevates the overall presentation of the booth.
Padding. Buying padding is an added expense, one many exhibitors decide isn't worth the money. If you've ever walked into a booth with cushy flooring after a long day on concrete floors, you know the impression that makes on your mood and your feet. It matters. Even if you don't want to reward potential customers with soft flooring, consider how your booth staff will feel after standing on an uncomfortable floor for 6-8 hours 3 days straight.
Buying the Wrong Flooring for Your Electrical Layout. At North American trade shows, electrical cables are taped to the concrete floor before the carpet, rollable vinyl, raised floor, or padding is installed. When done well, the cables are nearly invisible under the flooring with no bulges, ripples, or humps. However, not all flooring is equal when it comes to minimizing the effects of those cables. Better flooring and/or double-padding will ensure that the wiring is hidden.
Installation. If you plan to reuse your flooring, then installing it correctly will ensure it lasts. Professional trade show installers know how to apply tape to minimize damage, how to cut the flooring so the slices are unseen at the next show, and how to protect it before, during, and after the show. If you've ever had forklift tracks on your beige carpet on the opening day of the show, you know how maddening that can be.
Types of Booth Flooring
Carpeting. Carpet is the "go-to" choice for most exhibitors. It's available in multiple weights (50, 32, and 18 oz) and an array of colors. Advantage XL carpet for example is available in 24 colors, ranging from grays and black to magenta, orange, purple, and blue sea. 32 oz. is by far the most popular weight, representing 65% of total exhibition carpet sales.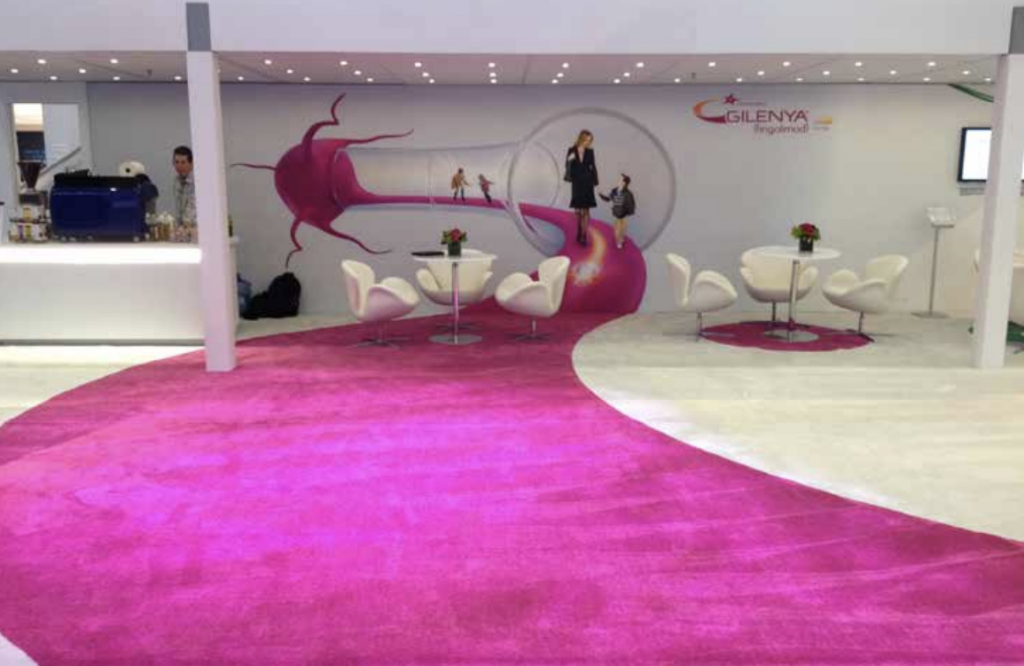 Inlay Carpeting. Inlays allow designers to use multiple colors to create patterns or pathways in a booth. By mixing bright and neutral colors, exhibitors can reinforce their branding or create a visual story.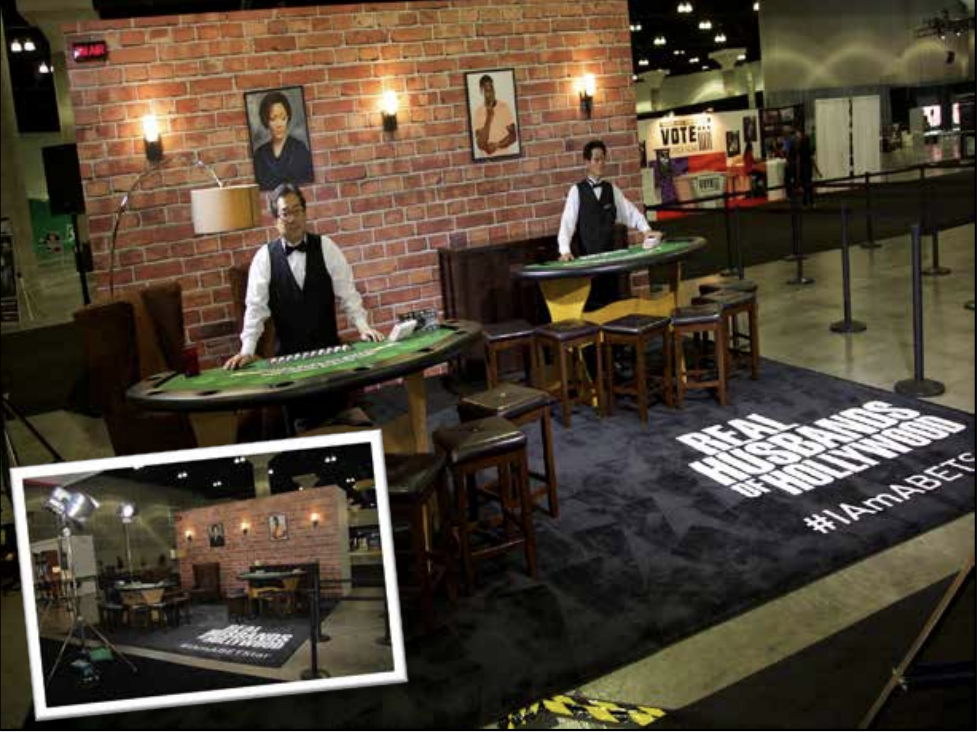 Vinyl Flooring (Flex Flooring). Rollable vinyl floor is easy to install, simple to clean, and durable enough to reuse. Traditional vinyl flooring comes in both wood grain and stone patterns.
Custom Vinyl Flooring. Two options: There's custom inlay flex flooring which can be used to delineate space or highlight products using both vinyl patterns and carpet. There's also custom-printed vinyl flooring similar to printing on fabric or rigid surfaces on an exhibit. Printed vinyl allows exhibitors to extend their branding and messages on all available surfaces.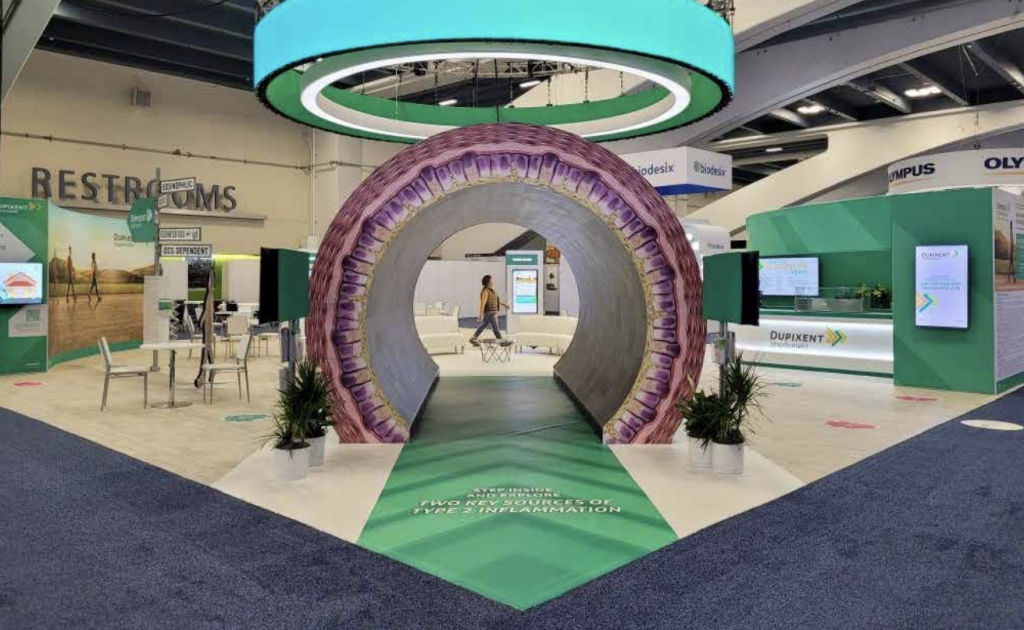 Graphic Overlays. Graphic overlays are a great solution to customize with the ability to remove the graphics after the show. The base flooring can be reused after the event and new overlays printed and installed at the next show in no time.
Soft Floor Interlocking Tiles. Comfortable, convenient, and economical, SoftFloor 2 ft. x 2 ft. Interlocking tiles are available in 14 colors, They require no adhesives, install quickly, and ship in portable cases. Colors can be mixed and matched to create custom designs.
Turf. Artificial turf brings the beauty of the outside to the inside with a durable flooring surface. Add turf painting for a distinctive look.
Infusion Dye Carpet. Exhibit houses have diversified over the years to handle not only their client's trade show but also their event, marketing, retail, and mobile engagements. Infusion Dye Carpet is distinctive and memorable. Casinos, hotels, high-rise lobbies, and convention centers often have this type of flooring.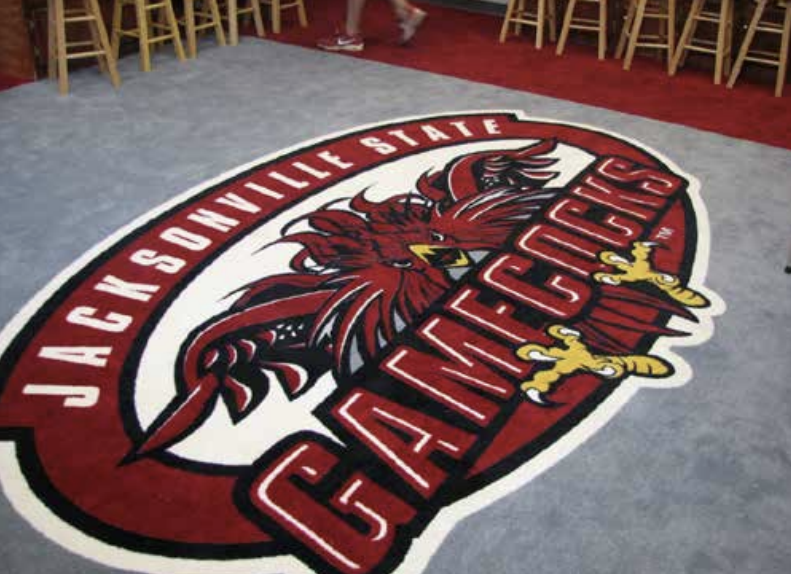 Raised Wood Flooring. Wood flooring is the ultimate high-end addition to any booth. However, it's neither cheap to rent nor install which makes it special whenever it's on a trade show floor in North America. In Europe, it's far more common. Raised wood flooring is the ideal surface for booths with significant electrical or cable management.
Can You Rent Trade Show Booth Floors?
Absolutely. Not everyone wants to own their flooring. Plus, flooring can be expensive and awkward to ship. Trade show flooring providers and General Service Contractors (GSC) have rental carpet and padding options. These include several carpet weights in popular colors with basic or thicker padding.
Ask your exhibit house about your options. They may even have rental flooring available as an alternative to renting from the show.
Trade Show Flooring Ideas with Classic Exhibits
If "flooring is boring" has been your motto in the past, it's time to up your game. Flooring can be so much more with inlays, overlays, and printing that brings color and texture to your trade show marketing. Review your options early and don't be afraid to be creative. You just might be surprised at all the compliments you receive when you make bold flooring a must-have in your booth.
Classic Exhibits has been honored as an Exhibitor Magazine Find-It Top 40 Exhibit Producers and an Event Marketer Fab 50 Exhibit Builders multiple times. Along with numerous Portable Modular Awards.
With over 200 Distributor Partners throughout North America, there's a Classic representative close by to assist with any rental project. Contact us today whether you need an inline rental display, a double-deck island exhibit, or a contemporary kiosk rental. At Classic, we're not just different. We're better.