Day 2 (RDC Innovation Day)
It was a day of epiphanies about the trade show industry. Bob McClintock, COO of SMG, gave the morning keynote:  A New Facility Model: Facility as Service Provider. I know. The title sounds pretty boring, but the topic and the speaker were anything but. SMG manages McCormick Place, the Pennsylvania Convention Center, and 70 other venues.
A. Evolution of Convention Center Service.
Originally convention center managers were "Landlords." And Convention Center design could be described as "prison architecture," or in the trade as "Boxes with Docks."
Competition has forced them to adapt to become "Service Providers" with the goal of Hotel Quality Experiences.
Those include local, fresh, and healthy culinary experiences, shopping and dining experiences, and updated, contemporary buildings. The new model is designed to keep attendees in the building.
Labor changed as well, adopting a service provider mentality instead of a rights holder attitude.
Finally, he shared three in-progress success stories:  Cobo Center, McCormick Place, and Philadelphia.
I even learned a new acronym to describe the new business model:  WISMBR — What's in Sight Must Be Right.
As with Day 1, there were more sessions than I could attend, but let me touch briefly on three. Here's a link to the full Day 2 Schedule.
B. The Event Forecasting/Measurement Tool, by Bob Hughes. Bob's company, The Hughes Group, has developed a new event forecasting and management tool that not only allows marketers to validate their exhibit and event spends, but also provides instruction on how marketing, sales, and operations can collaborate to optimize exhibit and event outcomes. It's a deceptively simple online tool with a powerful database and analytical tools. It's still in final stages of development, but I'll let you know when it's ready. It's perfect for any trade show manager who wants a clear path to measuring ROI and collaboration with sales and marketing.
C. Driving Business Using Social Media, by Glass Mountain Media. Just a couple of comments from the session and then a very entertaining video about digital media.
Social Media must tell a story about your business and reinforce your culture.
Social Media must have a purpose and data to measure to its effectiveness.
All companies must think of themselves as publishers in a world dominated by digital content.
Quote:  It's never been easier to reach customers. It's never been harder to engage customers.
Encourage, not discourage, your employees to use Social Media, but coach them on how to use it for your company.
D. Closing Keynote:  Enhancing Exhibitor Value Enables Show Growth, Amanda Helgemoe and Sue Huff. There's no possible way I could do justice to this enlightening and informative presentation about the ongoing economic pressures in our industry. Let's just say that not everyone takes a long-term view about creating a healthy, sustainable face-to-face community. Take time to review the slide show (click on the image). You will see an obvious disparity in rising costs. You will and you won't be surprised by the results (hint: see the chart below).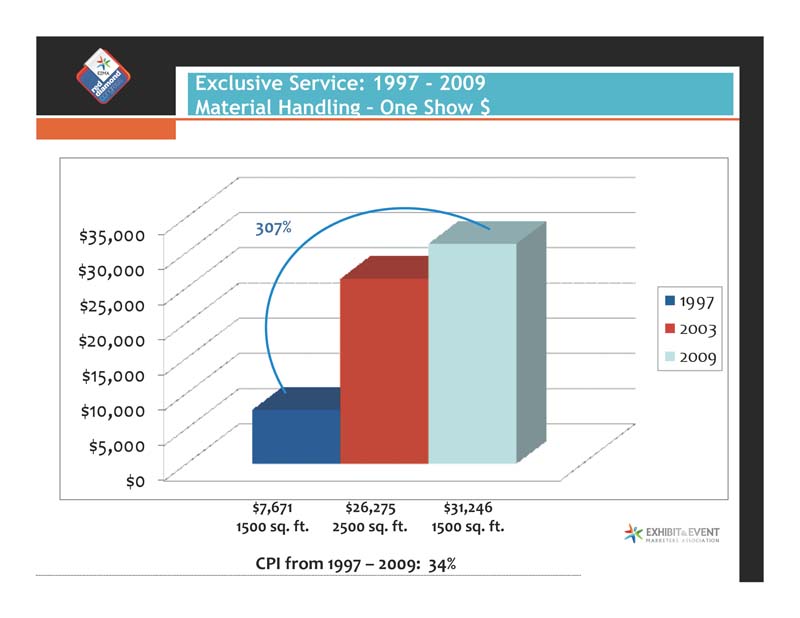 Last but not least, a generous thanks to Jim Wurm and his team at E2MA for a terrific conference. If you didn't attend, you missed something special.
–Mel White
http://www.linkedin.com/in/melmwhite
mel@classicexhibits.com
**********************************************
Based in Portland, Oregon, Classic Exhibits Inc. designs and manufacturers portable, modular, and custom-hybrid exhibit solutions. Classic Exhibits products are represented by an extensive distributor network in North America and in select International markets. For more information, contact us at 866-652-2100 or www.classicexhibits.com.
Tags: Conference, E2MA, Exhibit and Event Marketers Association, Red Diamond Congress, Trade show industry