Day 1
I'm in Chicago this week for the E2MA Red Diamond Congress. For those unfamiliar with the Exhibit and Event Marketers Association and the RDC . . .
The E2MA is a community of exhibit and event marketers driven to benchmark the value of face-to face marketing. By facilitating discussions among all industry stakeholders, the E2MA's Red Diamond Congress develops actionable ideas and solutions that can provide for industry growth and success.
What makes the RDC different from other exhibit industry events is the blending of exhibit managers, show organizers, labor contractors, union associations, and exhibit builders and distributors. There are no silos. The RDC brings everyone together to discuss shared concerns. In an industry with a history of finger pointing, it's a refreshing and practical conference.
For those not here, I took a few notes. Not great notes admittedly, but notes.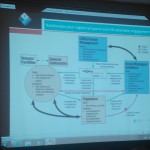 A. Exhibit and Event Issues:
Competition for marketing budget dollars is increasing, which is . . .
Creating evolving strategies
Mixing tradeshows and events (48% of companies are doing private events)
Forcing cost reduction pressures
Putting even more focus on measurement and ROI
B. Research shows that the more engagement on the show floor, the more successful the purchase intent. Not a surprise.
C. Overall Exhibitor Retention — Average 80% (which means 1 of 5 exhibitors don't return)
D. Exhibits and Events represent 42% of media spending for companies, second only to digital. That was a surprise to me.
E. 15 consecutive quarters of industry growth with attendance as the leading metric. Good news.
F. Average international attendance at North American shows — 15% of all attendees (at major shows). Is your client prepared for this attendee?
G. $80 billion dollar industry in the U.S.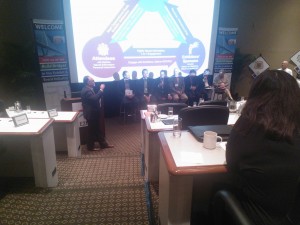 Kudos to the All Industry Panel. A very informative session (which could have been twice as long). It was beneficial to hear the perspectives of these industry leaders.
Skip Cox, Exhibit Surveys
Jeff Provost, Exhibit Designers and Producers Assn. (EDPA)
Brian Casey, Convention and Exhibition Research (CEIR)
Larry Arnaudet, Exhibition Service Contractors Assn. (ESCA)
Mike Pennington, Healthcare Convention and Exhibition Assn. (HCEA)
David DuBois, Intl. Assn. of Exhibits and Events (IAEE)
Lew Shomer, Society of Independent Show Organizers (SISO)
Jim Wurn, Exhibit and Event Marketers Assn. (E2MA)
Special kudos to the Bridging the Generational Gap breakout session hosted by Amy Yag, Amanda Helgemoe, and Pat Friedlander. It was a lively and interactive session on how Baby Boomers, GenX, and Millennials communicate and in particular, how Millennials view the workplace (i.e., corporate culture is big, collaboration is even bigger, and they need and want a clear job description and career path).
The RDC afternoon schedule featured multiple breakout sessions, including the Generational Gap. See the link for the full Day 1 agenda. I attended Developing Your Team and DIY Research, which were both well-presented and informative.
Finally, to my fellow "Dinner with Strangers" at Seasons 22, thank you for the enjoyable evening. I've already done a search on the FBI Most Wanted list. No one is in the Top 10 . . . yet.
Day 2 begins in about two hours.
Oh yes, most of the sessions are being recorded, so I'm assuming they'll be available on the E2MA website at some point.
–Mel White
http://www.linkedin.com/in/melmwhite
mel@classicexhibits.com
**********************************************
Based in Portland, Oregon, Classic Exhibits Inc. designs and manufacturers portable, modular, and custom-hybrid exhibit solutions. Classic Exhibits products are represented by an extensive distributor network in North America and in select International markets. For more information, contact us at 866-652-2100 or www.classicexhibits.com.