This week, we're sharing the Eco-Systems Sustainable Exhibits Annual Letter from Eric Albery, the VP of Marketing and Business Development. As many of you know, we have a manufacturing partnership with Eco-Systems. For those unfamiliar with Eco-Systems, we encourage you to visit eSmart Galleries in Exhibit Design Search or spend time on their website (www.ecosystemsdisplays.com).
Annual Letter and Review
As 2013 comes to a close, it marks the seven year anniversary of Eco-Systems Sustainable Exhibits. Yes, seven years. We've come a long way as many of you know. After yet another amazing year, I want to share with you what we saw in 2013 and what to expect in 2014.
This year, I have been on the road visiting distributors more frequently, a trend that will continue in 2014. Those visits have been very beneficial – not only in conveying the goals and capabilities of Eco-Systems, but also in understanding your challenges and what you expect from a manufacturer. The overwhelming consensus is that design sells! That message is loud and clear. Our Design Department continues to be the centerpiece of Eco-Systems, as Lisa and Lauren continue to push the boundaries of exhibit design. Not a week goes by that I don't hear positive comments about our designs, our designers, and our responsiveness to your client's requests. Thank You!
One example is the "Kit to Custom" campaign, which showcases customized kits. You've told us time and time again that speed, accuracy, and free design services are invaluable in the sales process. We hear you. While other manufacturers make the customization process cumbersome and expensive, we don't. We live for those opportunities.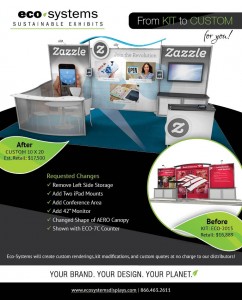 I can't say enough about our four year manufacturing partnership with Classic Exhibits. It allows us to be flexible on design, whether modular or custom, meet seemingly impossible lead times, and offer competitive pricing. Our "kit" offerings continue to grow, and many existing kits are being re-engineered to incorporate newer, lighter, and more innovative materials. All of these advancements and innovations ensure your client receives a better exhibiting experience at a lower price.
In 2014, Eco-Systems will continue to be the leader in sustainable exhibit technology and will continue to innovate state of the art materials and manufacturing processes. We hear from distributors that "sustainable" is no longer a want but an expectation, if the design and pricing is comparable. We have solved this issue and are now able to offer the most sustainable and innovative exhibit options on the market at the same price (or sometimes lower) than traditional displays. While some customers may not be asking for sustainable solutions, they are delighted when presented with designs that fit their exhibit marketing goals and are sustainable.
What Else Can You Expect from Eco-Systems in 2014?
A "New and Improved" Website.
EXHIBITOR2014. We'll see you there!
Additional Green Graphic Options.
More Island and Rental Solutions.
And So Much More.
Last year was especially monumental for Eco-Systems as we increased sales, expanded design capabilities, and welcomed a host of new distributors. Our loyal and talented distribution network continues to be the lifeblood of Eco-Systems, and we appreciate your business and support. I speak for everyone here at Eco-Systems when I say "Thank You". We look forward to working with you in 2014 and welcome your feedback and advice.
HAPPY NEW YEAR!
Eric Albery, VP of Marketing & Business Development
eric@ecosystemsdisplays.com | 616.726.6269
www.ecosystemsdisplays.com | 866.463.2611