Been There. Done That.
Whether it's sports, cards, business or anything that involves a winner and a loser, competitors are always looking for that "edge" that puts them over the top. I am not suggesting cheating. I am suggesting we follow Jack Nicklaus' advice, "The harder I work, the luckier I get."
Well, there are a lot of things you can do, but I'd like to propose hosting an Open House for your customers and/or prospects.
I have seen dozens, if not a hundred, different Open House events at customer locations during my years as a manufacturer rep. Do Open Houses work? Absolutely, if done right. But, you can't whip them together in a day. Successful Open Houses succeed because of planning and execution. In other words . . . "if you fail to plan, then plan to fail." You don't need all the tactics I am proposing, but let's explore some ideas together and the risk/reward.
Pick Your Date Carefully. I was recently at a customer event on the East Coast. They promoted the Open House via email and direct mail. They followed up with phone calls. They did everything right. They had food and they had decent commitment. About 16 new leads were supposed to attend. However, it was the week going into the 4th of July and attendance fell off considerably. The upside was that one lead came with a six figure budget for a rental, another needed a new 10 x 20, and a third plans to buy 25 banner stands soon. So, all in all, it was very successful, but it could have been more successful had a different date been chosen.
Have a Gimmick. I was at a recent Open House where they hired the local baseball team mascot to appear and entertain the attendees. It was a nice twist that brought a few extra bodies in. Nothing life changing, but very memorable. I've seen Elvis impersonators, magicians, you name it! One of the more successful events was held in mid winter "up north" with a "Lets Go to the Islands" theme. They had speakers every hour talking about the pluses and minuses of islands over inlines. They had musician playing Jimmy Buffett songs on an acoustic guitar in between sessions. Everyone was engaged, entertained, and informed.
At another Open House, the timing was right for an Oscar theme. So we rolled out the red carpet and had show tunes playing throughout. They had paparazzi taking pictures of everything. Everyone dressed to the 9. There were no speakers, but there was enough "going on" to keep people focused and on track.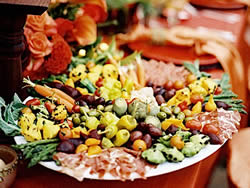 Feed Them. If you feed them, they will come. It's just that simple. If you want more attendees, offer beer and wine. I'm not talking about a sit down meal, but depending the time of day, it should at least substitute for breakfast, lunch, or appetizers. Peanuts and chips may be OK for your football buddies, but not for your customers.
Have a Speaker with a Compelling Topic. Whether it's the owner, the creative director, a manufacturer's rep, or a social media expert, it needs to be somebody with a story. Content is key. They attendees are looking for solutions that will make their business or tradeshows better. You could even consider featuring several top customers who talk about their experiences with trade show marketing.
Be Repetitive. Do it the same time each year. Pick a direction and run with it. Maybe every year you talk about the latest and greatest in new exhibits. Maybe it's all about design trends. Become the expert so they know who to call for "all things tradeshows" and remove the reason for them to shop around.
Use Your Vendors. As suppliers, we look at these as an opportunity to spend time with you and a chance to learn more about your market and customer needs. We also get to see other vendors and share experiences and insights. At the Open Houses I've participated over the past three to four years, I typically see Optima Graphics, Brumark, DS&L, various freight and labor companies, Eco-systems Sustainable, and ExpoDisplays. We bring in new products and review services, which always makes for a educational and entertaining event.
Again, there is no magic formula, but pick a direction and don't give up on it. Be reasonable in setting your goals and a budget. The first year may not be as much about new business as much as touching base with your clients. But, those contacts matter. Always remember, it only takes ONE to make it a successful event.
Give me a call or send me an email. I am very happy to share additional details about the Open Houses I've attended over the years, small and large, elaborate and intimate. There's no one formula, except solid planning, careful execution, and a little imagination.
Till the next time,
Reid Sherwood
reid@classicmodul.com
Tags: Brumark, business, Classic Exhibits, DS&L, Open House, Optima